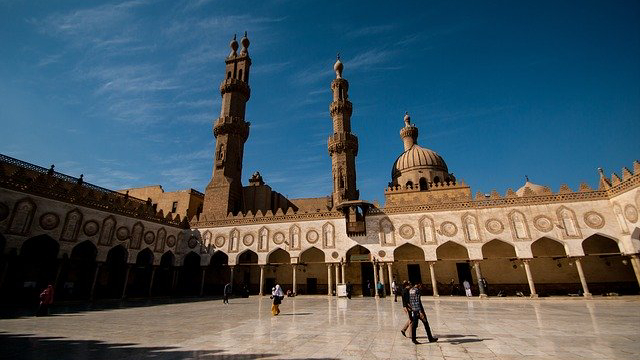 The parents of a young Uyghur man who left northwest China's Xinjiang Uyghur Autonomous Region (XUAR) to study Islam in Egypt have been sentenced to lengthy prison terms, according to their son, who said they were likely targeted because of his religious education and for sending money abroad.
Abduhaliq Aziz, from the XUAR's Kashgar (in Chinese, Kashi) city, moved to Cairo in December 2015 to study Islam at Al-Azhar University and recently spoke with RFA's Uyghur Service about his missing father, Aziz Nasir, and mother, Amine Abdulla.
Aziz said that his father, who worked as a driver at the People's Park in Kashgar, disappeared in 2016, while his mother, a housewife, went missing in 2017.
"After leaving, I had normal contact with my family—I was in touch with my mom and talked with my dad twice, and then, after speaking with them for the last time in February 2016, [my dad] disappeared," he said.
"My dad was a driver for the People's Park, which belongs to the government, you know, so he was a civil servant."
Aziz said that when he would communicate with his mother afterwards, she would tell him that his father had "gone out" of the house and wasn't available.
"But I was a little bit suspicious, and I wondered whether she was hiding something from me," he said, because she didn't want him to worry.
According to Aziz, his calls with his mother became less and less frequent, going from once a week to once a month, until "my mom disappeared at one point around October 2016."
"We didn't talk at all, but then she added me back to [messaging app] WeChat and we talked once in January 2017 [before she went silent again]," he said.
"Later, in April of 2017, my mom added me to WeChat again. She added me and said, '[The authorities] are getting ready to take me away to 'study.' I don't know when I'll get out, so please delete me from your WeChat. I'm going to delete you from mine.' She told me not to add her again, and I said okay. I haven't had any sort of contact with my mother since then."
Being sent for "study" is a euphemism used by authorities in the XUAR to indicate detention at one of the region's vast network of internment camps, where up to 1.8 million Uyghurs and other Muslim minorities accused of harboring "strong religious views" and "politically incorrect" are believed to have been held since April 2017.
Detained over study abroad
Aziz said that since his mother was detained, he also hasn't had any contact with his immediate or extended family, including his siblings back home.
"In February 2020, I received news from someone that my mom had received a six-year sentence, but they didn't know whether she was dead or alive," he said.
"They also said that our family members and neighbors know that my father disappeared, but they don't know anything about him—where he was taken, whether he's alive, nothing."
The source, who spoke on condition of anonymity, but who claims to have knowledge of the situation, told Aziz that his parents had been detained for having sent him abroad to study Islam.
"I think the reason for my parents' detention is that they sent me to Egypt to get a religious education," he said.
"The fact that they sent me money [while I was abroad] is also a possible reason."
Egypt is among several countries blacklisted by authorities for travel by Uyghurs because of a perceived threat of religious extremism, and RFA has documented several instances where people have been detained for overseas visits or maintaining ties abroad.
In one such recent report, a Uyghur named Enver Tursun, who owns the Taksim Shopping Center in Ghulja (Yining) city, was put on trial for charges of "discriminating against national education" after having sent his son to study in Turkey, although it was not immediately clear whether he had been sentenced.
Sentence confirmed
RFA recently spoke with a Han Chinese employee from the office of People's Park in Kashgar to ask about Nasir's detention, but she said that the park had no driver by that name.
"We do have one Uyghur person [who was detained], but that's not his name," she said, without providing further details.
The employee then handed the phone to a Uyghur coworker who told RFA he had only been working there for five months and "I don't know anything about that," before hanging up.
RFA also spoke with an employee from the Kashgar Prefecture [Communist] Party Organization Office, who said he did not know of Nasir's detention, but referred further questions to the legal office of Doletbagh township, which administers his No. 10 village.
A Uyghur cadre from the township legal office, who also declined to be named, confirmed that Aziz Nasir was among area residents who had been imprisoned.
"[He was handed] eight years in Maralbeshi (Bachu) [county]," the cadre said, when asked how long Nasir had been sentenced for.
"He drove a car [for a living] … He was locked up two years ago … He was in an internment camp for a month or two, maybe three months, and then he was sentenced [to prison]."
The cadre said he had also heard that Nasir's wife, Abdulla, had been "sentenced to five years."
"I heard that she's in Atush, but I don't know [exactly] where," they said.
Students targeted
Beginning in early July 2017, more than 200 Uyghurs, many of them religious students at Al-Azhar, were detained in Egypt after being rounded up in restaurants or at their homes, with others seized at airports as they tried to flee to safer countries, sources said in earlier reports.
Dozens were then deported back to Xinjiang, where rights groups said they faced a serious risk of arbitrary detention and torture, while many who had earlier gone home on their own in response to a Chinese government order to return for "registration" were also taken into custody.
Mass incarcerations in the XUAR, as well as other policies seen to violate the rights of Uyghurs and other Muslims, have led to increasing calls by the international community to hold Beijing accountable for its actions in the region, which also include the use of advanced technology and information to control and suppress its citizens.
While Beijing initially denied the existence of internment camps in the XUAR, China last year changed tack and began describing the facilities as "boarding schools" that provide vocational training for Uyghurs, discourage radicalization, and help protect the country from terrorism.
But reporting by RFA's Uyghur Service and other media outlets indicate that those in the camps are detained against their will and subjected to political indoctrination, routinely face rough treatment at the hands of their overseers and endure poor diets and unhygienic conditions in the often-overcrowded facilities.
Reported by Shohret Hoshur for RFA's Uyghur Service. Translated by Elise Anderson. Written in English by Joshua Lipes.
Source: Copyright © 1998-2016, RFA. Used with the permission of Radio Free Asia, 2025 M St. NW, Suite 300, Washington DC 20036. https://www.rfa.org.