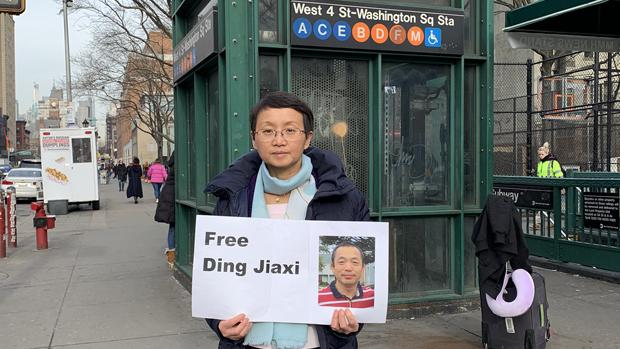 Chinese rights lawyer Ding Jiaxi was among a number of activists linked to the New Citizens' Movement against corruption and for political change to be jailed in 2014. After his release from that four-year jail term, Ding was recently redetained as part of a nationwide crackdown on rights activists and dissidents following a meeting in the southeastern city of Xiamen.
Earlier this week, his U.S.-based wife Luo Shengchun met with national security officials in Washington to discuss her husband's case.
"It should definitely help, but how much it ultimately helps will depend on how the White House communicates with the Chinese government," said Luo, who remains cautiously optimistic that diplomatic pressure can be exerted on the ruling Chinese Communist Party in Beijing by the Trump administration.
Ding attended a dinner with prominent activists in Xiamen, including the founder of the New Citizens' Movement, Xu Zhiyong, in early December 2019.
He and several others who had attended that dinner were arrested on Dec. 26. In Ding's case, he was detained by Shandong police, who are spearheading the latest round of detentions targeting dissidents. Fellow activists Zhang Zhongshun, Dai Zhenya and Li Shuai were detained on the same day.
Luo said she has hired a lawyer to Shandong's Yantai city to inquire after her husband, although she has been informed that he is being held incommunicado at an undisclosed location, on suspicion of "incitement to subvert state power," a charge that means he will likely be denied family visits or access to lawyers.
She said the authorities' handling of Ding's case had broken rules already.
"It is now 26 days since his detention, and we still haven't received any formal legal documents telling us why he was detained," Luo said in an interview on Jan. 21. "So I have hired a lawyer."
Lawyers Huang Zhiqiang and Chang Weiping have themselves been detained on suspicion of "picking quarrels and stirring up trouble" and "subversion of state power" respectively since they tried to represent individuals detained in the Shandong crackdown.
Xu Zhiyong is currently on the run from police, and believed to still be in China.
A Chinese activist who entered the White House with Luo but declined to be named said those who attended the Xiamen meeting had just engaged in general talk about current affairs and civil rights campaigns, and that he was surprised at the police reaction.
Another activist who also asked for anonymity said the recent round of detentions shows that the administration of President Xi Jinping will brook no dissent of any kind now.
Luo, who currently lives in New York State, said she has repeatedly met with U.S. officials in recent years, and that they are well aware of the sharp deterioration in China's human rights situation during that time, but that their Chinese counterparts generally brush off any complaints or criticisms.
"Every time [the U.S. officials] bring these things up, they just say that China's 1.4 billion people live very happily," she said. "They say [dissidents and peaceful activists] are just a small handful of people who like to incite rioting or subversion of the regime."
Luo said she has more free time on her hands now that the couple's children are grown.
"Now [my two daughters] are in college, I can afford to spend all of my spare time telling the world about these things," she told RFA.
Reported by Wang Yun for RFA's Mandarin Service, and by the Cantonese Service. Translated and edited by Luisetta Mudie.

Source: Copyright © 1998-2016, RFA. Used with the permission of Radio Free Asia, 2025 M St. NW, Suite 300, Washington DC 20036. https://www.rfa.org.