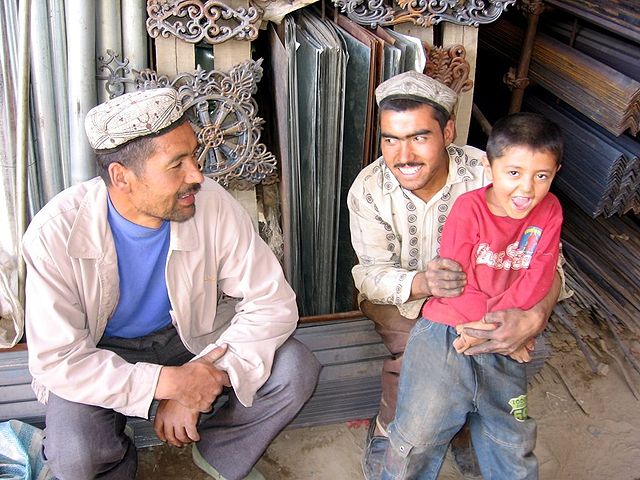 Uyghur residents of at least one village in Kashgar (in Chinese, Kashi) city, in northwest China's Xinjiang Uyghur Autonomous Region (XUAR), haven't washed their faces for years for fear they'll be accused of performing prayer ablutions and sent to an internment camp, according to a local official.
Reports by RFA's Uyghur Service and other media outlets have found that Uyghurs who undertake simple religious practices, such as prayer, are regularly accused of religious extremism, and that authorities rely on neighbors monitoring one another to determine whether anyone is "guilty."
Those found to have exhibited "extremist tendencies" face detention within the XUAR's vast network of internment camps, where authorities are believed to have held up to 1.8 million Uyghurs and other Muslim minorities since April 2017.
A village "brigade leader" in Kashgar—a volunteer who is responsible for overseeing and reporting on 10 households—recently told RFA that residents under his watch have been so worried about being suspected of performing the ablutions required prior to namaz, or the five-times-daily prayer observed by Sunni Muslims, that they have stopped washing their faces in the mornings for the past two years.
The brigade leader, who described his duties as "coordinating with the government and eliminating religious practices," said village cadres had warned residents not to wash their faces, otherwise "it'll be trouble for you."
"In the mornings we go and ask people what they're up to, see what they're doing—are people doing namaz or not, are they washing themselves? We look at these kinds of things," he said, speaking on condition of anonymity for fear of reprisal.
"All of us are now eating our breakfasts each morning without washing our faces … Nothing bad has happened to us from [doing so]. It's fine … It's been two years now."
When asked whether residents were being told outright by village cadres that they will arouse suspicion by washing their faces, the brigade leader said, "They don't even have to say it—we know."
The brigade leader said that some people had experienced "trouble" after washing their faces but did not provide details.
"Our kids eat without washing their faces and we do the same," he said.
"People have learned to do this. Around 70 percent have learned to do it."
The brigade leader suggested that his neighbors' adoption of this practice of non-face washing has led to low levels of incarceration of people from his jurisdiction.
Monitoring households
Over the past three or so years, regulations on the "ten-household system," which is functionally a means of neighbors spying and reporting on one another, have become more encompassing.
According to the regulations, neighbors are expected to keep watch day and night, to note down any "mistakes" they discover their neighbors committing, and then to drop written records of those "mistakes" into a box each Monday, after which they're collected by local leaders.
Anyone who does not report a "mistake" within a given week is labeled "has ideological problems" and taken into the village cadre's office for questioning—a threat which has effectively compelled neighbors to find fault in their neighbors' smallest, most innocuous everyday actions.
Former camp detainee Zumrat Dawut, who now lives in the United States, recently told RFA that while she was still living in the XUAR, authorities used a number of means to surveil and spy on local residents to determine whether they were doing namaz, including whether they were performing ablutions beforehand.
She pointed out that many village homes lack indoor plumbing, which has long forced residents to do their daily washing in the open courtyard spaces of their homes. However, current regulations dictating neighbor-to-neighbor surveillance mean that normal activities like washing one's face might appear to be "suspicious" behavior if it is misconstrued as ablution rituals.
As a result, she said, people have stopped washing their faces—particularly in the morning—in an attempt to prevent their possible detention.
"It's true that ten households look after one another—10 households look after one another and they keep an eye on all sorts of things," she said.
"The Chinese [government's] hatred of religion has gotten out of control. It's the same inside and outside of [detention]: if someone washes their face, there are people who will say that they did ablutions and take them in."
Dawut noted that the government appears never to have made any explicit statement that washing one's face is a sign of "religious extremism." She added, however, that there are many tools of surveillance inside people's homes, which means that they have become especially careful in avoiding doing anything that might be construed as suspicious, even in formerly private domestic spaces.
"They've now put things up inside people's homes, things that record voices, and there's even the possibility that they're filming people at home," she said.
"We were scared, scared to say anything that was anti-government. People are certainly afraid of things like this from the time they get up in the morning, and so they're not [washing]."
Reported by Shohret Hoshur for RFA's Uyghur Service. Translated by Elise Anderson. Written in English by Joshua Lipes.
Source: Copyright © 1998-2016, RFA. Used with the permission of Radio Free Asia, 2025 M St. NW, Suite 300, Washington DC 20036. https://www.rfa.org.