More accounts from across China on crackdowns against Protestant places of worship.
by Lu Xiaojing
Shandong Province
On July 2, the Lanling county government in the prefecture-level city of Linyi demolished a Three-Self Church venue in one of the villages under its jurisdiction because it was "too close to a village committee office."
"All churches too close to government institutions must be destroyed, and those that look better than government buildings must also go," a county government official explained to the congregation. "Belief in the Communist Party is the only religion allowed."
A Three-Self church in Jining city's Yutai county was demolished twice within one year. After the local authorities deemed the church an "illegal construction" and leveled it to the ground, congregation members built a three-room makeshift structure, but it was destroyed too in March.
"Officials stormed into our church before we even finished collecting our belongings," a congregation member recalled the events in March. "They tore up all Bibles and images of the Lord Jesus. They then bulldozed it, burying benches, stools, and other things in ruins."
On January 13, the Heze city government demolished a Three-Self church in the name of creating a "new socialist countryside" (a national policy to modernize rural China launched in 2006), without offering a new venue for the congregation. Officials intimidated the church members who tried to discuss with them the issues of a new church or compensation for their losses, threatening to punish or arrest them if they "continued making trouble."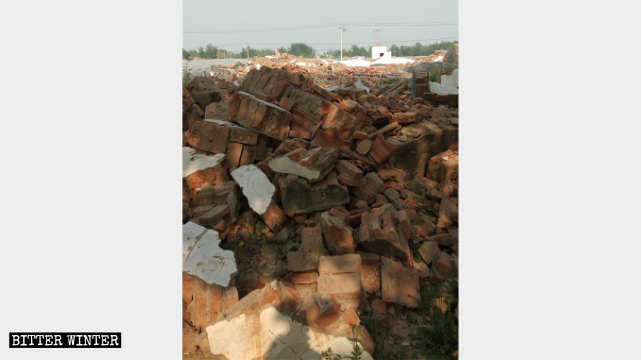 Another Three-Self church in Heze was destroyed in March last year. The venue that could accommodate 200 people was leveled on the pretext of "building a high-speed railway." Officials promised to approve the building of a new church before the demolition but later admitted that it was just a means to make the congregation move out. They explicitly said that believers would not be allowed to buy a new property for their gatherings.
"The state is reducing the number of churches; any church can be demolished, while not a single one is allowed to be built," a Heze city government official said.
Jiangsu Province
On February 10, the Tushan town government in the county-level city of Pizhou demolished a 200-square-meter house church venue. Two days before the demolition, the government trucked away church belongings worth about 25,000 RMB (about $ 3,800).
On December 2 last year, two True Jesus Church venues were leveled in Duigougang, a town in Lianyungang city's Guannan county, because they were deemed "dilapidated."
"Religious Affairs Bureau officials claimed that two-thirds of Three-Self churches in Duigougang town would be shut down on various pretexts, like being too small or having substandard fire control measures," a town government employee revealed to Bitter Winter. "They will be rented, sold, or demolished afterward."
In August last year, multiple Three-Self churches were demolished in Suqian city's Siyang county. The congregation of the Mahong Church in Zhangjiaxu town was ordered to merge with other venues on August 8, and the building was demolished two days later. A Three-Self church, established 24 years ago, was destroyed in Siyang on August 12, and two more, including the Fengdeng Church located opposite a government institution, later that month.
The Three-Self Zhaoji Church in Suqian's Shuyang county was located on the two top floors of a 7-story building. In April last year, the local government ordered to close the venue and remove the two top floors because the building was higher than the county committee office.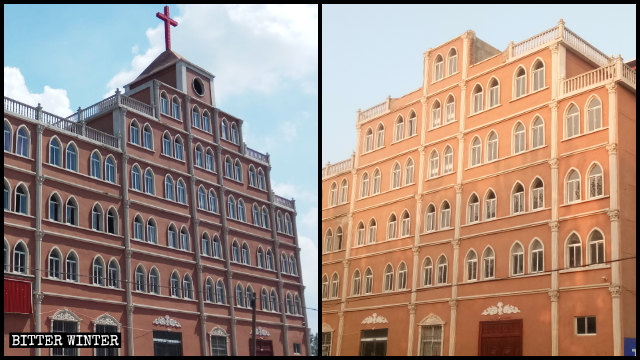 Zhejiang Province
The Three-Self Yulang church in the provincial capital Hangzhou was destroyed in June as an "illegal construction." According to church members, the government demolished their old church in 2016 but agreed to build a new one, which was finished in 2017. But since 2018, the authorities repeatedly ordered to destroy the new 100-square-meter venue.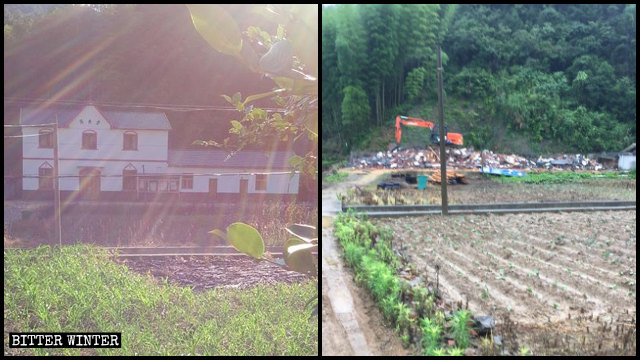 "We had never expected that the new church would be demolished three years after it was built," a church member said.
In December last year, the Yuhang district government in Hangzhou leveled a house church venue occupying nearly 200 square meters because it was an illegal religious venue and was built without proper approvals.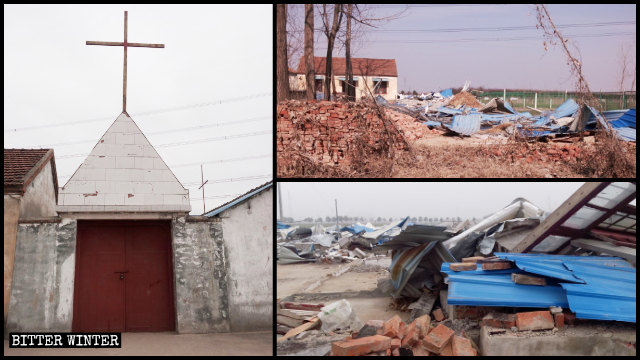 "The government comes up with various trumped-up pretexts to demolish churches because they want to eliminate all of them," a congregation member said. The church, established originally before the founding of the People's Republic of China, has been demolished twice. First, to build a railway, and second, to erect a new building.
"The government sets quotas for demolishing churches. If this church is not demolished, another church will be to complete their task," a Taizhou government employee explained.
Source: Bitter Winter