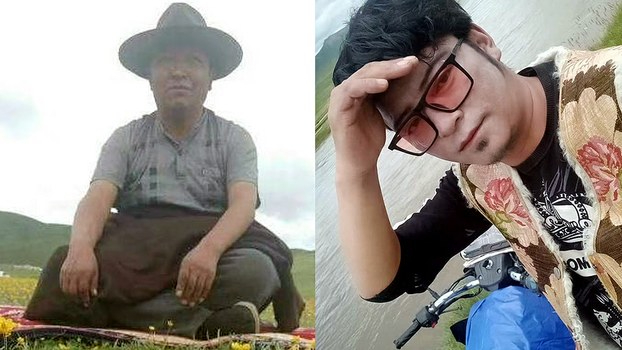 A Tibetan community leader and his nephew were arrested this weekend in Qinghai's Tridu county after defying Chinese authorities by advising local Tibetans not to sign away their rights to grazing land, Tibetan sources said.
Bu Dokyab, 63, and his nephew Gyaltsen, 43, were taken into custody on Aug. 21 by Chinese police while eating at a restaurant in Yushu prefecture's Tridu county and were taken to the county's Detention Center 683, a local source told RFA's Tibetan Service.
Authorities did not release a statement regarding the arrests of the two men, residents of Chakchok village in neighboring Chumarleb county's Chigdril township, RFA's source said, speaking on condition of anonymity.
"But Tibetans living in the area suspect it had to do with their open defiance of a government order," RFA's source said.
"Recently, Chinese authorities held a meeting in Chumarleb to talk about confiscating the land, and Bu Dokyab during the meeting advised the people there not to give up their ownership of the land, saying that this would destroy their livelihood," the source said.
"He said that surrendering their deeds to the land would prevent them from ever passing anything down to future generations."
Also speaking to RFA, a second source said that Bu Dokyab had "spoken strongly" against nomads giving up their rights to their land, reminding his listeners that anyone surrendering their deed to government authorities would lose their way to make a living.
"Dokyab is a unit leader in his village and is a very generous man who often gives his help to poor nomads who are in need," the second source said. "He even petitions the government when local government assistance to the poor does not reach them in time."
"Because of his interventions to secure local families' government subsidies, he has already been detained twice by the Chinese police," the source said.
Land deeds revoked
Several counties in Qinghai have called public meetings this year regarding land rights, with officials issuing advisories and distributing documents canceling people's ownership of their land, the source said.
"Before this, the Chinese promised that the land belonged to the local people, and that no one could interfere with their rights for 50 years."
"But beginning this year, the land deeds have been revoked, and this has left the local Tibetans very concerned," he said.
Development projects in Tibetan areas have led to frequent standoffs with Tibetans who accuse Chinese firms and local officials of pilfering money, improperly seizing land, and disrupting the lives of local people.
Many result in violent suppression and intense pressure on the local population to comply with the government's wishes, with protest leaders frequently detained and charged under cover of a Chinese campaign against so-called "underworld criminal gangs" in Tibetan areas.
Reported by Pema Ngodup for RFA's Tibetan Service. Translated by Dorjee Damdul. Written in English by Richard Finney.
Source: Copyright © 1998-2016, RFA. Used with the permission of Radio Free Asia, 2025 M St. NW, Suite 300, Washington DC 20036. https://www.rfa.org.