As the coronavirus was spreading throughout China, CCP-run Protestant churches and their congregations suffered continuous crackdowns at the hands of the government.
At 4 in the morning of March 10, over 200 government personnel and police officers came to a Three-Self church in Xiazhuang village in Dawu township, administered by the prefecture-level city of Shangqiu in Henan Province. Led by officials from the Religious Affairs Bureau, they brought along two excavators to demolish the church.
According to an eyewitness, the church, built with over 300,000 RMB (about $ 40,000), donated by the congregation, was turned into ruins, and all church belongings, worth tens of thousands of RMB, were buried in the rubble. The witness added that the police first kicked open the church gate and dragged away a congregation member who guarded the church and confiscated his two cellphones. When the in-charge of the church, a man in his 70s, asked why the church had been destroyed, police officers viciously beat him, fracturing two of his ribs.
"These police officers later threatened to kill the person in charge if he challenged the Communist Party again," the witness remembered.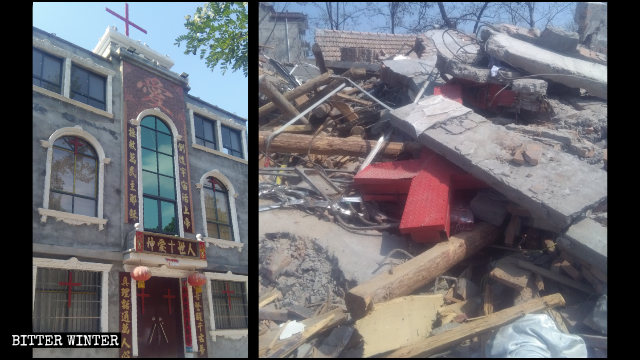 As reported by ChinaAid, on Easter Day, April 12, the Donghu Church, a Three-Self church in Xining, the capital of the western province of Qinghai, was demolished on orders from local government officials who designated the place of worship as "illegal."
Bitter Winter has previously reported that even during the coronavirus epidemic, the CCP continued to remove crosses from Three-Self churches in Anhui, Jiangsu, Shandong, and other provinces. Other religious symbols, including traditional Chinese Christian couplets, were not spared, too.
In January, the governments of Juye and Dongming counties, administered by Heze city in the eastern province of Shandong, warned the preachers of local Three-Self churches not to put up religious couplets, claiming that it is a state policy.
"If we challenge the Communist Party's leadership, our church will be shut down," a Three-Self preacher in Juye county said helplessly.
The same month, the police ordered a Three-Self church in Xiangning county of Linfen, a prefecture-level city in the northern province of Shanxi, to remove its signboards with the Chinese characters for "Christian Church." Prior to this, the local government had repeatedly harassed the church, pressuring it to remove the sign, because "the government could by no means tolerate that church signboards are larger than those of government institutions."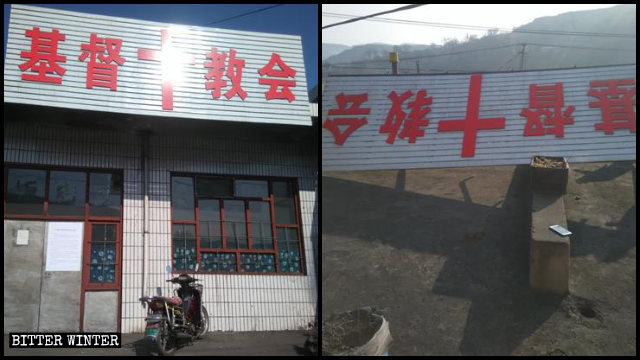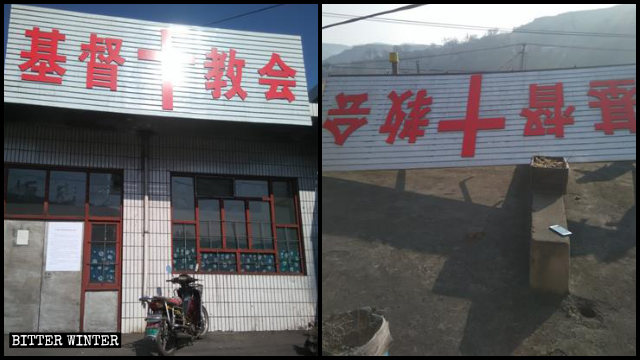 The government does not allow believers to have religious symbols at home, as well. On February 7, officials from the Religious Affairs Bureau in Shanxi's county-level city of Penglai destroyed Christian couplets in the house of a Three-Self church director.
In February, homes of believers across Yugan county in Shangrao, a prefecture-level city in Jiangxi Province, were inspected for religious symbols and couplets. In Yuting town alone, they were removed from at least 11 homes, as officials informed residents that "the Communist Party does not allow them to hold religious beliefs."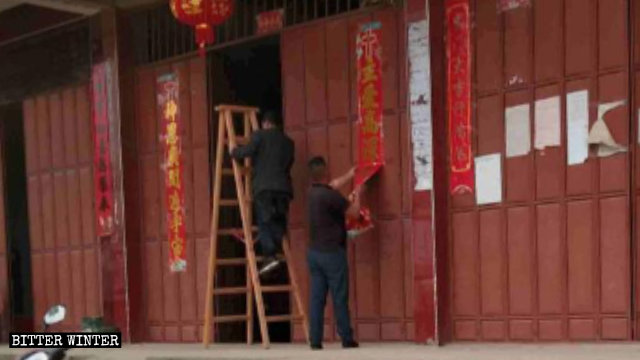 Source: Bitter Winter