President Xi's sinicization policy expands to all areas of Chinese society, as educational institutions are required to stop "worshiping foreign things."
by Lu Xiaojing
Implementing the Notice on Further Crackdown on Irregular Place Names, jointly issued by several central government institutions on December 10, 2018, a nationwide clampdown on foreign names across China was launched. Next to residential communities and enterprises ordered to change their names into "more Chinese," schools and kindergartens are also targeted.
In May, the Iberia Kindergarten in Beiliu, a county-level city in Guangxi Zhuang Autonomous Region's Yulin city, was ordered to change its name to Beiliu No. 6 Happy Kindergarten. The Montessori Kindergarten and the Princeton International Kindergarten, named after the university in the United States, also had to change their names.
"The municipal Bureau of Education ordered to change names uniformly to carry forward the spirit of patriotism," a kindergarten teacher explained to Bitter Winter. "All kindergartens in Beiliu with names related to foreign languages had their names changed to counter the 'worship of foreign things.'"
Chongyang meiwai (崇洋媚外) — the "worship of foreign things" – was considered a crime during the Cultural Revolution. People could be convicted even for having relations overseas.
According to the director of another kindergarten in Beiliu, pre-schools nationwide are ordered to "de-westernize" their names. "Any kindergarten that challenges the order would be closed down," the director said.
In Weifang, a prefecture-level city in the eastern province of Shandong, Beihai Bilingual School, Linqu Foreign Language School, and Linqu County Dongcheng Bilingual School had to drop "foreign" and "bilingual" from their names last year, as per an order from the provincial Bureau of Education.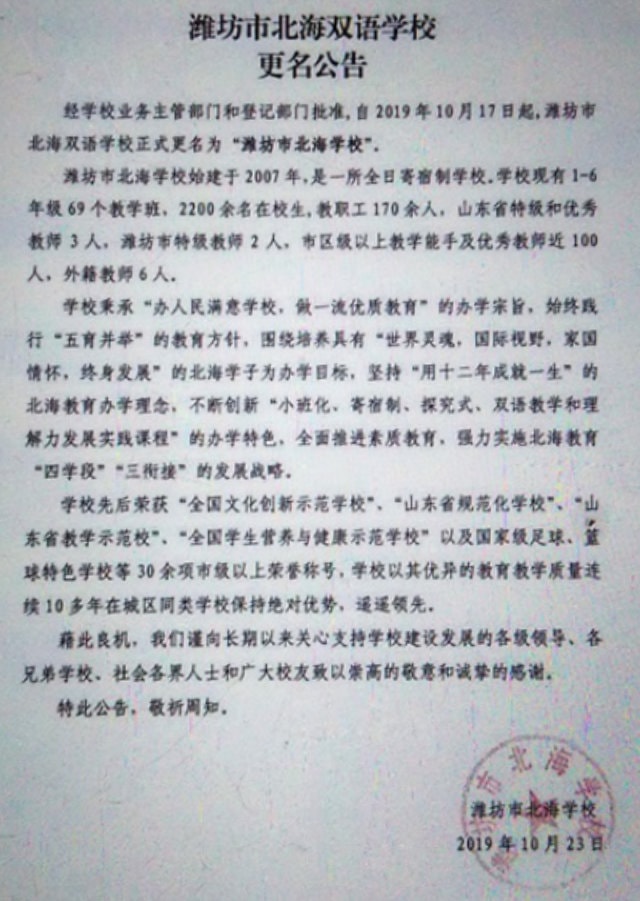 "The state treats the two words as 'worshiping of foreign things,'" a staff member at the Beihai Bilingual School explained. "Officials say that China is powerful, and the Chinese do not need to study foreign languages, and there is a growing tendency to learn Chinese in the world."
Attacks on Western culture and values are an integral part of President Xi Jinping's sinicization policy implementation. The communist regime views English as a tool by the West to "infiltrate" China.
In the new school year, a Zhongshan city primary school in the southern province of Guangdong reduced the number of English classes from every day to three per week. Parents worry that this may negatively affect their children's future academic achievements.
The Ministry of Education issued new guidelines at the end of 2019, banning the use of foreign teaching materials in primary and secondary schools, requiring to replace them with texts that "insist on the guiding principles of Marxism and reflect the Chinese style" and promote the "spirit of Xi Jinping Thought."
Texts by foreign authors or those featuring democratic values, like human rights, have also been purged from the textbooks issued ahead of the new school year. "Many texts reflecting the respect for human rights have been removed because the Communist Party doesn't want Chinese children to be exposed to Western values or think that other countries are better than China," a primary school teacher from Shandong Province commented.
"The Communist Party is strengthening control over people's ideas, especially young children," a middle school principal from Shandong added. "That is why texts by foreign authors are removed from school textbooks."
A fifth grade English teacher in a Liaoning Province primary school told Bitter Winter that any mention of religious holidays had also been purged from English language textbooks. She gave an example: a text "Easter Party" has been replaced with the "English Party." "Using the earlier textbook, I explained to students what Easter was, but now I cannot speak about this," the teacher said.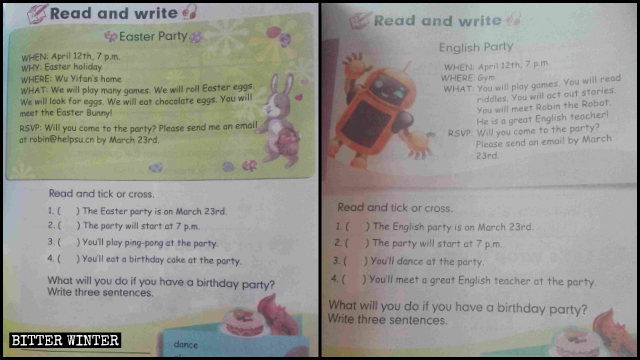 A Chinese language middle school teacher from Daqing, a prefecture-level city in the northeastern province of Heilongjiang, revealed that the city's Education Bureau ordered the school ahead of the new school year to talk down Western holidays, urging to promote the Chinese Communist Party and traditional Chinese culture.
Source: Bitter Winter