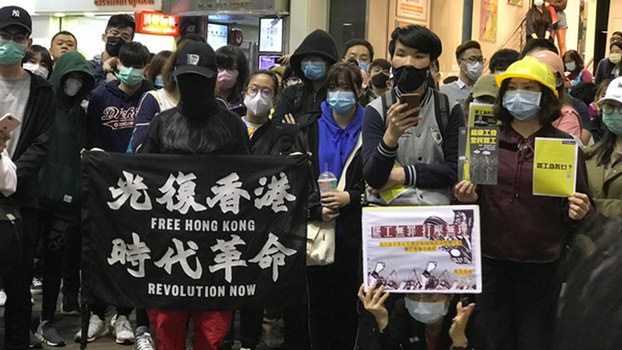 Hongkongers on Thursday marked the nine-month anniversary of attacks by riot police on unarmed protesters at the start of anti-extradition protests on June 12, 2019, as a State Department report hit out at widespread police violence and abuse of power during the protest movement.
Large numbers of riot police converged on Kowloon's Mong Kok district on Thursday as protesters staged street screenings of footage from the June 12 protest.
As some protesters blocked part of Sai Yeung Choi Street with debris, more riot police showed up and began shoving journalists at the scene and shining strong flashlights into people's faces, brandishing pepper spray.
Police then moved in among the crowd and started doing ID checks, singling out first-aid volunteers and journalists in high-visibility jackets.
A viewer at the Mong Kok screening surnamed Yip said he came to support the protest movement and to call for an end to police violence.
"Hong Kong is no longer a place ruled by law, and we hope that true Hong Kong people can persist [in their struggle]," Yip said.
"The government has taken the wrong path, believing that the problem can be resolved with violence, but it never will be," he said.
A rally participant surnamed Lee said there is a very strong desire for the freedoms that were promised to the city ahead of the 1997 handover among its young people.
"The people of Hong Kong have fought all along for their freedom, which is what the young people deserve, but the government keeps suppressing them," she said.
Lee said she had made sure to spend all of the H.K.$10,000 handouts to all permanent residents over 18 on "yellow circle" businesses that openly support the protest movement.
She called on the U.S. to stand with protesters in their demand for fully democratic elections, and hit out at the city's leader, chief executive Carrie Lam, for failing to stand up for Hong Kong.
"I have always supported [full democracy] because this government we have right now wasn't elected by us," Lee said. "Carrie Lam always puts the interests of mainland China first, and we in Hong Kong are left with nothing."
"She may be the chief executive of Hong Kong but she has done nothing to help the people of Hong Kong."
A student surnamed Kwun said the anti-extradition movement, which later broadened into demands for fully democratic elections, an inquiry into police violence, an end to the description of protesters as "rioters," and an amnesty for thousands arrested since June, had begun peacefully on June 9, when two million people took to the city's streets in a huge march against Lam's plan to allow extradition to mainland China.
"We've tried peaceful gatherings, as well as more radical forms of protest, but actually none of it has worked," Kwun said. "Actually, I'm at a loss to know what would, everyone … is so embroiled in the conflict with the police."
One of the scenes replayed on the screens in Mong Kok was a face-off between riot police and a crowd of several thousand unarmed, mostly young, people.
During the clash, police surrounded one group of several thousand people cutting off their escape route, then fired around 240 tear gas canisters into the fleeing crowd, who scrambled to shelter in a nearby office building which could only be accessed through a single door.
Several protesters and a media worker were hit in the head with tear gas canisters, with two people seriously hurt and more than 80 casualties reported at the time from tear gas, sponge bullets, and rubber bullets.
In Washington, the State Department issued an annual report citing reports from Amnesty International and other sources as saying that police had beaten and mistreated individuals in custody, with several reports emerging of sexual assault in detention.
"Several activists alleged that police abused detainees at the San Uk Ling Holding Center, including breaking bones and sexually assaulting detainees," the report said. "The police denied those allegations."
It said many Hong Kong residents and experts said police officers had used excessive force to disperse crowds or arrest individuals suspected of participating in violent protests on several occasions.
It cited the U.N. Human Rights Office as saying that there was "credible evidence" the Hong Kong police were "employing less-lethal weapons in ways that are prohibited by international norms and standards" when conducting crowd dispersal operations.
"Critics also noted that police officers frequently did not show identification when conducting crowd dispersal operations, which made it difficult to identify officers who may have committed abuses," the report found.
It said there had been numerous reports of political arrests of activists in a bid to discourage protesters and keep numbers down, while "multiple sources" said Chinese state security agents were monitoring political activists and rights campaigners, as well as academics critical of the ruling Chinese Communist Party.
The report also found that the authorities, whether in Hong Kong or Beijing, had "restricted or sought to restrict the right to express or report on dissenting political views, particularly support for Hong Kong independence."
"There were some legal restrictions on the ability of individuals to criticize the government publicly without reprisal," it said.
Citing the debarring of Joshua Wong from standing in District Council elections in November, the report found that "requirements for electoral candidacy and for taking the oath of office also limited free speech in the political arena."
"Several journalists alleged that police detained, assaulted, or harassed them while covering protests," it said.
It said government actions, including prosecutions of activists and refusals to grant approval for some assemblies, had also infringed on the rights of Hongkongers to peaceful assembly and protest.
"Several human rights organizations repeated longstanding concerns that the SAR's legal definitions of illegal assembly and rioting, charges frequently brought against protesters, were overly broad," the report said.
Reported by Lau Siu-fung for RFA's Cantonese Service. Translated and edited by Luisetta Mudie.

Source: Copyright © 1998-2016, RFA. Used with the permission of Radio Free Asia, 2025 M St. NW, Suite 300, Washington DC 20036. https://www.rfa.org.