Places of worship were off-limits to believers amid the coronavirus outbreak, while activities to worship China's revolutionary leader in temples were green-lighted.
by Jiang Tao
On May 7, the gate to the eastern courtyard of the Sanguan Temple, a folk religion temple in Pingdingshan city in the central province of Henan, was locked tightly, with a notice banning all religious activities amid the pandemic displayed on it.
The temple's western courtyard, however, was wide open, and people were getting inside to worship in front of the statues of China's revolutionary leaders: Chairman Mao, general and warlord Zhu De, and the first Premier of the People's Republic of China Zhou Enlai.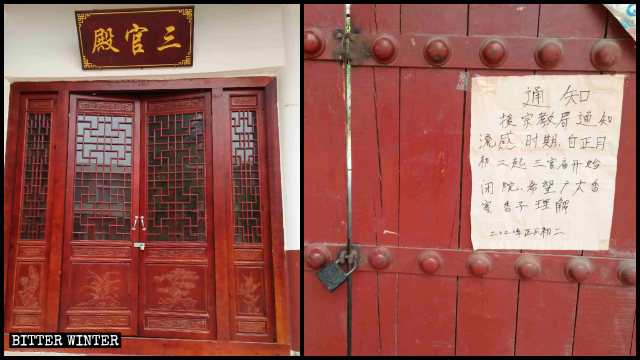 The temple manager told Bitter Winter that government officials frequently patrolled the venue to ensure that no religious activities were being held. On April 23, patrolling officials discovered him burning incense alone in the temple's eastern courtyard and reported him to the district government. Village officials came to rebuke him, warning that the temple's eastern gate should be closed at all times. They also threatened that the temple would be destroyed if he was found burning incense there again.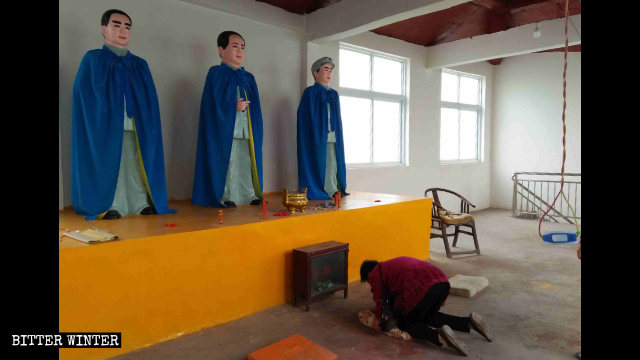 In May, state-run religious venues in the county-level city of Dengzhou, administered by Henan's Nanyang city, remained shut, while the Mao Zedong Heavenly Deity Temple saw an endless stream of worshippers.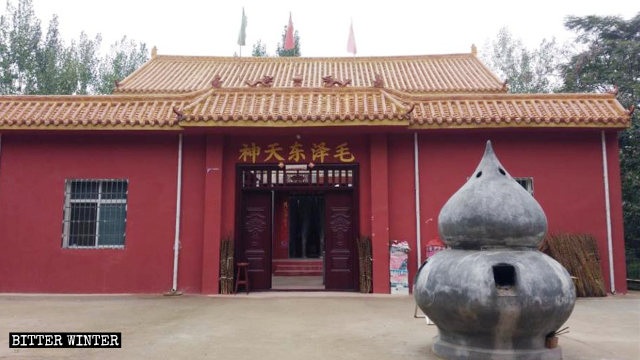 "Even government officials came to kowtow and worship amid the pandemic because the temple was not closed down," the temple manager explained proudly. "Access to other temples was blocked, while the Heavenly Deity Temple stayed open, and we never received an order from the government to shut it down. People came here to burn incense and worship, as always."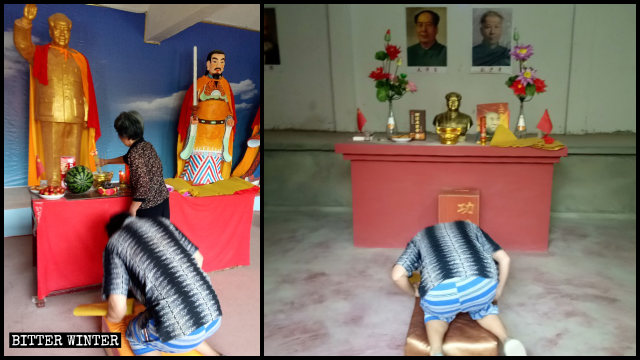 All local churches, temples, and other religious venues were closed immediately after lockdown restrictions had been implemented. They were allowed to reopen only after receiving an official notice. Some were kept closed on various pretexts not related to the virus.
In July, seven police officers in Nanyang-administered Xinye county stormed into a Buddhist temple and ordered its master to replace the national flag, which they claimed had faded.
"One moment, the government ordered to install a new fire prevention system, and then buy a national flag. They just did not want temples to reopen," a lay Buddhist in the temple complained. "They fine temples and threaten to shut them down if they see through surveillance cameras people burning incense. They use trick after trick to crack down on religion."
People reported that in late April, they wanted to enter the Longxing Temple and Yuanjue Temple in Qingzhou city, administered by the prefecture-level city of Weifang in the eastern province of Shandong, but were stopped by guards. They claimed that the Religious Affairs Bureau had banned all religious activities and strictly surveilled all temples through cameras.
But in a folk religion temple dedicated to Mao Zedong and his wife Yang Kaihui in Qingzhou, people were singing a song praising Chairman Mao, "The flowers blossom red on the mountain, Chairman Mao leads us to fight for liberation…"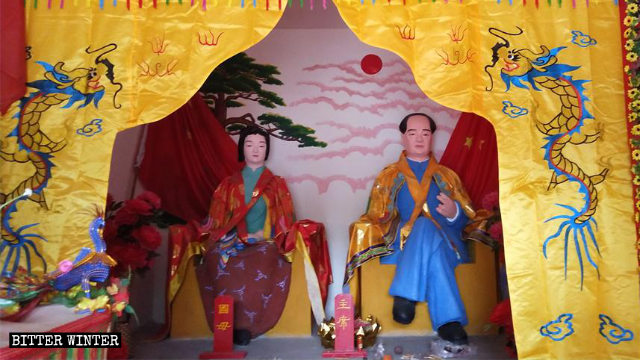 The CCP never ceased repurposing places of worship amid the pandemic. About 20 Taoist, Buddhist, and folk religion temples were rectified in villages administered by Baoding city in the northern province of Hebei between April and July. However, a Buddhist temple in Julu county in Hebei's Xingtai city that has been converted into a Mao Zedong Memorial Hall was welcoming government officials at the time.
In May, the Julu county government demanded the temple manager remove all Buddhist statues within seven days and display publications about Mao Zedong, threatening to demolish the temple otherwise. During that time, assigned personnel supervised the rectification.
Because some statues were too heavy to move, the temple manager begged to keep them, but official rebuked him harshly, saying that Buddhist deities can't stand next to a Mao Zedong statue.
Source: Bitter Winter