As coronavirus spreads around the world, people of faith rely on the internet as the only way to maintain their group religious activities. But not in China.
"We can't get together because of the pandemic," a Sola Fide house church preacher from the southeastern province of Jiangxi told Bitter Winter. Their only choice was to meet online, just as many believers around the world do now. So, on February 9, she planned to give a sermon to her congregation through a live-stream app. "Our first and only online gathering was blocked by the government soon after it started," the preacher explained. She added that before the coronavirus outbreak, their church had to change venues for at least five times because of the continuous police harassment.
The same day, a house church pastor from the eastern province of Shandong also organized an online service for his congregation, but the meeting was stopped less than 20 minutes after the start. A few days later, he tried another online platform but also failed.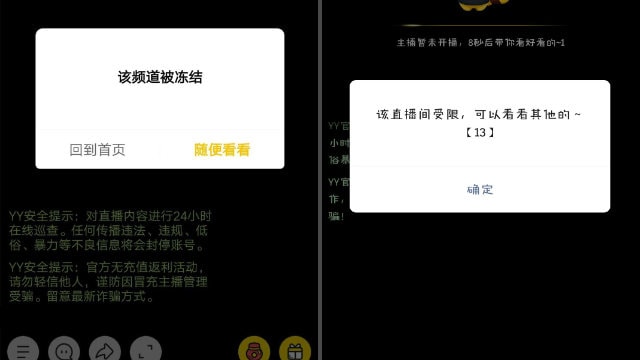 Having discovered that more and more people were trying to organize religious activities online, the Two Chinese Christian Councils of Shandong Province issued a notice on February 23, demanding all churches in the province to stop live-streaming their services immediately.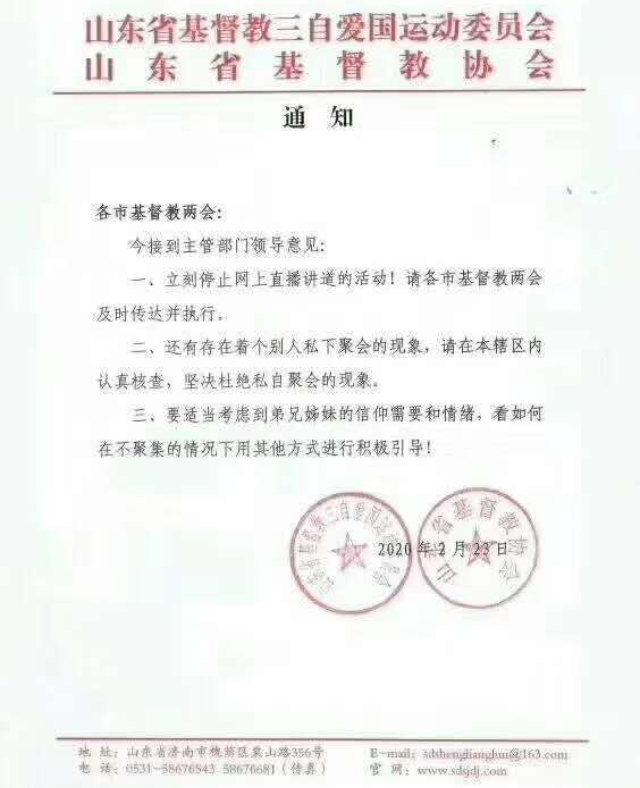 On February 28, the United Front Work Department of the Nanhu district in Jiaxing, a prefecture-level city in the eastern province of Zhejiang, issued a notice, demanding to investigate online preaching activities in all state-run religious venues. As per the order, all live-streaming had to be stopped within one week, and WeChat audio broadcasts immediately after the epidemic was ended.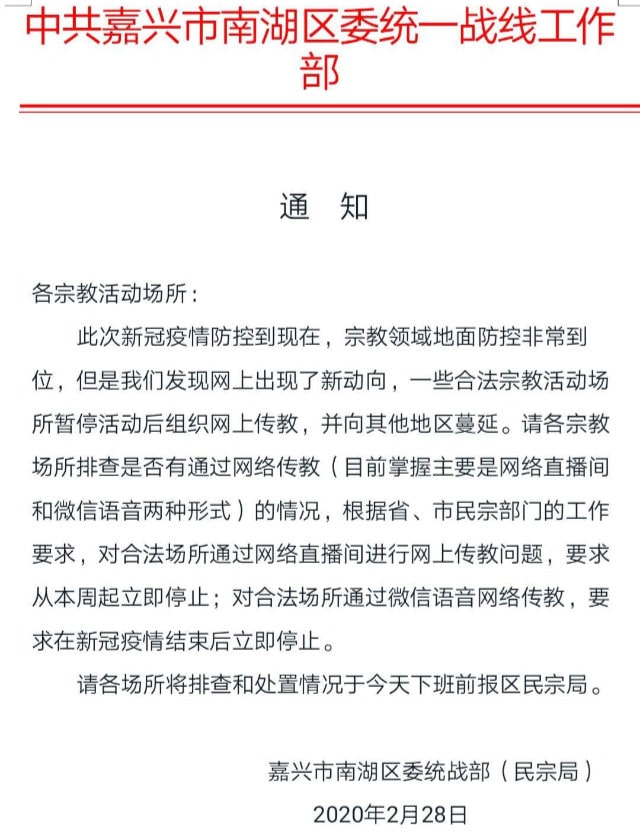 According to the Measures for the Management of Religious Information on the Internet, issued in September 2018 by China's State Administration for Religious Affairs, "No organizations or individuals will be allowed to live-stream or broadcast religious activities, including praying, burning incense, ordinations, scripture chanting, holding Mass, worshipping or receiving baptism online in the form of text, photo, audio or video."
Very few organizations, and only those that hold state-issued licenses, can broadcast religious services and provide faith-related information online in China. And the content is also very heavily censored. The strict regulations have not been eased even during the pandemic.
Not only churches are restricted: Online activities by regular believers are also heavily monitored. On January 24, the next day after the lockdown in Wuhan was imposed, members of a Three-Self church in Shangqiu city's Suiyang district in the central province of Henan received a notice from their pastor, demanding to dissolve all their WeChat groups. In February, a village official forced a religious resident to change his WeChat account profile picture, which contained an image of the cross.
A Three-Self church in Laoling city in Shandong demanded all the members of its WeChat groups to disclose their names so the authorities knew who is commenting on what.
On January 26, pastors of some Three-Self churches in Shandong sent their congregations the instructions issued by the Bureau of Public Information and Network Security Supervision, prohibiting to make remarks unfavorable to the government and to spread information about the epidemic that has not been approved by the state. Any online account posting such comments or information would be banned permanently, and related churches implicated.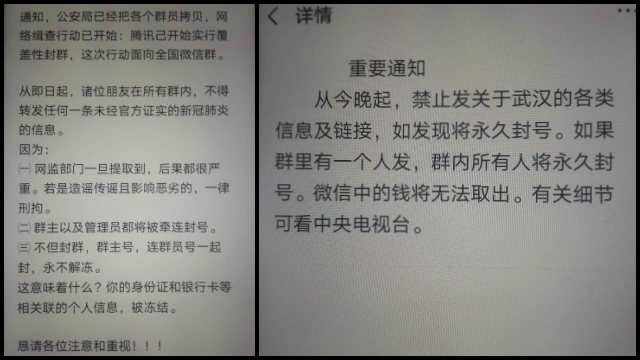 "The Public Security Bureau has information on all members of every WeChat group, and network inspections are carried out, especially strict during the pandemic," a Three-Self pastor from Shandong explained to Bitter Winter.
"Encouraged by the government, many factories and public venues have been re-opened, but religious venues are still barred," a Three-Self believer from Henan said sadly. "Religious meetings are forbidden, and all channels of religious communication are blocked."

Source: Bitter Winter