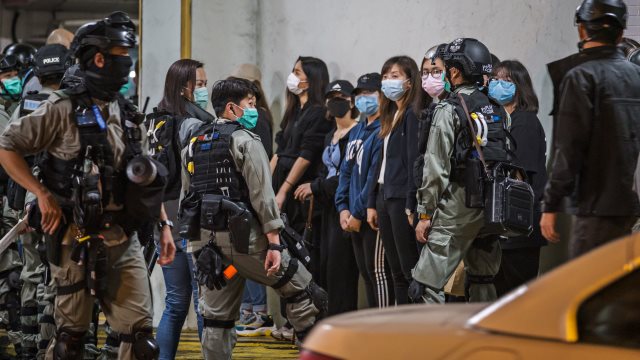 To ensure that the pro-democracy movement spirit does not spread to mainland China, the CCP scrutinizes anyone with links to the special administrative region.
The pro-democracy protests in Hong Kong have quieted down amid the novel coronavirus epidemic, but the authorities don't cease cracking down on protesters. On February 28, Jimmy Lai Chee-ying, the owner of Hong Kong's Next Media Group that publishes the pro-democracy newspaper and website Apple Daily, was taken into custody along with two other activists. The three men, who were later released on bail, were accused of taking part in an unauthorized protest last August.
The CCP also applies suppressive measures against residents in mainland China, who are investigated for "supporting Hong Kong rioters." Even if their alleged "crimes" occurred months ago.
Guilt by association
In early November, the police investigated a woman from Inner Mongolia Autonomous Region because her son was studying in Hong Kong. She was asked about her son's opinion on the pro-democracy movement and was told to write a statement promising to ensure that her son would not participate in demonstrations. She was also demanded to tell her son not to express his opinion about the government on social media and over the phone. Otherwise, this would become "a lifetime stain," and all his relatives in China would be implicated.
Since then, the police frequently summoned the woman to talk about her son. Officers told her that other parents whose children studied in Hong Kong were under similar investigations.
A resident of Jining, a prefecture-level city in the eastern province of Shandong, told Bitter Winter that in November, government employees asked her to disclose personal information about her son who is working in Hong Kong, including his phone number. They claimed that such data about all Shandong natives in Hong Kong is being collected throughout the province.
A source from the Beijing government told Bitter Winter that personnel from state institutions are in Hong Kong investigating those involved in the pro-democracy movement. He also said that mainland-based relatives of the students in Hong Kong who are known to have participated in the protests would be punished based on "guilt by association." If among them are government employees, they will be dismissed from offices, and their children will not be allowed to seek higher education, serve in the army, or become CCP members; if they are retired, their pensions will be suspended.
Punished for reposting news
In November, the police investigated a woman from the central province of Henan for reposting an article about Hong Kong protests three months ago. The officers checked everything saved on her cellphone and asked her to write a statement promising not to repost similar information in the future, threatening to arrest her if she did. The woman's friend, who had shared the article with her, was kept in custody for seven days.
"Just because I reposted an article, officers from a police station 300 kilometers away came to my workplace to investigate me," the woman said with anger. "What's wrong with the article which tells the truth? Reposting it shouldn't make me an offender, but the government focuses on such things."
A self-employed businessman from the eastern province of Jiangxi told Bitter Winter that he and his friend were kept in custody for twelve and ten days, respectively, for posting news about Hong Kong protests in November. They were charged with "disturbing public order." Other people in their WeChat group have also been detained on the same pretext.
Even saving messages about the pro-democracy movement on cellphones is considered a crime by the CCP. In January, a student from the mainland studying in Hong Kong was taken to a police station for questioning during a visit home because some information on his phone was deemed "sensitive."
"Police officers checked my luggage and phone, and deleted everything about the protests, warning me not to discuss this topic or share any unauthorized news. I was told to trust the country," the student explained.
Visitors to Hong Kong scrutinized
People from different parts of China reported to Bitter Winter that local authorities canceled their trips to Hong Kong during the height of pro-democracy protests, while others were investigated and even arrested after returning home to the mainland.
According to a member of the Great Praise Church, a house church in Xiangyang, a prefecture-level city in the central province of Hubei, the church's pastor, surnamed Zhang, was arrested on August 23 for going to Hong Kong to attend a worship meeting. A house church preacher from Wuhan, the capital of Hubei, was questioned by the police for visiting Hong Kong in July. In November, the police investigated a house church pastor from the prefecture-level city of Qitaihe in the northeastern province of Heilongjiang after he returned from Hong Kong.
The CCP also uses other, less visible methods to control its citizens. A supervisor at an insurance company in Shandong Province told Bitter Winter that in August, the local Banking and Insurance Regulatory Commission issued a notice, demanding all banks to stop providing money transfer services to the customers of Hong Kong's insurance companies. This meant that people could only renew their service if they went to Hong Kong in person.

Source: Bitter Winter