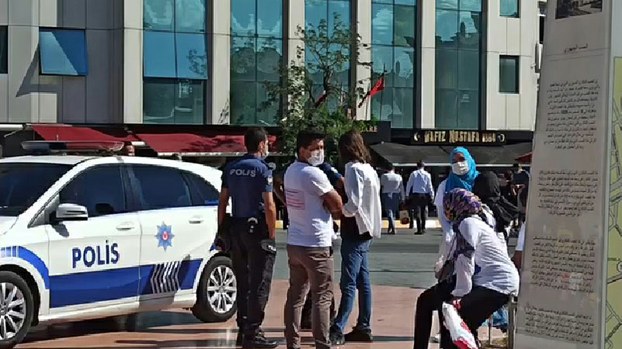 Authorities in Turkey's financial capital Istanbul harassed and briefly detained a group of Uyghurs who gathered on the city's iconic Taksim Square wearing T-shirts with images of missing relatives back home in China's Xinjiang Uyghur Autonomous Region (XUAR), group members said.
The nine Uyghurs were posing for group photos on Monday afternoon when they were approached by police who demanded that they delete the images and turn their T-shirts inside-out to obscure the information about their family members, according to Jewlan Shirmemet, a Uyghur student in Istanbul who organized the gathering.
News of the rare incident of Uyghurs being targeted by Turkish authorities, which went viral on social media, has prompted concerns over China's growing influence in Turkey. Many of the more than 50,000 Uyghurs who live in Turkey fled there to escape persecution in China, and Uyghurs traditionally view the country as a refuge and advocate for their rights.
"We posed for a photo in our T-shirts in front of the [Republic Monument] statue in Taksim Square when the police came and said we had to delete our photos, so we deleted them," Shirmemet told RFA's Uyghur Service.
"Later, when we were leaving, they told us we had to either take off the T-shirts or wear them turned inside out, and then they made us leave," said the activist, who is campaigning for the release of his mother from a five-year prison sentence for allegedly "aiding terrorists."
Shirmemet and others told RFA that police gave the need to "investigate the family backgrounds" of those gathered at the square as an excuse for holding them and interrupting their photo.
RFA also spoke with Alimjan Turdi, who believes his seven missing family members are likely detained in the XUAR's network of internment camps where authorities have held up to 1.8 million Uyghurs and other Muslim minorities since April 2017.
Turdi said the group had just began taking photos on Taksim when "police came from every direction," telling members to produce identification and explain what they were doing.
"We told them we were there to take a photo, and they said it was illegal for us to pose for a photo wearing our shirts," he said.
"They pulled us all aside, took our ID cards, and kept us there for an hour and a half, questioning us. Eventually they told us that we had to turn our shirts inside out before we left, that we weren't allowed to leave with our shirts on the right way."
Turdi said that as the group left, "people on the street kept pointing out to us that we had our shirts on inside-out."
"I have put a lot of hope in the Turkish government and in the country, and I'm very sad that this happened … They insulted us. I will never forget this. I will make sure that this story stays in my family's history, one generation to the next."
RFA spoke with an employee at the Taksim Police Station who said he had no knowledge of the incident and referred further inquiries to a public security division of the neighboring Beyoğlu District Police Station. Repeated calls to that station went unanswered.
After leaving Taksim Square, the group attempted to find a reporter at the offices of Turkish Radio and Television Corporation (TRT) to share their story but were not permitted to enter the building or meet with any employee of the national broadcaster, group members said.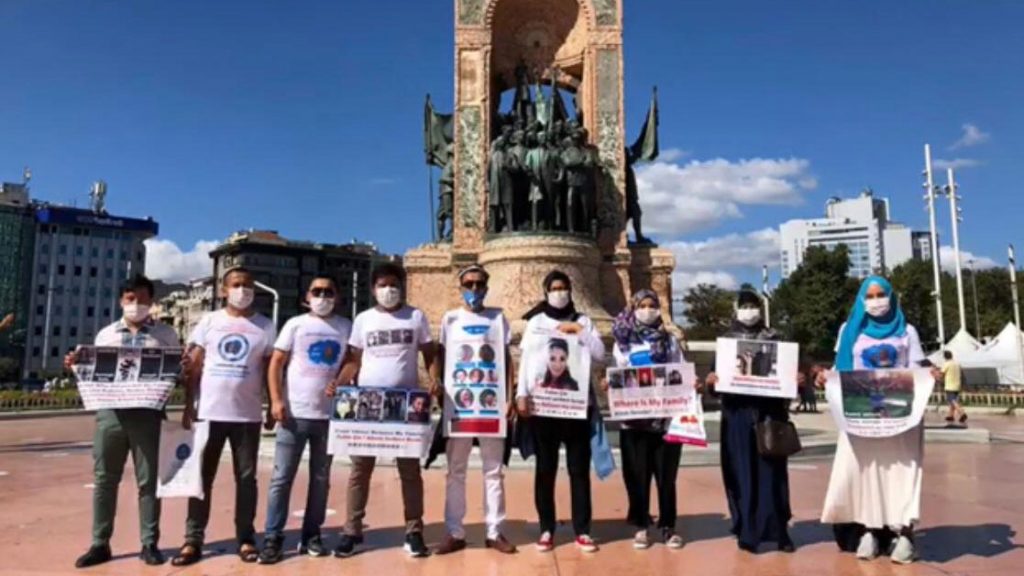 Video testimony
In a video testimony posted to social media in Turkish after the day's events, Mirzaehmet Ilyas said that he and others had simply gathered on the square to take a photo in honor of their missing relatives.
"We didn't shout slogans and we didn't demonstrate, but the police made us turn our shirts inside-out as a way of forcing us out of Taksim," he says in the video.
"It was humiliating. We're not criminals … Is it a crime that we're searching for our parents? Even on Turkish soil, we are unable to raise our voices against China. Truly, this is a disgrace."
He also expressed disappointment that the group had failed to meet with anyone from TRT.
"[We were disappointed because] no one was there, firstly, and secondly, because we weren't able to share our grief with others," he said.
"We all stood out there for a while, but then someone came and told us that they weren't taking anyone [inside]—that normally they would accept people but now they aren't. They told us to call the central offices, and then we left."
It was not immediately clear if the group was unable to enter the building because of the dangers associated with the coronavirus pandemic.
The incident on Taksim Square marked the group's third organized gathering while wearing their T-shirts, following one on Istanbul's Beyazit Square and a demonstration in front of the Chinese consulate.
During the latter event, which took place on Aug. 14, Shirmemet read a formal statement before attempting to deliver a written request to consulate staffers on behalf of himself and 10 other Uyghurs, calling on the Chinese government to release their family members. The consulate reportedly refused to accept the request.
In response to the police encounter on Taksim, Turkish legal scholar and professor Dr. İlyas Doğantweeted that forcing someone to turn their shirt inside-out is "discriminatory" and "a repression of the freedom of speech."
"This matter will immediately be explored through legal avenues," he added.
Growing ties
Analysts have noted that the relationship between Turkey and China is increasingly growing closer and stronger, a trend that has negative ramifications for Uyghur activists, who say they are facing greater restrictions than ever before.
In February 2019, Turkey's Foreign Ministry issued a rare statement of criticism of China by a majority Muslim nation, demanding that authorities close the internment camps in the XUAR. During a trip to China in July last year, however, Turkish President Recep Tayyip Erdogan pledged security cooperation with Beijing and said that residents of the XUAR live happy and prosperous lives under Beijing's rule, according to Chinese state television.
A 2017 extradition treaty signed between Beijing and Ankara—while not ratified—was submitted by Erdogan for consideration a year ago to the Grand National Assembly (TBMM). Observers fear it specifically targets Uyghurs in the majority Muslim nation for forced repatriation to China.
The Turkish government had long refused to extradite or deport Uyghurs back to China, but that changed in June last year—two months after the treaty was submitted to parliament—when Turkey sent several home via Tajikistan, including a woman named Zinnetgul Tursun along with her two toddler daughters.
A month later, Tursun's sister—who lives in exile in Saudi Arabia—learned from her mother in the XUAR that her sibling had "disappeared" and that the family had no information about what had happened to her, before warning her to end further communication.
Reported by Azigh for RFA's Uyghur Service. Translated by Elise Anderson. Written in English by Joshua Lipes.
Source: Copyright © 1998-2016, RFA. Used with the permission of Radio Free Asia, 2025 M St. NW, Suite 300, Washington DC 20036. https://www.rfa.org.