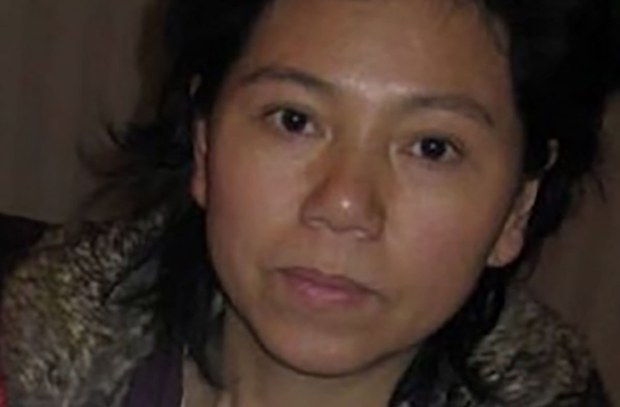 Chinese police have detained a woman in the southwestern province of Yunnan on suspicion of subversion, as part of a crackdown on dissent in the southern province of Guangdong, her associates confirmed Friday.
Wei Yani, who hails from the southern region of Guangxi, was detained by police in Yunnan in November as part of a nationwide operation.
She was taken away from the home of fellow activist Zhang Lin in the Xishuangbanna border area of Yunnan by officers from the state security police department in Guangzhou, Guangdong's provincial capital.
Police searched Zhang's home and confiscated a computer and mobile phone belonging to Wei.
An associate of Wei's, Chen Chuangchuang, said she may have been getting ready to flee China by crossing the border into neighboring Myanmar.
"Yunjinghong town [where Zhang lives] is right on the border," Chen told RFA. "Zhang Lin has already been sentenced for helping to smuggle people across the border."
"It seems that Wei Yani was planning to leave the country, which was why she was in Yunjinghong."
Wei is being treated as a co-defendant with activists Fan Yiping, Fan Wencheng, Lai Jianjun and Qiao Lianhong, who were detained on Nov. 12 by police in Guangdong.
While RFA has learned that the two Fans, Lai and Qiao are all currently under "residential surveillance at a designated location (RSDL)," few details of the case have been made public so far.
Wei is also being held under RSDL, under which detainees suspected of crimes linked to "national security" may be held incommunicado in an unknown location for up to six months, with no access to lawyers or family visits.
Casting a wide net
Chen said her detention suggests the police are struggling to compile enough evidence against the Guangzhou detainees, and have had to widen their net.
He said the ruling Chinese Communist Party (CCP) often uses subversion charges to target groups of democracy activists or rights campaigners.
"The CCP's subversion cases often mean that they will be prosecuting a group of people together, and that it is very nervous about them," Chen said.
"The CCP prioritizes cracking down on any form of organized opposition," he said. "They probably only found out about Wei Yani when they started casting their net wider."
"Otherwise it wouldn't have taken this long for them to bring her in."
A person familiar with the matter who asked not to be identified said it is still unclear how the cases are linked in the minds of the police.
"Wei Yani was once a petitioner, but now we are looking at subversion of state power, and RSDL," the person said. "It's hard to say how, but this is definitely linked to the Fan Wencheng and Fan Yiping cases."
Wei was active in a grassroots petition and protest movement over official graft linked to the construction of the Longtan hydropower project in 2006, over which she was sent by her community in Tian 'E county to lodge an official complaint in Beijing.
She was sent to a police-run labor camp for two years for "re-education" on public order charges linked to her activism.
She was then sentenced to four years' imprisonment by a local district court, also on public order charges.
RSDL means increased risk of torture
U.S.-based activist Yang Zhanqing said RSDL detainees are at increased risk of torture and other forms of mistreatment.
"In these situations, it's easier for the authorities to extract a confession through torture," Yang told RFA. "That's what it's for."
"Detainees may be subjected to unbearable physical and mental torture," he said. "It may be legal, but it runs counter to the [Chinese] constitution and to international human rights principles."
Yang said there has been no sign of a let-up in the crackdown on any form of public dissent or political opposition to the CCP under the leadership of Xi Jinping, who is currently serving an indefinite term in office.
"The CCP has been implementing tougher and tougher social controls … and the bar just keeps getting lower," he said. "When they can't find a crime to pin on you, they use subversion of state power."
The RSDL system has been strongly criticized by rights organizations for leaving detainees vulnerable to torture and other forms of ill-treatment.
Fan Yiping was born into a CCP family, graduated from the People's Liberation Army (PLA) Medical University, then worked as a surgeon, before starting a food trading company.
His father was a former secretary-general in the Guangdong provincial government.
Fan Yiping was sentenced to three years in prison for receiving Chinese dissident Wang Bingzhang after he secretly returned to China to promote the democracy movement, as well as for helping dissident Wang Xizhe escape to the United States.
Fan Wencheng once ran his own real estate business, while Lai Jianjun, who originally hailed from Chongqing, served one year in jail on charges of "picking quarrels and stirring up trouble," a charge frequently used to target peaceful critics of the CCP.
Reported by Qiao Long for RFA's Mandarin Service. Translated and edited by Luisetta Mudie.
Source: Copyright © 1998-2016, RFA. Used with the permission of Radio Free Asia, 2025 M St. NW, Suite 300, Washington DC 20036. https://www.rfa.org.