House churches and state-controlled Three-Self churches across China are raided and closed down. Believers are questioned, and their homes are searched.
by Zhou Xiaolu
On August 28, over 100 government personnel and police officers came to demolish a house church venue in Xincheng, a town administered by the Xiuzhou district of the prefecture-level city of Jiaxing in the eastern province of Zhejiang.
According to a congregation member, the venue, which belongs to a house church established 20 years, was built last year and was regularly attended by more than 40 believers. Throughout this time, the congregation suffered frequent harassment by authorities for refusing to join the Three-Self Church. Local officials in charge of religious affairs have repeatedly visited the venue to pressure its director. After numerous refusals to join the official church, three surveillance cameras, pointed at the venue's entrance, were installed to monitor believers. To evade officials' scrutiny, church members started gathering in secret, often in inapt places like pig sheds. The church preacher has been summoned for questioning by the police several times.
Eyewitnesses reported that police officers cordoned off the venue on the demolition day, preventing anyone from approaching.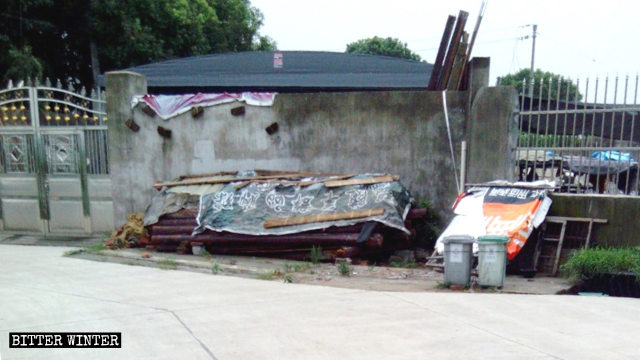 Since July 19, the police and local officials raided almost every congregation gathering at a house church venue in Kaihua county administered by Zhejiang's Quzhou city. The venue's preacher was repeatedly summoned for a "talk." A church member said that officials were particularly interested in the venue's financial affairs, questioning the congregation who was in charge of its accounts.
In early July, the local police raided a Sola Fide meeting venue in the northwestern province of Shaanxi and searched believers' belongings and all the rooms on the premises, subsequently confiscating every Bible they found. Over a dozen believers, including four minors, from 8 to 11 years old, were taken to a police station for interrogation and were only released at about 2 a.m. The police also searched the house of a 94-year-old congregation member, who was not taken to the police station due to her old age.
On the morning of September 13, members of a house church in Liangshan county of Jining city in the eastern province of Shandong were attending a service when eight police officers and government officials rushed into the venue. They declared that the people on site "were attending an illegal gathering, as per the new Regulations on Religious Affairs." The congregation was dispersed, and police officers confiscated four Bibles, telling the gathered "to believe in the Communist Party if they needed a belief." The same afternoon, the officers returned, breaking into the venue by destroying the entrance door lock and looted the donation box and 100 chairs. Having learned the news, the church pastor went into hiding for fear of being arrest.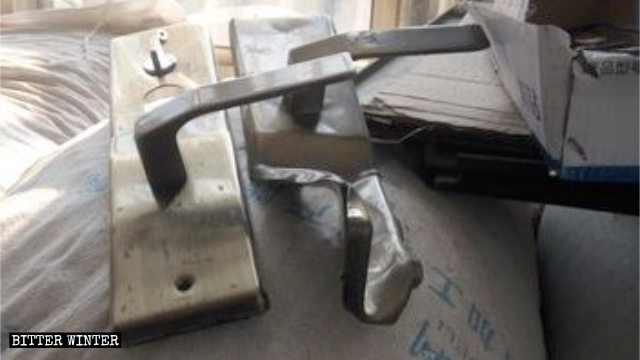 Even churches under the government's control are not spared persecution. Numerous such venues were recently closed down in the southeastern province of Jiangxi.
On September 5, a Three-Self venue in Ganzhou city's Longnan county was shut after a police raid.
On August 20, county government personnel broke into another Three-Self venue by prying open its door. Without informing the congregation, they emptied the site and confiscated more than a dozen Bibles and hymnbooks.
In July, venues in Xinyu city's rural areas, which are affiliated with five Three-Self churches, were closed because of "low attendance," since fewer than 30 believers would come for services. These venues were particularly important to elderly believers with limited mobility. Compared to Three-Self churches in cities, their outlets in rural areas have suffered relatively less stringent government's monitoring and control, which intensifies gradually as local authorities close them down on a variety of pretexts.
"To eliminate Christianity gradually, the government tries every means possible to close down religious venues, fearing that people of faith would outnumber CCP members," a Three-Self Church preacher from Xinyu lamented.
Source: Bitter Winter