Amid the CCP's campaign to eradicate Mongolian cultural and linguistic identity, schoolteachers and parents are threatened to accept CCP's cultural genocide policies.
by Zheng Jie
After the CCP revealed its plans of "bilingual education" in Inner Mongolia Autonomous Region, gradually replacing Mongolian with Chinese as the primary language of instruction, thousands took to the streets and refused to send their children to school. Two parents even committed suicide in protest against the government's policy of cultural genocide. These tragedies didn't change CCP's plans. On the contrary, crackdowns on protestors have intensified.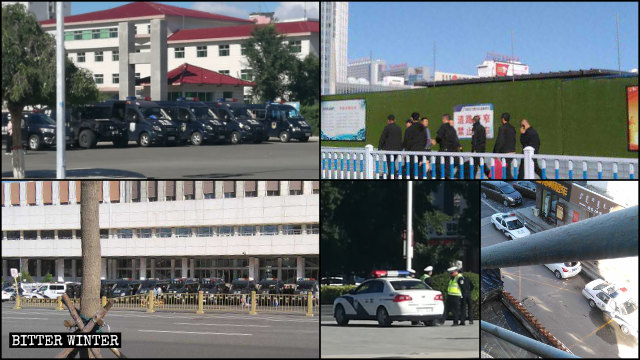 In September, Nashunwuliji (那順烏力吉), a Mongolian writer from Zhengxiangbai Banner in Inner Mongolia's Xilin Gol League, accused the government in a WeChat group of perpetrating ethnic and cultural genocide by implementing its model of "bilingual teaching." He referred in the post to the bloody suppression of college students during the 1989 Tiananmen Square protests and repressions against Muslims in Xinjiang Uyghur Autonomous Region. He was soon taken into custody and deprived of visitation rights.
The writer's fellow netizen revealed to Bitter Winter that Nashunwuliji felt he would be arrested sooner or later and was prepared for this eventuality. "He also warned people to be careful making or posting sensitive remarks if they don't want to be arrested," the netizen added.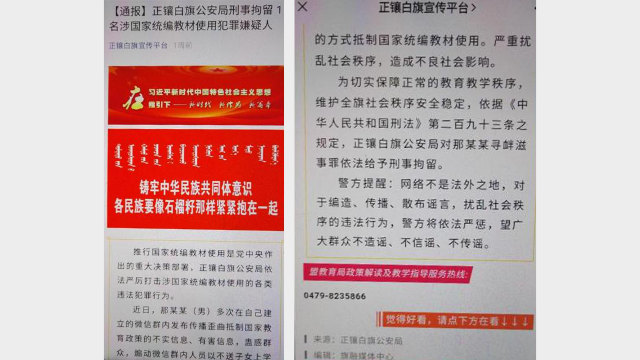 Parents of students are continuously pressured to accept the CCP's policy; some have been arrested and punished. An employee of a municipal bureau of forestry and grassland in Inner Mongolia revealed that the police arrested and fined him 50,000 RMB (around $ 7,500) on September 1 for not sending his child to school in protest of the bilingual education policy. His employer declared that workers in public institutions would be dismissed if their children didn't attend school for three consecutive days.
A student's parent who works in a hospital in Tongliao city told Bitter Winter that she had tried to hospitalize her child, hoping not to be pressured to let him go to school but failed. All medical staff were pressured to sign pledges to "fully support the use of teaching materials compiled by the state in Mongolian schools and ensure that children go to school."
Under such pressure, some parents had no choice but to send their children to school.
"The government pressures us to send our children to school, threatening to take them away from us and punishing us according to law," a herder from Zhengxiangbai Banner explained. She worries that her child would be tormented to the brink of committing suicide, and she and her husband would be arrested.
"I am living in great horror every day, which feels more miserable than death," the woman said, sobbing. Unable to withstand the pressure, she agreed to send her child to school.
"My parents cried during my first day of school," a Mongolian student wrote in her diary on September 17. "It seems like Heaven was crying too, as it was raining in the grasslands. I feel unhinged, fearing that we are losing the Mongolian culture. I will speak less Chinese, put more effort into studying Mongolian."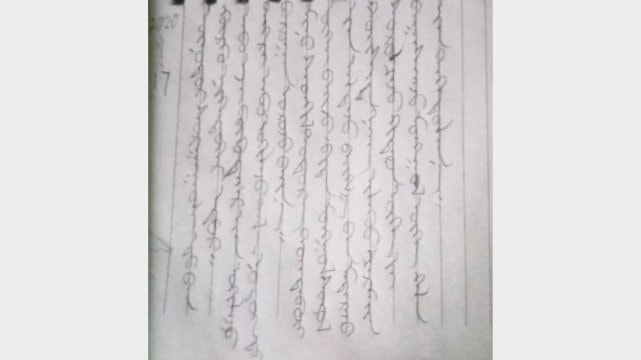 Some parents were threatened that their children would lose school registrations if they did not return to classes within a specified timeframe. "We are threatened with our kids' future," a middle school student's parent said helplessly. "Who dares to defend their rights in this case? This is an ethnic and cultural genocide. If we fail to receive help from the international community, Inner Mongolia would most probably become a second Xinjiang."
Mongolian teachers are also threatened and pressured to cooperate with the government. They are demanded to report students who are on strike and ask them to return to school.
"Xi Jinping is going crazy," a high school teacher from Xilin Gol League was blunt. "There's no rule of law in China." She added that teachers were forced to attend ideological education classes every day and had to visit students' homes to make them return to school, threatened to be punished or fired otherwise.
"This is just the beginning of the CCP's plan to eliminate Mongolian culture; it will become harsher in the future," the teacher continued. "Gone are the days when we could enjoy a peaceful life. It's depressing and unbearable."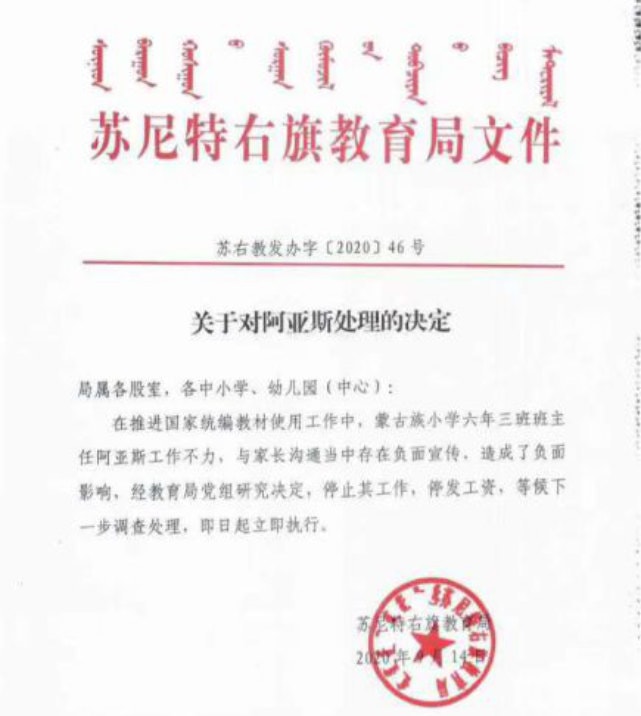 A middle school teacher from Sonid Right Banner in Xilin Gol League said that government personnel accompanied him during visits to his students' homes to make them return to class. He had no choice but to follow the government's requirement and persuade the parents to send their children to school. He said that because authorities monitor teachers' phones, they must be particularly cautious in making remarks even at home.
"I put my cellphone in a drawer each time I return home, fearing that anything I say might be recorded," the teacher said. According to him, teachers are surveilled at school by government informers. His colleagues stopped trusting one another, afraid that any remark would put them in trouble.
"Traditional Mongolian is the only vertical script written from left to right that is used today; it belongs to one of the world's intangible cultural heritages, a particularly precious national treasure!" a teacher from Inner Mongolia's Hulunbuir city commented. "It should be promoted and developed instead of made to disappear gradually, as the CCP plans to do."
Source: Bitter Winter