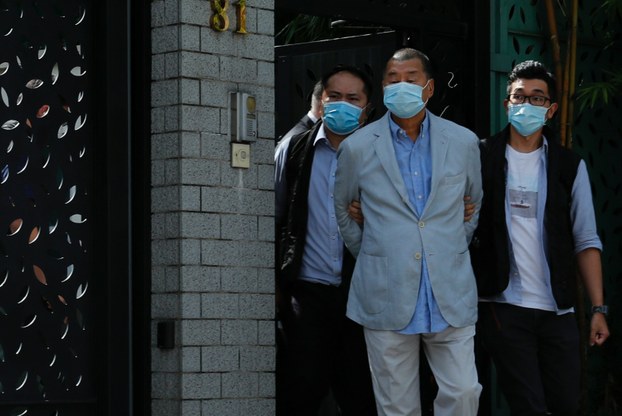 Authorities in Hong Kong on Monday arrested pro-democracy media tycoon Jimmy Lai and raided the newsroom of his flagship newspaper, the Apple Daily, under a draconian new security law imposed on the city by the ruling Chinese Communist Party.
Dozens of uniformed officers from the newly established national security division of the Hong Kong police force filed into the headquarters of Lai's Next Digital media company, cordoning off the Apple Daily's newsroom and removing boxes of material they described as "evidence."
Lai, 71, an outspoken critic of Beijing, was taken away by police at around 10.00 a.m. local time and charged under a clause in the new law banning "collusion with foreign powers." Eight of his colleagues were also arrested.
"Jimmy Lai is being arrested for collusion with foreign powers at this time," Lai's aide Mark Simon, said via Twitter.
Police also arrested Lai's son Ian and searched both men's homes, the Apple Daily reported.
According to the Oriental Daily News, an arrest warrant has also been issued for Simon, who is currently not in Hong Kong.
Hours after the arrest of Lai and the raid on the Apple Daily, police arrested prominent pro-democracy activist Agnes Chow Ting at her home under the national security law, according to tweets by a fellow activist and Chow's official Facebook page.
"Agnes Chow was arrested on the charge of 'inciting secession' under the National Security Law. The lawyer said the police reached Agnes's residence with a search warrant issued on August 6," Chow's account said. She had written Sunday that her home as being watched by "suspicious" men.
Nathan Law, Chow's former colleague in the pro-democracy Demosisto party, also confirmed Chow had been taken into custody.
"Agnes Chow is arrested under National Security Law and we are still acquiring information about the content of the arrests. Horrible day," wrote Law, who is based in England.
The raid on the Apple Daily is the first time the new security regime, which is being overseen by China's feared state security police, has been used to target a media organization.
Lai's is also the first high-profile arrest on charges of "collusion with foreign powers," a charge which came after repeated claims from Beijing that last year's anti-government and pro-democracy protest movement was instigated by "hostile overseas forces."
Hong Kong Journalists Association (HKJA), the Hong Kong Photojournalists' Association, the Independent Commentators Association, and the Next Media Labor Union, and four other media industry organizations issued a joint statement after the raid, saying the police had searched journalists' desks and personal belongings.
"More than 100 police officers searched the Next Digital building and set up a cordon," the statement said. "Everyone's belongings were searched, as well as items at their desks."
"It is very important for the operation of the media that research materials and source information remain protected," it said.
"This wanton raid on news materials by the police will create a chilling effect, making sources reluctant to expose shady dealings in the media and weakening its ability to supervise those in power," it said.
'Prepare for the worst'
HKJA chairman Chris Yeung called on the city's journalists to prepare for the worst, as the authorities had removed material from the Next Digital offices that could identify journalists' sources.
"Maybe only a month or two ago, nobody could have imagined such a thing could happen here in Hong Kong," Yeung told reporters outside Digital Media headquarters. "I don't think even people who have worked in the media for decades have ever seen anything like it."
He said police raids on media organizations, in breach of traditional protections of the "fourth estate," would create an atmosphere of fear, and have a huge impact on journalists, in a psychological campaign known in Chinese as "white terror."
Yeung said the HKJA had been concerned from the day the new law took effect that it gave broad and sweeping powers to police in cases deemed to involve "national security."
"Unfortunately it didn't take long for our worries to become a reality, and in an extremely bad case of police operation and raid to a media office," he said in comments reported by government broadcaster RTHK.
Steve Li, a senior superintendent in Hong Kong's national security police, said police had displayed a warrant before entering the building, and denied that any material generated by journalists had been removed.
"We all knew that it was a media organization and there was news material involved … so we didn't search if there was a good chance that there was that kind of material in those departments, for example, the editorial department."
But social media reports said police had ordered journalists to leave the newsroom and cordoned off the area.
Police also denied permission to news outlets including Reuters, Agence France-Presse, and the Associated Press, to enter the premises to cover the raid.
A police spokesperson said there wasn't enough space to allow journalists inside.
"We chose local, bigger news organizations that haven't hindered us or threatened our safety during previous operations," the spokesperson said.
During last year's protest movement, journalists repeatedly lodged complaints after police prevented them from filming, claiming that they were "obstructing" a police operation or failing to cooperate with instructions.
Yeung said it was unacceptable for the police to be screening journalists to determine their access to such events.
FCC condemns raid, arrests
The Foreign Correspondents' Club (FCC) strongly condemned Lai's arrest, along with that of eight colleagues, and the raid on the Apple Daily.
"The arrests, and the raid on the newsroom, are a direct assault on Hong Kong's press freedom and signal a dark new phase in the erosion of the city's global reputation," the statement said.
It said the raid made a nonsense of official claims that the national security law wouldn't be used to suppress the media.
It said police were seen "rifling through notes and papers on reporters' desks."
"All of this was witnessed via live-streaming by Apple Daily reporters who continued to video this breach of press freedom and provide continuous coverage online," it said, confirming reports that police had blocked several local and international media outlets from a press briefing about the raid.
"It seems some police officers are substituting their judgment as to which media outlets they consider 'friendly' and allowed to cover important briefings, and which media they can block," the FCC said, adding that journalists who did attend were prevented from asking questions of police.
"If the police are allowed to decide who counts as a legitimate journalist … no critical coverage [is] available to the public," it said. "Instead of the free flow of information, Hong Kong will have only propaganda."
More suppression likely
Bruce Lui, a senior lecturer in Hong Kong Baptist University's journalism department, said suppression of Hong Kong's once freewheeling media organizations now looked likely.
"They can do this both through law enforcement actions and through personnel changes," Lui said. "It will now be very easy for the government to move against Next Media, which has a strong stance and attempts to hold the government to account, as well as some overseas media organizations."
Lai's arrest comes after he made a series of critical tweets in May after Beijing announced its intention to impose the national security law on Hong Kong.
China's state-owned Global Times newspaper has called the tweets "evidence of subversion."
The same month, Lai wrote an op-ed in the New York Times questioning this view.
"I have always thought I might one day be sent to jail for my publications or for my calls for democracy in Hong Kong," Lai wrote. "But for a few tweets, and because they are said to threaten the national security of mighty China? That's a new one, even for me."
Lai has also been arrested on public order charges in connection with his attendance at protests last year and his attendance at a vigil for the victims of the June 4, 1989 Tiananmen massacre.
He also met with then U.S. Vice President Mike Pence and Secretary of State Mike Pompeo last year to discuss his opposition to plans by Hong Kong chief executive Carrie Lam to allow extradition to mainland China, the issue that triggered mass peaceful protests of up to two million people on the city's streets.
The national security law bans secessionist, subversive, and terrorist acts, as well as collusion with foreign forces to interfere in Hong Kong's internal affairs, charges which carry a maximum sentence of imprisonment for life.

Reported by Lau Siu-fung for RFA's Cantonese Service, and by Gao Feng for the Mandarin Service. Translated and edited by Luisetta Mudie.
Source: Copyright © 1998-2016, RFA. Used with the permission of Radio Free Asia, 2025 M St. NW, Suite 300, Washington DC 20036. https://www.rfa.org.