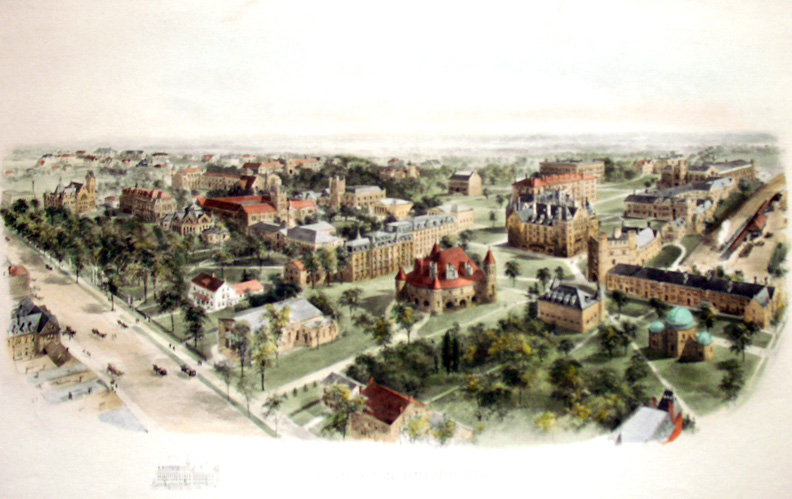 Universities in the United States are responding to a draconian national security law imposed on Hong Kong by China with warnings about "politically sensitive content" for students who risk reprisals under the law.
Students studying at Ivy League schools including Harvard and Princeton will be warned of potentially "sensitive" class content ahead of time, the Wall Street Journal reported.
At Princeton, students will be offered anonymous codes to put on their assignments to protect their identities, while Harvard Business School is considering waiving participation in some discussions for students made newly vulnerable by the law, the paper reported.
At Amherst College, one professor is considering using anonymous chat rooms for class discussions to protect students.
The National Security Law for Hong Kong, which came into effect on July 1, 2020, bans secession, subversion, collusion with foreign powers, and terrorism, and has been criticized by foreign governments as being in breach of the ruling Chinese Communist Party's promise to maintain the city's freedom and autonomy.
Rights groups say the vaguely worded offenses, which carry a maximum penalty of life imprisonment, and cover speech or actions anywhere in the world, will enable the authorities to crack down on any form of peaceful criticism, active dissent, or political opposition.
Amid the coronavirus pandemic, many students from Hong Kong and the rest of China will be signing up for online classes, amid growing concerns that the chilling effect of the new law is already spreading far beyond China's borders.
According to the Wall Street Journal, some 370,000 Chinese students and around 7,000 from Hong Kong were studying at American universities during the 2018-19 school year.
In political science classes, Princeton assistant professor Rory Truex will use blind grading and content warnings to help students identify when they could run afoul of the new law, while Meg Rithmire said her class will offer similar measures, as topics include the mass incarceration of ethnic minority Uyghurs in "re-education" camps in Xinjiang.
The paper quoted University of Pennsylvania professor Avery Goldstein as saying that he would also put warnings on potentially "sensitive" topics for his students.
Neither Harvard nor Penn State had responded to requests for comment from RFA by the time of writing.
Ho-fung Hung, associate professor of sociology at Johns Hopkins University, said the Chinese Communist Party (CCP) had already made inroads into academic freedom and censorship on university campuses before the advent of the new law, however, and that this process could now intensify further.
"The CCP's national security law has everyone very frightened," Hung told RFA. "If people are afraid, they will be very careful, and then they will stop speaking out, even if they can't touch you."
"This is how it works. We have to keep reminding ourselves to pay attention and not to self-censor," he said.
Hung said the prevalence of online learning during the coronavirus pandemic had made students and their families more vulnerable to political reprisals for things they do and say in a university setting.
Parents warned, harassed by police
Meanwhile, Chinese activists in the U.S. said their family members had recently been targeted in connection with their activities overseas.
Ji Jiabao, who co-founded a group supporting constitutional government for China in the U.S. earlier this year, said his parents and those of at least three other group members had been harassed by state security police back home, after the group spoke out against the national security law.
He said police in his hometown of Tianjin had contacted his parents after he attended an event commemorating the June 4, 1989 Tiananmen massacre, after the group was set up, and again when it issued an open letter critical of the new law.
His father later called him and tried to warn him off his activism.
"Wang Dan is an enemy of the state, so why are you in touch with him?" Ji's father said in an audio recording of the phone call. "You shouldn't get mixed up with him."
Both of Ji's parents are subject to additional pressure because they are state employees, and weren't available to comment, he said.
"I have understood the nature of the CCP regime. It is a totalitarian state," Ji told RFA. "I think the only way to survive is resistance."
But he said many of his group's members are still maintaining anonymity for fear of affecting their loved ones back home.
Another U.S.-based Chinese student, who asked to remain anonymous, said his parents had also had a similar talk with him.
"They told me that if I continued like this, I might never be able to return to China, and they would never be able to go abroad," he said.
"In this kind of situation, it's meaningless to discuss political views. We can only talk about the consequences."
He said he would be taking additional steps to protect his family, while continuing his activism overseas.

Reported by Zheng Chongsheng and Jia Ao for RFA's Mandarin Service. Translated and edited by Luisetta Mudie.
Source: Copyright © 1998-2016, RFA. Used with the permission of Radio Free Asia, 2025 M St. NW, Suite 300, Washington DC 20036. https://www.rfa.org.