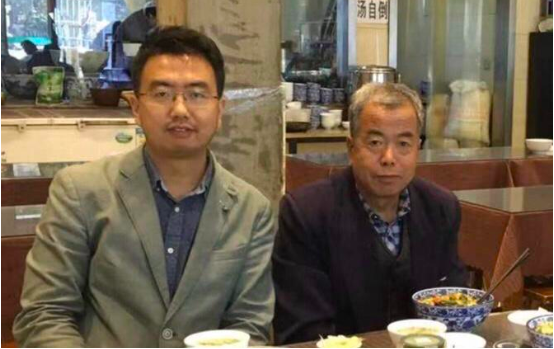 Fears are growing over the health and well-being of rights lawyer Chang Weiping, who is currently in detention on suspicion of "incitement to subvert state power" in the northern Chinese province of Shaanxi, his family says after being allowed to visit him.
Shaanxi authorities allowed the Nov. 25 meeting after Chang's family and lawyers lodged official complaints about his incommunicado detention under "residential surveillance at a designated location (RSDL)" following his description of his torture during an earlier period in detention.
Chang's visit with father Chang Shuanming took place at a police station in Shaanxi's Baoji city, a source close to the family told RFA on Wednesday.
During the 10-minute visit, Chang appeared significantly thinner than before, and spoke slowly, the source said. He was also concerned that his wife might give interviews.
"From his father's description, he was exhausted, … his eyes were red, and he spoke as if he was reciting something by heart," the source said. "His reactions were also slow, suggesting that he has probably been tortured."
There were also signs that the second detention was taking a psychological toll. As his father left, Chang shouted out to him, saying he no longer wished to live, the source said.
"His father said that when they came to say goodbye, Chang shouted out with all his strength that he didn't want to live any more," the source said.
Family threatened by police
Baoji police had pursued Chang's wife all the way to her place of work in the southern city of Shenzhen to put pressure on her not to speak out about his case, the source said.
"His father is a veteran member of the [ruling Chinese Communist] Party, and [Chang's] wife works in Shenzhen," the source said. "They even went to Shenzhen to find his wife and her employer, to threaten her and stop her speaking up on behalf of her husband."
"They have done everything in their power to threaten the family, making it harder for them to talk to the outside world about their grievances," he said, adding that the visit was also likely allowed in a bid to limit negative publicity.
Sources said two lawyers previously hired to represent Chang have now dropped the case under intense police pressure.
Repeated calls to Chang Shuanming's cell phone rang unanswered on Wednesday.
Tortured in detention
Qi An, a researcher with the London-based rights group Amnesty International, said Chang had already made a video describing his torture at the hands of the authorities during an earlier 10-day period of RSDL in January 2020.
"In the video, he mentions that he was put in a tiger chair," Qi said. "Human rights experts including the United Nations have said that RSDL in itself is a violation of human rights."
"Suspects in RSDL aren't allowed to see family or a lawyer, making it hard to verify whether someone has been tortured," Qi said.
The aim of the torture appears to be to extract a "confession" and guilty plea from suspects, Qi said.
"Many people say after they are released from RSDL that the authorities wanted them to plead guilty or provide some information," Qi said. "Of course, we don't know what information the authorities may want from Chang Weiping, but there is an operation to crack down on any of the rights activists or lawyers who took part in the Xiamen gathering."
Chang was taken away from his home by police in Baoji city in China's northern province of Shaanxi, on Oct. 22, on suspicion of "incitement to subvert state power."
The arrest came six days after he posted a video on YouTube sharing details of his torture.
Chang's January detention came after rights lawyer Ding Jiaxi and activists Zhang Zhongshun and Dai Zhenya were detained following a meeting with New Citizens' Movement founder Xu Zhiyong, who was himself later detained after publishing an open letter calling on CCP general secretary Xi Jinping to step down.
Reported by Gao Feng for RFA's Mandarin Service. Translated and edited by Luisetta Mudie.
Source: Copyright © 1998-2016, RFA. Used with the permission of Radio Free Asia, 2025 M St. NW, Suite 300, Washington DC 20036. https://www.rfa.org.