More than 200 facial recognition cameras were installed in churches and temples in one Jiangxi Province county. This alarming practice is spreading across China.
by Yang Luguang
Religious venues in Jiangxi Province's Poyang county, which has a large population of Christians, suffer continuous persecution. On top of forcibly demolishing crosses and repurposing churches, the government recently ordered to install facial recognition cameras in all state-approved places of worship, allocating one million RMB (about $143,000) for the project.
"The cameras are specially made and installed with the Public Security Bureau's approval," a worker installing the cameras explained. "All identity information is stored in the Public Security Bureau's surveillance system once cameras register someone's face. It notifies immediately when a person blacklisted by the police is identified."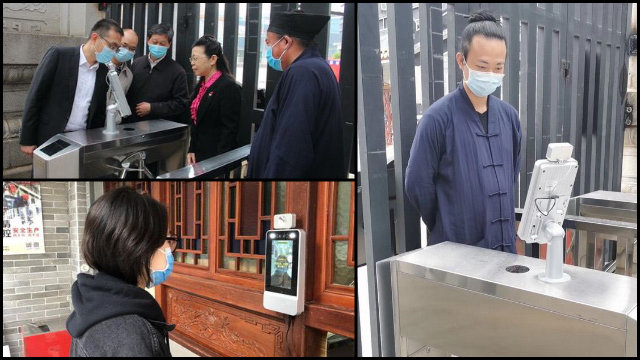 About 200 such surveillance cameras have been installed in over 50 Three-Self churches from late July to September. In some venues, as many as 14. Nearly 50 cameras have been installed in 16 Buddhist and Taoist temples.
"Two cameras were installed in our church: one pointed at the podium, and the other at the congregation," a Catholic priest told Bitter Winter. "We have to be very cautious about what we say in the church now."
A local Three-Self church pastor said that the government already installed standard cameras in some churches last year. These are now being replaced with the ones with facial recognition features.
A police officer confirmed that cameras are installed to monitor believers and listen to the content of sermons. They are also meant to capture if anyone takes photos when religious symbols are removed on the government's orders.
"If cameras capture an unknown face, the police come to determine who the person is," a middle-aged Three-Self church preacher explained.
The director of another Three-Self church in the county said that two of his congregants receiving social benefits stopped attending the church for fear that their allowances would be revoked.
After the cameras have been installed, some churches even started organizing underground services for social welfare receivers and CCP members, civil servants, and minors because they are banned from religious venues.
Facial recognition cameras also invade places of worship in the central province of Henan.
A worker installing cameras in Anyang city explained that, like in Poyang county, these cameras are not available in the market—the Public Security Bureau orders and purchases them.
"The Communist Party spends millions on cameras, instead of using the money for something useful," another worker added.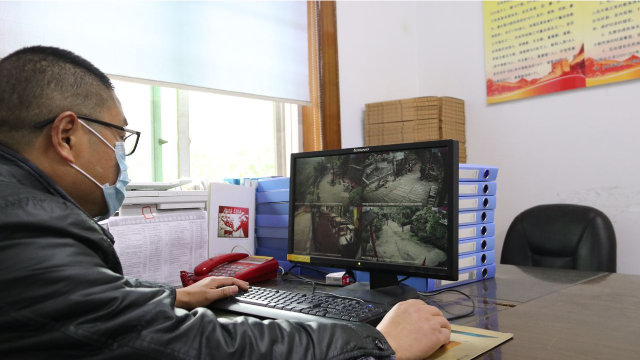 In a meeting for Christian clergy members, held in Zhoukou city's Luyi county in August, an official from the county's United Front Work Department revealed that facial recognition cameras would be installed provincewide in all venues belonging to the Five Authorized Religions. They will all be connected to the public security surveillance "Sharp Eyes" project. The official said that at least three cameras are installed in each religious venue, warning the participating clergy members to preach according to the government's guidelines because their sermons would be recorded.
In many churches, facial recognition cameras have been installed next to the existing standard ones. In a Three-Self church in a Xinxiang city's county, two devices with facial recognition features were installed in July in addition to the five regular cameras.
"The government will install cameras in every church in the county and close any venue that disobeys it," the church's deacon said helplessly.
"The government is monitoring people across the country," commented the director of a Three-Self church in Binzhou, a prefecture-level city in the eastern province of Shandong.
Authorities use various pretexts to install cameras: from protecting churches' property to preventing the coronavirus spread.  For religious venues that were still kept closed after the epidemic prevention lockdowns have been lifted, cameras' installation became the prerequisite for reopening, regardless of whether all other prevention measures have been implemented.
But the real reason for this surveillance is to see at all times what is happening inside religious venues. A member of a Three-Self church in Binzhou attended a church service with her child in August. The cameras captured this, and government officials immediately reprimanded the church for allowing minors on the premises.
"After the cameras were installed, nobody dares to talk about politics, the government, Hong Kong, or any other such topics in the church," said a deacon from a Three-Self church in Guangdong Province's Shenzhen city. "Churches hire security guards to disperse congregants talking in groups, for fear that they say something against the government, and the cameras would capture this. Such incidents may cause a lot of troubles for churches."
"Three cameras have been installed in our small church, watching us at all times," a church member complained. "We are horrified. We have no freedom at all under this surveillance."
"Over the past few years, the government has intensified control over churches," the director of a Three-Self church in Henan's Luoyang city commented. "Having facial recognition cameras in churches means complete domination."
Source: Bitter Winter