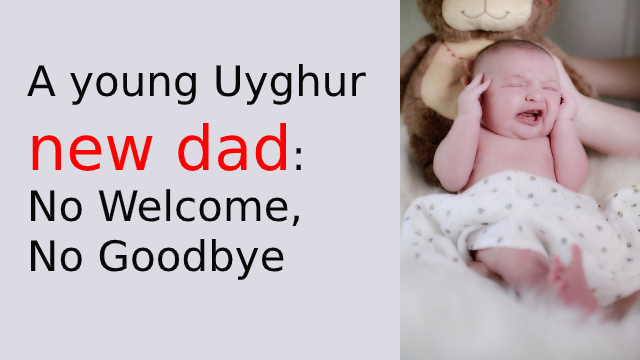 A young father dies before being allowed to see his newly born child. Another Uyghur victim of the transformation through education camps.
by Martyna Kokotkiewicz
Those following the situation in Xinjiang (that Uyghurs prefer to call East Turkistan) are used to obtaining and sharing bad news. It is a burden, but to remain up to date we all need to find our own way to stay calm in the face of devastating events. However, some stories are simply so shuttering that it would be inhuman not to react emotionally. Probably, even more inhuman than the contents of those stories. That is why social media and news services were screaming with anger when, some weeks ago, the friends of a young Uyghur man, Ekrem Mehmet, published the latest news concerning him. The latest, and the last.
Nureddin Izbasar, a Uyghur historian based in Turkey, was among the first friends of Ekrem Mehmet to offer a public testimony for him. They used to study together, and Mr. Izbasar's contribution has been enormously helpful in reconstructing the course of the events leading to Ekrem's untimely death.
Ekrem Mehmet was born in 1986 in Turfan prefecture, Xinjiang/East Turkistan. In 2005, his academic journey began, at first at the University of Beijing. It was there where he met Nureddin Izbasar, and where both of them started to make plans for the future: the plan was to continue studying abroad, in Turkey. To make the dream real, they had to apply for a student visa. As in many similar cases, at that time the authorities had no objections to such travel plans. Mehmet and Izbasar, as the latter reported, travelled to Turkey at the same time, in 2011. Then their paths divided, as Nureddin Izbasar enrolled on a university in İstanbul, and Ekrem Mehmet in turn went to İstanbul to deepen his knowledge on Turkic languages and literatures.
Ekrem Mehmet is said to have been a particularly good student, but also a helpful, sociable person, and a good friend. After having graduated, encouraged by his good results, Ekrem decided to go back to his homeland to contribute to academic life in there. This is one of many important aspects in which the story resembles the cases of other young Uyghurs such as, for example, Aygul Eli, sentenced to 20 years for having studied abroad. A well-educated young man or woman, full of hope for the future and motivated, has studied abroad and aims at sharing his/her expertise with the community back home. Ekrem went back, and took up a position as an academic teacher in Urumqi, teaching Turkish language.  As well as the academic career, also his personal affairs were developing into a good direction, and everything would look like a perfect life, if we just stop the story at the point called 'Year 2017'.
Our readers know that in Xinjiang/East Turkistan we have to divide time into before, in, and after 2017. When the CCP started their murderous plans for the transformation through education camps, which its propaganda calls "vocational schools," it realized that the citizen Ekrem Mehmet, as well as thousands of others, had actually committed a crime. He had graduated abroad. The same authorities that had issued his visa and passport some years ago now detained him in one of the newly built camps. It happened in 2018.
In 2020, in an era of information and development of all possible communication technologies, exchanging information between Xinjiang/East Turkistan and the rest of the world is still more than problematic. Some weeks ago, two years after Ekrem's detention, his friends living abroad, among them Nureddin Izbasar, were informed that they would never see their former classmate, roommate, fellow student again. Nor will Ekrem see his friends anymore. He had died in a transformation through education camp – of course the CCP called it a "boarding school." According to what we know, he was not given the opportunity to welcome his newly born baby to this world. He was told about his wife's pregnancy already in detention, at the same time realizing the officials were keeping their eye also on her. The conclusion is that, although only one life was taken, many have been broken. It is particularly difficult to accept that one of them is a life that has just begun.
There is an important message surfacing from this heartbreaking story. As there are still considerably many, some of them well-educated, people who still believe that the CCP's policy towards ethnic and religious minorities is a praiseworthy, anti-terrorist operation, I would like to ask certain questions. First of all, what is the purpose of sending an academic teacher to a re-education school, if actually the teachers are there to educate others, not the other way round? Secondly, how often does it happen that a student dies in an average "boarding school" for reasons other than, for example, a terminal illness? Last but not least, if those really are only "schools," what is the purpose of preventing "students" from seeing their relatives, with emphasis on infants? If the purpose is to dehumanize and teach inhumanity, perhaps in a certain, paradoxical sense, they could be called "schools."
Source: Bitter Winter