Banned from displaying religious symbols at home, believers are forced to hang images of Xi Jinping instead to continue receiving state benefits.
by Zhang Feng
Amid the coronavirus outbreak, the governments of Henan, Shanxi, Jiangxi, Shandong, and other provinces have been coercing impoverished believers to take down religious symbols in their homes and give up their belief in God. If they refused, their subsistence or poverty allowances were threatened to be withdrawn. Such intimidation of people of faith is widespread across the country.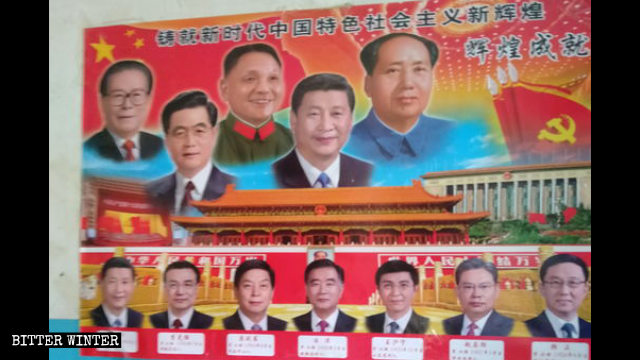 In June, a village official in Lin county, administered by the prefecture-level city of Lüliang in the northern province of Shanxi, repeatedly notified villagers through social media to remove all religious symbols from their homes. He stated that the cross symbolized heterodox teachings, which should be purged as per orders from higher authorities. If not, they will be held criminally accountable. The official stressed that impoverished households must replace the symbols with images of Xi Jinping.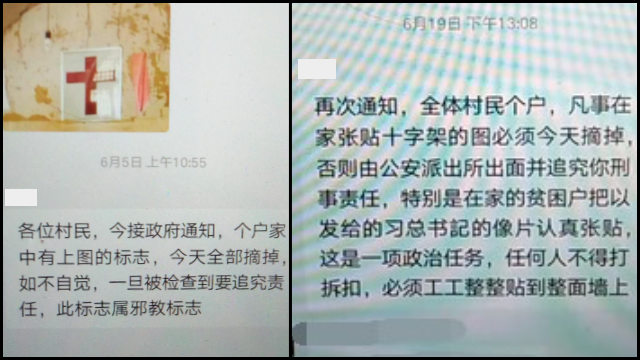 Residents in other villages also received similar orders. Officials in one community told residents to get rid of their faith-related books and items, threatening to cancel their poverty alleviation allowances.
"All households without exception must display Xi Jinping portraits and take photos of themselves next to them," a believer from Lin county, in his 60s, told Bitter Winter helplessly. Local officials forcibly replaced the cross in his home with a portrait of Xi Jinping in June.
A cross was replaced with an image of President Xi also in the home of an 84-year-old man. "The township Party secretary asked me to take down and throw away the cross and told me to pray to Xi Jinping from then on," the man lamented. "Xi Jinping is a man, not God. I feel saddened for the cross being taken down, but there is nothing I can do."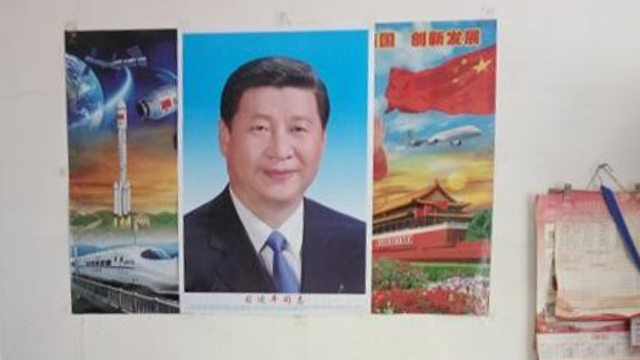 In May, government officials tore down crosses and religious couplets in the homes of Three-Self Church members in Qiaoshe and Xixia towns and Changyi township, all administered by Nanchang, the capital of the southeastern province of Jiangxi. The officials told the believers that they were implementing state-issued orders.
Though reluctant, the impoverished Christians had to remove the symbols since the officials threatened to cancel their subsistence allowance if they disobeyed. People must follow the Party that gives them money, not God, the officials claimed.
A believer from Qiaoshe town, a recipient of "five guarantees" benefits (a welfare support payment for low-income households), wanted to keep his religious couplets, but he had to follow the order because he would be left with no means to survive. "The officials told me since I believe in God, I should ask him to give me food and shouldn't live off the Communist Party," the believer remembered. "I don't dare read the Bible in the daytime, and I only do it at night because my five-guarantee benefits would be canceled."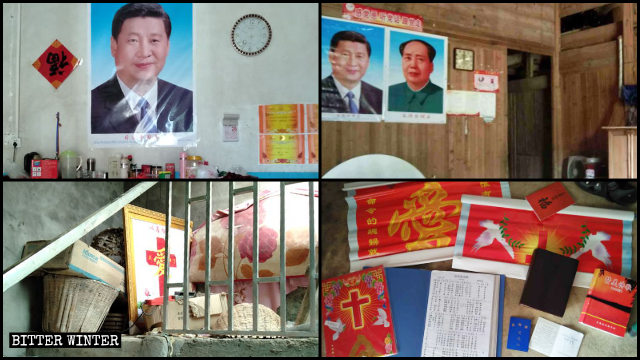 A 75-year-old Catholic from Jiangxi's Fuzhou city is a military veteran who enjoys the minimum living benefits. In May, local officials told him that "veterans must follow the Communist Party, and those enjoying the minimum living benefits are not allowed to believe in God." To sustain a living, the man had to hang a portrait of Xi Jinping at home.
In late April, Guangfeng district officials in Jiangxi's Shangrao city tore down a religious calendar in the home of a Christian who is a recipient of the minimum living benefits. Portraits of Mao Zedong and Xi Jinping, as well as a poster "Be grateful to the Party, obey and follow the Party," were hung in its place in the living room.
Source: Bitter Winter