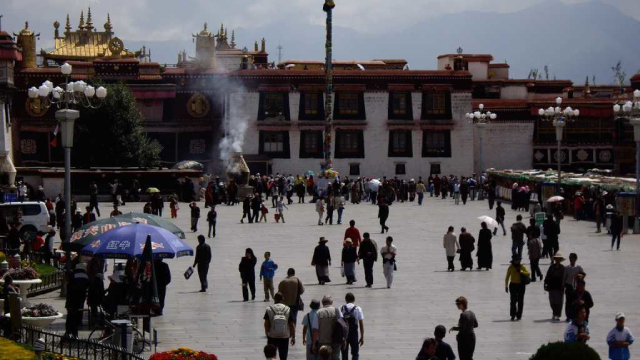 Chinese authorities in the Tibetan Autonomous Region recently announced a campaign aimed at stamping out rumors and misinformation, but Tibet analysts say that its true purpose is to stifle freedom of expression, especially among advocates of Tibetan independence.
According to an April 1 report in the China Tibet Online, the 17-point "Squash Rumors and Reactionary Activities" campaign offers prizes for people who tip off authorities to a wide swath of illegal activities.
Tipsters can earn between 1,000 and 10,000 yuan (U.S. $141-$1,410) for reporting on activities ranging from the creation or distribution of unauthorized publications, advocacy for a higher degree of autonomy for Tibet, and the "misguidance" of religious followers through the encouragement of superstitious belief.
The measures also specifically discuss "those who advocate illegal activities like calling for Tibetan independence."
Spreading fear
Several Tibetan analysts said that the campaign is meant to turn Tibetans on one another and destroy their sense of national identity.
Aryang Gyalpo, the spokesman for the Central Tibetan Administration, told RFA's Tibetan Service, "the campaign, in reality, is aimed at creating an environment of fear and suspicion for those advocating the protection of the environment and the preservation of Tibetan religion and culture."
"It streamlines the process for the arrest and detention of those courageous Tibetans who stand up for Tibetan language and culture," the spokesman said.
Tenzin Dalha, a researcher at the Tibet Policy Institute told RFA, "These so-called measures are nothing new. The Chinese authorities long ago implemented these policies to pave the way for easy crackdowns and control of the Tibetan people."
"By rewarding snitches, it sows a seed of discord among Tibetans themselves. Unlike anything that has come before, this [campaign] will create more resentment and distrust among Tibetans," he said.
The policy of rewarding tipsters has precedents. Similar campaigns were in effect in the year 2000 and again in September 2019.
Reported by Kalden lodoe and Lobsang Gelek for RFA's Tibetan Service. Translated by Dorjee Damdul. Written in English by Eugene Whong.

Source: Copyright © 1998-2016, RFA. Used with the permission of Radio Free Asia, 2025 M St. NW, Suite 300, Washington DC 20036. https://www.rfa.org.