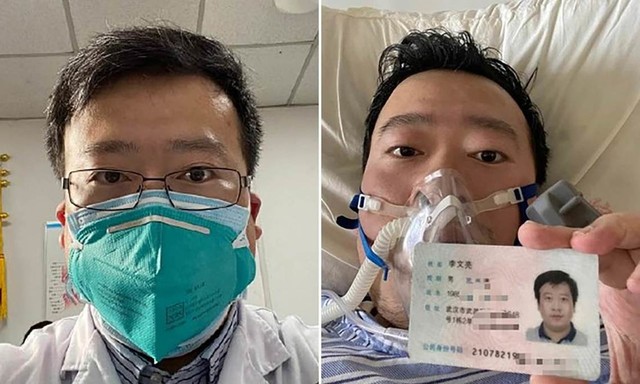 The ruling Chinese Communist Party has targeted thousands of people for speaking out about the coronavirus epidemic in the country since it began in late December in the central city of Wuhan, an overseas-based rights group has said.
"Human rights violations surged in China since the Chinese government began implementing draconian measures in response to COVID-19," the Chinese Human Rights Defenders (CHRD) network said in a report this week.
"These include deleting critical information online, censoring the media, punishing whistleblowing doctors, detaining and disappearing independent journalists and government critics, and kicking out foreign reporters," it said.
Since state news agency Xinhua first reported that President Xi Jinping would lead "a people's war" on the epidemic on Jan. 20, police had handled 5,111 cases of "fabricating and deliberately disseminating false and harmful information," according to a Feb. 21 statement from the ministry of public security.
CHRD said it has documented 897 cases between Jan. 1 and March 26 involving Chinese internet users penalized by police for their online speech or info-sharing about the coronavirus epidemic, based on official information in the public domain.
The cases were spread across almost every province, region and municipality in China, CHRD said, adding that 467 people were sanctioned in February alone.
"The punishments handed out by police fall largely into several types: administrative detention, criminal detention, enforced disappearance, fines, warnings/interrogations, forced confessions and 'educational reprimand'," the CHRD report said.
Some 18.5 percent of people were placed in administrative detention, which can be handed down to a maximum of 15 days without trial, while 17.8 received an "education reprimand," it said.
Charges used to question, detain and arrest people included "rumor-mongering," "fabricating false information," "sowing panic," "disturbing public order," and "breach of privacy."
Cases in which people were accused of "spreading misinformation" or "disrupting public order" accounted for more than 96 percent of cases, the group said.
"Under the guise of fighting the novel coronavirus, authorities in China have escalated suppression online by blocking independent reporting, information sharing, and critical comments on government responses."CHRD said.
"The Chinese government must release detained citizen journalists and outspoken critics, and end the new crackdown on free expression online since the start of COVID-19 outbreak."
Among those targeted were whistleblowing Wuhan doctors Ai Fen and Li Wenliang, who died of the coronavirus on Feb. 6.
Seven other medical workers in the city were also held, questioned and warned off saying anything in public.
"The state censorship and cyber surveillance apparatus have been operating in overdrive to suppress free expression and press online," CHRD said.
It said Chinese social media companies such as YY and WeChat have reportedly been censoring information related to the coronavirus outbreak since late December or early January, likely under pressures from the government.
"Censors quickly deleted or blocked online posts … [including] stories of family members falling sick and dying without being tested, desperate calls for help and donations, eyewitness accounts of overwhelmed hospitals, expressions of sympathy for the devastated families and loss of life, or offering support and respect for medical workers making horrific sacrifices," it said.
Citizen journalist and lawyer Chen Qiushi is still incommunicado since being taken away by police on Feb. 6 after he started livestreaming from hospitals in Wuhan.
Similar treatment was meted out to rights activist and citizen journalist Fang Bin, who was detained on Feb. 9, and to former anchor with state broadcaster CCTV, Li Zehua, who was detained on Feb. 26.
Authorities in the eastern city of Nanjing detained dissident intellectual Guo Quan on charges of "incitement to subvert state power" on Jan. 31 and then formally arrested him in February after he spoke out online about the coronavirus outbreak. He is currently being held at the Nanjing No. 2 Detention Center, CHRD said.
Property tycoon Ren Zhiqiang was placed under party investigation on March 12 after writing an essay critical of President Xi.
Reported by RFA's Mandarin and Cantonese Services. Edited by Luisetta Mudie.

Source: Copyright © 1998-2016, RFA. Used with the permission of Radio Free Asia, 2025 M St. NW, Suite 300, Washington DC 20036. https://www.rfa.org.