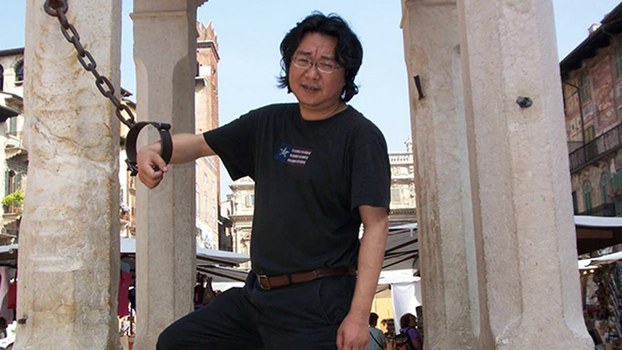 A court in the eastern Chinese city of Ningbo on Tuesday handed down a 10-year jail term to former Hong Kong bookseller and Swedish national Gui Minhai for "illegally providing intelligence overseas."
"We did not receive any information about this, did not have access to the trial and have not been able to examine the prosecution," Sweden's foreign minister Ann Linde said via her Twitter account.
"The [Swedish] government continues to demand that Gui Minhai be released, as well as access to our citizen to provide consular support," she wrote.
The Ningbo Intermediate People's Court made the announcement in a statement on its website, saying that Gui had pleaded guilty and wouldn't be appealing.
A Chinese foreign ministry spokesman said the case had been "handled according to law" by the Chinese judiciary.
"China is opposed to any foreign countries, organizations or individuals interfering in China's internal affairs and judicial sovereignty," the spokesman said in response to questions about the case.
Gui's wife Jennifer declined to comment on her husband's sentence, suggesting that the family remains under heavy pressure from the Chinese authorities.
"I don't want to say anything, sorry," she told RFA.
Repeated attempts to contact Gui's daughter Angela via phone and social media were unsuccessful on Tuesday.
Hong Kong-based booksellers
Gui was one of five Hong Kong-based booksellers detained by the Chinese authorities for selling "banned" political books to customers across the internal border in mainland China in 2015.
He disappeared under murky circumstances from his holiday home in Pattaya, Thailand, in October 2015, only to reappear in China "confessing" on video to a decade-old alleged drunk-driving offense.
Gui was "released" by the Chinese authorities in October 2017, but his daughter said he was still not free.
Instead, he was placed under various forms of control and surveillance in his birthplace, Ningbo, during which time he was reunited with his wife Jennifer, who is a German national.
Gui was suddenly redetained in February 2018 while en route by train to Beijing in the company of two Swedish diplomats. State security police said they suspected him of carrying "state secrets" to supply to overseas organizations, according to state media reports at the time.
Lam Wing-kei, Gui's former colleague at the now-shuttered Causeway Bay Books in Hong kong said he was a little surprised at the harshness of the sentence.
"I hadn't really expected this," said Lam, who has since fled to the democratic island of Taiwan. "I am still very sad about it."
"He had already served two years in jail … so what secrets would he have had access to?" Lam said. "Mainland China is a ridiculous country."
Court assertion ridiculed
Lam said Gui's 10-year jail term could be linked to a book he had planned to publish.
"They were going to bring out a book about the most influential leaders in Zhongnanhai [ruling Chinese Communist Party headquarters]," he said. "Maybe all five of us booksellers got detained because of that?"
"It's very likely that someone in the highest echelons of power didn't want that book published," Lam said.
The court statement also alluded to Gui's having "reapplied for Chinese citizenship" in 2018.
"Gui Minhai, male, Han nationality, was born on May 5, 1964," the court statement said. "He was originally born in Ningbo, China. He became a Swedish citizen in 1996. In 2018, he applied for restoration of Chinese nationality in accordance with the law."
Poet Bei Ling, who is a friend of Gui's, said the authorities had likely demanded that Gui renounce his Swedish citizenship.
"The most ridiculous thing about it is their demand that he return to Chinese citizenship," Bei said. "Does that mean Gui needs to be a Chinese national in order to serve 10 years in a Chinese jail?"
"It's a joke, and [this assertion by the authorities] shouldn't be taken at face value, that something Gui agreed to freely," Bei said. "They just don't want any involvement from the Swedish government."
Chinese author Ma Jian, who heads the Independent Chinese PEN Center, said President Xi Jinping has presided over a huge clampdown on the freedom of press and publication in Hong Kong, which was promised the maintenance of its traditional freedoms under the terms of the 1997 handover.
"I am extremely angry about this, and I have been watching the way this has progressed in Hong Kong," Ma said. "Gui Minhai has become a scapegoat."
"Ever since Xi Jinping came to power, he has taken China ever faster towards dictatorship," he said. "The Chinese Dream is actually a Dream of Red Imperialist China."
Reported by Gao Feng for RFA's Mandarin Service, and by Ng Yik-tung and Sing Man for the Cantonese Service. Translated and edited by Luisetta Mudie.

Source: Copyright © 1998-2016, RFA. Used with the permission of Radio Free Asia, 2025 M St. NW, Suite 300, Washington DC 20036. https://www.rfa.org.