Indoctrination measures intensify all over the country, as teachers are charged with their effective execution, and children urged to report religious relatives.
by Tang Zhe
Teachers at the forefront of indoctrination
Last June, more than 40 teachers from a school in Xinyu, a prefecture-level city in the southeastern province of Jiangxi, were asked to sign statements taking responsibility for barring anything religion-related from campus. The school's headmaster also demanded the teachers to pledge to keep religion off-limits to their families: those who fail to report their religious relatives would be fired. To improve their ideological standing, the teachers were ordered to concentrate on using the "Xi Study Strong Nation" app.
"If too many people turn to religion, then no one will believe in the Communist Party," a school director from the northeastern province of Heilongjiang commented on the expanding anti-religion education. "Therefore, dynamic ideological control is crucial for the CCP. They can allow the economy to slow down, but they will never let independent creed to infiltrate the nation: it's crucial for the Party to keep the power."
The director said that last October, he had to sign the "Statement of Responsibility for Ideological Work in 2019," issued by the Education Bureau. He pledged to do away with religion in his school so that no religious thought is discussed in class or religious traditions observed on campus, and people who are known to hold religious beliefs are controlled. The local education authorities asked the school administration to hold monthly talks with a religious teacher who has already been compelled to sign a statement renouncing her faith. Her colleagues and students were asked to fill a questionnaire about her regularly.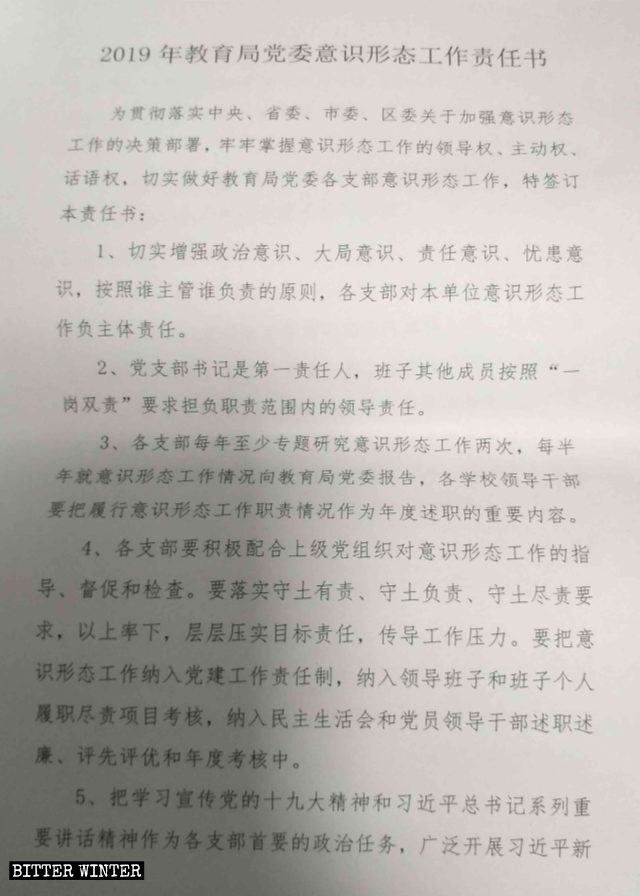 Teaching "the correct outlook on the world"
On December 5, 2019, a primary school teacher from Jiangxi's Fuzhou city asked her class to sign the commitment to stay away from religion, warning children "not to come to school again if you don't." After everyone has signed the pledges, the teacher wrote on the blackboard four Chinese characters for "against religion" – 反對宗教— and told the children to repeat them aloud while she took photos.
The children's parents received a letter from the school, explaining that minors can't have religious beliefs "because they are unable to think independently, as they are at a critical stage of development, both physically and mentally, which is crucial for establishing correct outlook on the world, life, and values."
One of the parents commented to Bitter Winter that "precisely because they are at a critical stage, they should not be indoctrinated with red propaganda."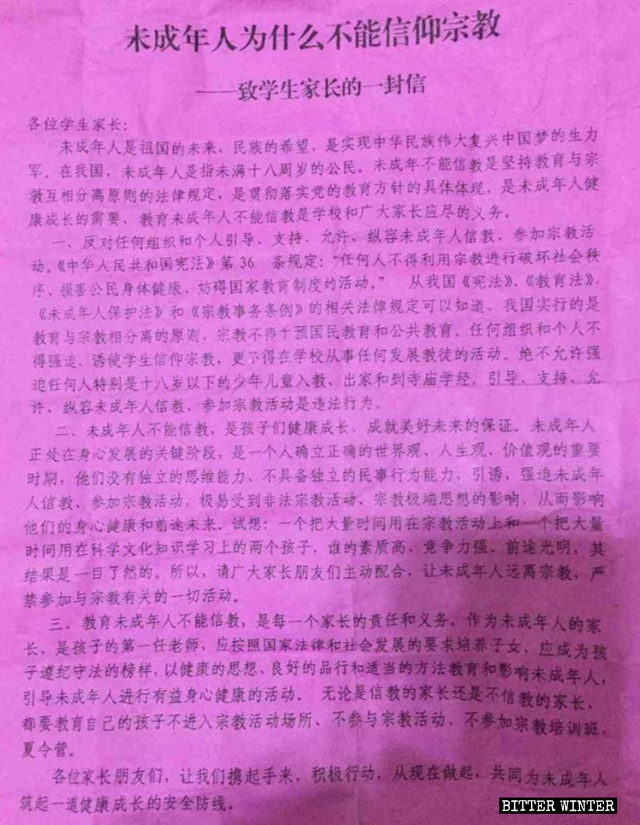 A variety of government-issued documents order schools "to make the most of the adolescence" and "increase anti-religious publicity" by organizing meetings for students and using broadcasts, bulletins, and other means, to achieve "the goal of planting anti-religious thoughts into young students' minds and hearts," and make them act accordingly. Anti-religious propaganda is also extended to students' families and society at large, as communities are encouraged to get involved in the indoctrination of the young "by setting examples and influencing each other."
In October, two police officers visited primary schools in Jiangxi's prefecture-level city of Pingxiang under the pretext of teaching children about security. During meetings, however, they asked about the religious beliefs of the children's family members. The officers gave them their phone numbers and incited them to report on people of faith, promising pencil boxes, pens, note-books, and pocket money as a reward.
"Education" that ruins families
Throughout Jiangxi, schools are organizing special anti-religion classes for their students. In November last year, a primary school in Ji'an city's Wan'an county instructed children to stay away from religion, especially groups that have been designated as xie jiao, by showing pictures and videos. A headteacher told them to "closely follow the CCP and don't believe in God; otherwise, the Party will have to deal with consequences."
A high school teacher in the prefecture-level city of Yichun warned students that "their families' future will be ruined and even their descendants will be implicated if anyone in their families believes in God."
One of the students pressured his mother, who is a member of The Church of Almighty God, to abandon her faith when he returned home after school. "My son told me that if I get arrested, our entire family will be finished," the mother recounted to Bitter Winter. "He threatened to jump off the building to end his life if I continued practicing my faith." When the woman tried to reason with him, explaining why she didn't want to renounce her belief, her son threatened to stab her with a knife at night when she was asleep.

Source: Bitter Winter