In 2019, countless statues and other Buddhist symbols were demolished all over China. More reports from the provinces of Shanxi, Hebei, and Guangdong.
by Lin Yijiang
Shanxi: Statues demolished for being "too tall"
Baiyun Temple, a famous ancient temple on Mount Wutai, one of the four sacred Buddhist mountains in China, was built during the prosperous Tang Dynasty (650-755). Nearly 180 Buddhist icons in this temple have been demolished in three rounds since May 2019. The official reason given by officials was that they were "too tall." But a local Buddhist told Bitter Winter that most of these statues were shorter than three meters, some not even a meter in height.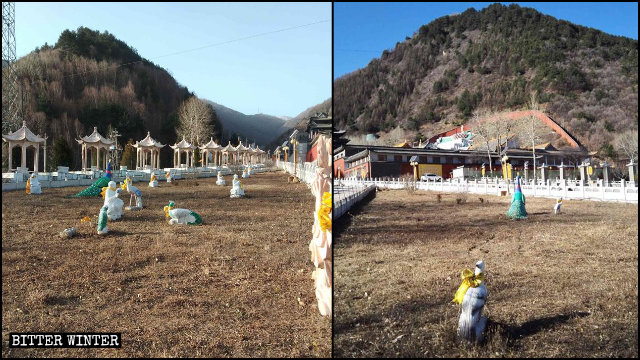 A staff member in the temple said that the demolitions have resulted in a loss of more than 10 million RMB (about $ 1.4 million).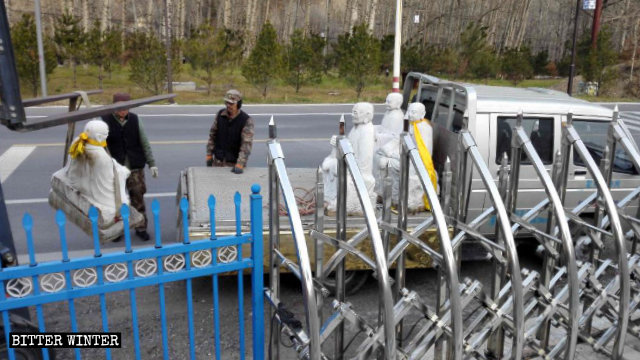 The white 32-meter-tall marble statue of Guanyin on Tianzhu Mountain in Jingle county, administered by Xin Zhou city, was one of the local architectural landmarks. It cost nearly three million RMB (about $ 430,000) to build. On November 22, it was ordered to be also removed for being "too tall." Officials from several government institutions visited the site often to supervise the demolition; they also instructed the workers to film the process daily and send videos to the city's government.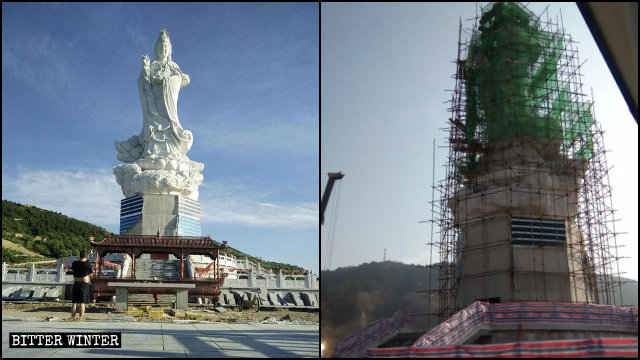 A government insider told Bitter Winter that the authorities had spent about two million RMB (about $ 290,000) on the demolition. He added that officials treat the eradication of religious statues as a political issue, and anyone who dares to interfere with it could be arrested.
Huayan Temple, a historical and cultural site protected at the provincial level, located in the county-level city of Huairen, suffered a similar fate a month earlier: its three-faced Guanyin statue, built at the cost of more than 1.2 million RMB (about $ 170,000), was demolished.
"The CCP is using taxpayers' money to crack down on religion – 800,000 RMB [about $ 110,000] to demolish this particular statue – instead of attending to its duties," a regular at the Huayan Temple said angrily. "The government wants to erase religion from people's minds and make them listen to the Communist Party only."
Hebei: Believer intimidated for petitioning the government
Jingye Temple in Yanshan county, under the jurisdiction of Cangzhou city, was built in the Northern Song Dynasty (960–1127). As the outdoor statues' demolition campaign started sweeping across China, a local Buddhist wrote a petition to the United Front Work Department in early 2019, asking to spare the temple's white marble Guanyin statue. His appeal not only did not change the government's decision, but a local official also threatened to arrest him if he "continued making trouble."
In September, the 27-meter-tall statue, built at the cost of more than 2.5 million (about $ 360,000), was demolished. According to a nearby village resident, government officials were supervising the demolition, as police officers threatened to arrest anyone who tried to stop it. Afraid and helpless, local believers watched as the statue was taken down.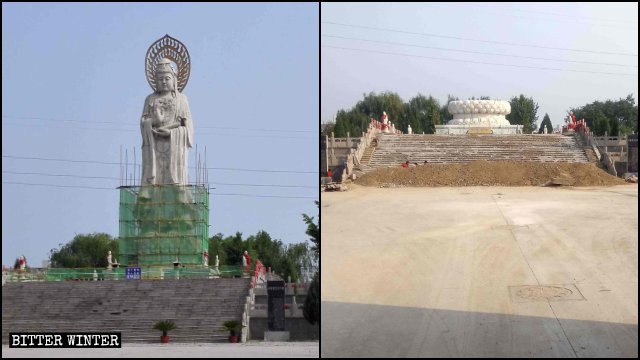 Guangdong: Buddhist icons removed from parks and scenic areas
An outdoor Maitreya statue, over 10-meters-tall, built more than 20 years ago in a Dongguan city's forest park, was demolished in July. "The government claimed that the statue was too visible and ordered to move it to a lower location, which the person in charge of it did, spending tens of thousands on hiring workers," a local insider told Bitter Winter. "But this was not enough: officials later said that the statue could be seen in aerial photographs, so it had to go. The government threatened to fine the person in charge if he refused. No one can do anything about it, as the Communist Party has the final say on all matters."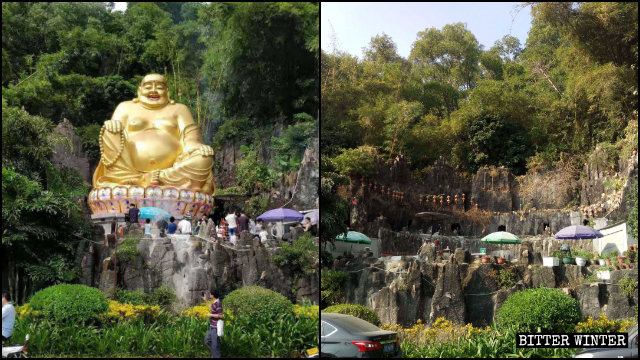 A large outdoor Maitreya statue, built nearly 30 years ago in the Longshan Scenic Area in Guangdong's Zhaoqing city, was also demolished in July. Officials claimed that "scenic areas are not allowed to have religious statues." After the demolition, a slogan promoting the core socialist values was displayed where the statue used to stand.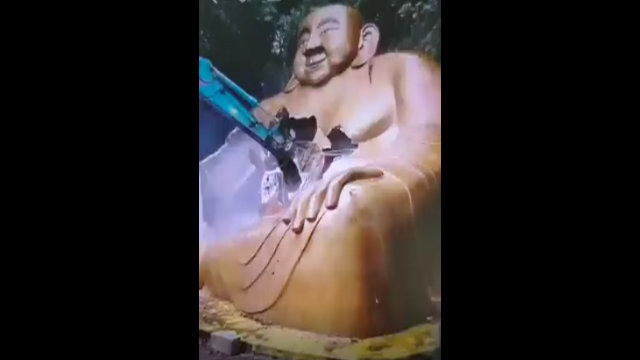 Source: Bitter https://bitterwinter.org/ccp-resolute-to-remove-all-outdoor-buddhist-statues/Winter