Postal and courier services in China are scrutinized to ensure that no "sensitive" goods reach pro-democracy fighters, their staff punished for minor missteps.
by An Xin
Since the start of the pro-democracy demonstrations in Hong Kong last year, the CCP has adopted strict measures limiting the shipment of "sensitive" items from mainland China to curb any attempts aimed at supporting protestors. All logistics and courier companies in China have been banned from shipping face masks, helmets, and other regulated items to Hong Kong and other neighboring areas, like Zhuhai and Shenzhen cities in Guangdong Province or Xiamen in Fujian Province. Those who disobey are investigated and punished according to the Anti-Terrorism Law. The prohibitions have also been extended to Taiwan.
Heightened control ahead of presidential elections
A postal staff member from northeastern China told Bitter Winter that ahead of the presidential elections in Taiwan on January 11, 2020, the Chinese authorities stopped the shipment of t-shirts produced in China in support of Taiwan's Democratic Progressive Party. The shirts had slogans like "HK Add Oil! I'm Taiwanese in Support of HK," "Today HK, Tomorrow Taiwan," and were deemed as illegal items and withheld in the name of the nationwide campaign "to eradicate pornography and illegal publications."
Numerous items, such as baseball caps and flags, have been ordered by the Taiwanese to be produced in mainland China before the elections, but were prohibited from being shipped. Logistics companies have been warned to notify security institutions if shipments with such items are identified.
The postal employee went on to say that the Chinese government strengthened its control over postal and courier services ahead of the 20th anniversary of Portugal's transfer of sovereignty over Macau, celebrated in December.
He added that shipments from Hong Kong to universities on the mainland are now also inspected on orders by the government to prevent pro-democracy ideas from spreading among students. Also, the already long list of items not allowed to be sent to Hong Kong was expanded in November. Even fishing nets, supposedly used by demonstrators to impede police work, 3D printers, used to produce printed materials, or wireless equipment that can help establish "underground radio stations," have been banned. The police demand to report all such items found in packages bound to Hong Kong.
Employees scrutinized by public security services
A courier working for SF Express – a Chinese delivery services company – in Quanzhou, Fujian Province, was fired in December for accepting a package to Taiwan with an umbrella rod. The 24-centimeter-long pole was sent by a factory on the mainland, which has been doing business with Taiwan for years. The package was detected at the security check of the company's transit platform and apprehended by the Public Security Bureau.
Another employee at the same branch was fired for accepting a package with an iron shoe-sole mold because anything made of iron is on the CCP's prohibited items list.
"The police keep an eye on us all the time. We cannot send sensitive items to Hong Kong, Xinjiang, or Tibet," a worker at SF Express in Quanzhou told Bitter Winter. He added that the local police raided several logistics companies in September. One of them was fined 10,000 RMB (about $ 1,400) for failing to implement the policy to register packages with real names of people who send them.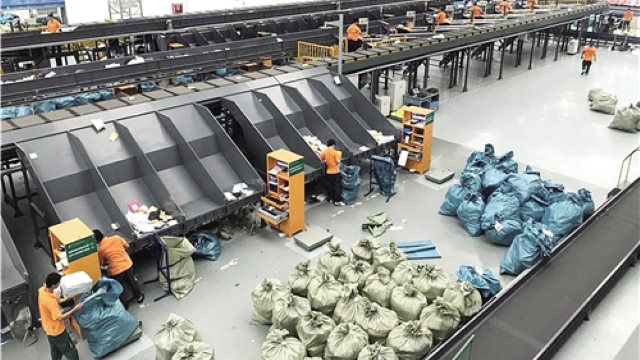 A staff member at the SF Express told Bitter Winter that the company's scanner for packages is connected to the public security system so that the police can monitor and keep track of all their shipments. Once suspicious items are detected, parcels are opened for a thorough inspection.
"Such inspections are even more rigorous this year," the employee continued. "The government will accuse staff members of having ties with Hong Kong protesters if they don't stop 'forbidden items,' such as black shirts and masks, from being shipped. We don't regard them as dangerous, but public security officers do. You can get fired if these items are found. Couriers are at risk of being taken into custody at any moment; anybody can be labeled as 'reactionary.' The CCP has imposed further control over items being shipped to Taiwan and Macau so that Hong Kong people would not be able to go there to pick up their packages."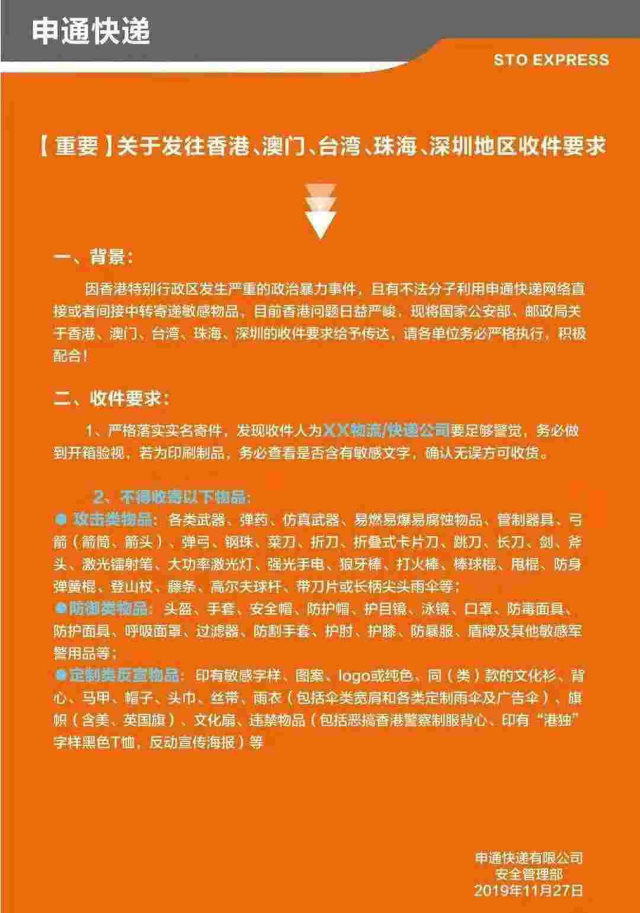 Source: Bitter Winter