One of the attorneys representing Drew Pavlou documents with exclusive videos and pictures how Chinese operatives got away with their crimes.
by Mark Tarrant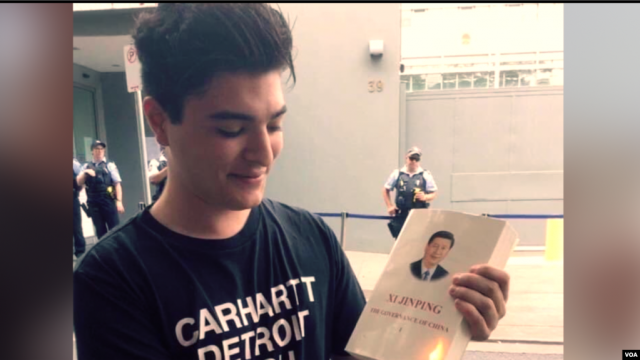 The three Chinese Ministry of State Security (MSS) operatives zeroed in on their target—an Australian citizen hostile to their regime. The plan was to provoke the target, wait for his response, and then attack.
At 12:20 pm, Wednesday, 24 July 2019, Drew Pavlou became the first Australian to be attacked on Mainland Australia by a foreign state since Emperor Hirohito declared the surrender of Imperial Japan on 15 August 1945.
Photographic evidence shows the leader of the MSS attack team, wearing a white sweatshirt speaking into an earpiece.
The MSS team's "bovver boy" gets ready for action. The leader nods his approval. The third operative, standing behind a column at the University of Queensland's St Lucia campus starts to smirk, as he knows what comes next.
Sitting cross-legged, Drew Pavlou holding a megaphone in one hand and in the other a placard "Close the Confucius Institute," chants "Hey hey ho ho Xi Jinping has got to go."
The MSS operative grabs the megaphone with both hands and hurls it over Drew Pavlou's head towards Merlo Coffee.
Startled, Drew Pavlou jumps up and is quickly punched in the head and the right ribs by the MSS team leader.
Bovver boy joins in, leaping fully off the ground as he throws his punch for Red China.
Once Drew Pavlou is taken out by the MSS team, signaled by the third operative the boombox is held aloft blasting the "March of the Volunteers" and there is a victory salute.
The next day PRC Brisbane Consul-General Xu Jie, 7 years a Public Security Bureau cadre and trained at a Chinese police academy, praised this action against "anti-China separatist activities" at University of Queensland (UQ).
In concert with the Consul-General, CCP mouthpiece The Global Times named Drew Pavlou and the other UQ student protest leader Jack Yiu Chak as "secessionists," marking them out as ongoing targets for the CCP's threatening "wolf warrior diplomacy."
And since the PRC's National Security Law in Hong Kong commenced on 1 July 2020, both Drew and Jack are now at risk of life imprisonment under Article 20 for their separatist/secessionist activities, which by Article 38 extends to offences committed outside the territory, including by foreign citizens.
Foreign Minister Marise Payne described the Consul-General's statement as "encouraging disruptive or potentially violent behaviour."
US Ambassador to Australia Arthur B Culvahouse IV offered his support for the right of free speech on Australian campuses when he stated: "I would say that Foreign Minister Payne has expressed her deep concern about too, about the Consul General, the Chinese Consul-General in Brisbane who was encouraging Chinese students at the University of Queensland to harass pro-Hong Kong students who weredemonstrating in favour of democracy in Hong Kong."
Drew Pavlou is a victim of "politically motivated violence" as defined by Section 4 of the Australian Security and Intelligence Organisation Act 1979. The "serious crime" committed by Consul-General Xu Jie include incitement to violence resulting in serious bodily harm and death threats to Drew Pavlou and his family. Under Section 4A of the ASIO Act 1979 "terrorism offences" means "(b) an offence against Part 5.3 of the Criminal Code." The definition of "terrorist act" under the Criminal Code Act 1995 is identical to the definition of "terrorist act" in the Crime and Corruption Act 2001 (Queensland) including an act that causes harm that "is done with the intention of advancing a political religious or ideological cause."
It is clear the attacks on Drew Pavlou and other protestors on UQ campus on 24 July 2019 and subsequent attacks were politically and ideologically motivated.  What other motives could there possibly be?
On 10 August 2020 the Brisbane Magistrates Court decided that Consul-General Xu Jie's statement was part of his consular function under the Vienna Convention on Consular Relations 1963, which has as its intention the "maintenance of international peace and security, and the promotion of friendly relations among nations." Drew Pavlou's Peace & Good Behaviour Order application against the Consul-General was therefore dismissed.
Three months after the attack on pro-Hong Kong democracy protestors at UQ, I received this cryptic message from an Australian professor: "I can't give details here but i have it at first hand that at least one vc [vice-chancellor] in aust[ralia] has direct evidence of a CG [Consul-General] directing attacks on pro‐democracy hkg [Hong Kong] protests in oz. ( not UQ)."
As the voices for democracy have all but been garrotted in Hong Kong, President Donald Trump's Executive Order on Hong Kong Normalisation 13936, can and should be used to sanction members of the PRC diplomatic corps in Australia for putting at grave risk pro-Hong Kong democracy protestors. Australian universities that censor, limit, or penalise the exercise of freedom of expression or assembly for pro-Hong Kong democracy voices in Australia should also face sanction under Sec 4 (iii) of the Executive Order.
This is especially pressing since the recent attempt by the University of New South Wales to censor Human Rights Watch Australian Director and UNSW Adjunct Professor Elaine Pearson for speaking out in support of human rights in Hong Kong.
Source: Bitter Winter