The CCP intensifies sanctions on Christian Sunday schools and summer camps while strengthening patriotic education to foster the new generation of Party followers.
by Ye Ling
In August, the Nanping city government in the southeastern province of Fujian prohibited a state-run Protestant church from organizing its summer camp for youth. According to a church member, the authorities learned about the camp through a church pastor's message on his WeChat account. Soon after, the police took away the person in charge to question him about the pastors involved in preparations for the camp and ordered him to stop organizing the event.
"Bans on children's participation in church activities are part of the government's religion eradication policy," a state-run church preacher from Nanping told Bitter Winter.
The government of Fujian's Xiamen city issued a ban on summer camps to some Three-Self state-run churches in March, threatening to close any church that runs faith-related programs for minors.
Crackdowns on church activities for minors are implemented following President Xi Jinping's instructions "to cultivate generation after generation of useful talents who support the CCP leadership and the Chinese socialist system, and who are committed to a lifelong struggle for the cause of socialism with Chinese characteristics."
Even kindergartens are not spared. Chalu town in Ninghai, a county administered by the prefecture-level city of Ningbo in the eastern province of Zhejiang, played an important part in the CCP's revolutionary history. In late September, the town's Central Kindergarten organized educational activities for its students and their parents, who were required to take part in experience games called the Little Long March and the Little Red Army in Old Base Areas. The aim of these activities was to imprint "the red education into their minds and hearts."
On September 30, China's Martyrs' Day to commemorate revolutionary heroes, the Ningbo city government organized school students to attend memorial activities in Jian'ao village, a revolutionary base in the city's Yinzhou district. The students were told to sing We are the Communist Successors and Without the Communist Party, There Would Be No New China and salute the national flag.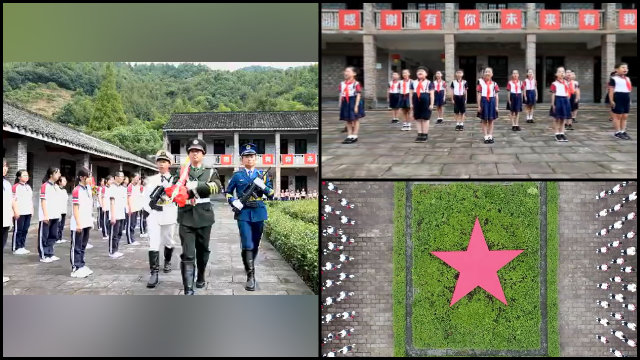 In October, students in a Ningbo primary school were organized to swear allegiance to the Communist Party. "This is the indoctrination of students," a teacher commented.
In Zhejiang's Jiaxing city, some schools demanded their students to memorize the core socialist values. "The school organized several red education activities this year, and nobody knows how many more will be organized in the future," a student's parent said worriedly. "Young children's minds can't withstand this invasion of indoctrination."
On October 1, the 71st anniversary of the founding of the People's Republic, students in some primary and secondary schools in Fujian's capital Fuzhou attended online activities to write down their "good wishes and gratitude for their motherland." These events were organized to implement Xi Jinping's call to "properly fasten the first button of life" by inheriting the red gene and strive "to become red successors forever."
"The education system under the CCP dictatorship has degenerated completely," a student's parent said helplessly. "Children are indoctrinated with the party-loving ideology from a young age, disregarding everything else."
Source: Bitter Winter