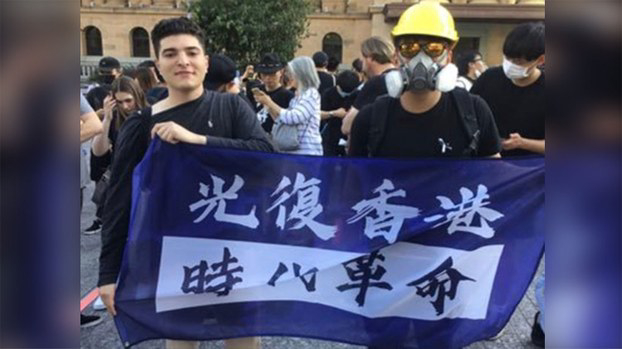 An Australian student threatened with expulsion after he was highly critical of Beijing has been warned that he could also be removed from the University of Queensland (UQ)'s student senate later this month, as the university authorities set a date for his expulsion hearing.
"It is almost certain there will be an attempt to remove me from the UQ Senate on May 13th," UQ student Drew Pavlou said via his Twitter account. "I was elected by a majority of students on a platform supporting Hong Kong and opposing the Confucius Institute."
Pavlou said that if he is removed, a candidate supportive of the Chinese Communist Party (CCP) would likely replace him.
Meanwhile, a Change.org petition in Pavlou's support had garnered more than 25,000 signatures by 2.00 p.m. GMT on Tuesday.
Pavlou said via Facebook that he also faces an expulsion hearing via video link on May 20.
Ali Amin, National Welfare Officer of the National Union of Students (Australia), tweeted: "This is some of the worst attacks on political organizing and freedom of speech I've ever seen from a university and sends a dangerous signal to the student union movement."
"If what they've alleged … is expulsion worthy then the majority of the student union movement would be facing expulsion hearings," Amin said.
The university is taking disciplinary action against Pavlou, 20, for harming its reputation, engaging in intimidating and disrespectful conduct, and disrupting the running of the university, among other charges.
Pavlou — who suffers from depression — faces 11 allegations of misconduct, including activities that the authorities say breached its integrity and harassment policies and the student charter.
The authorities have presented as "evidence" of his alleged misconduct social media comments he made regarding the pro-democracy movement in Hong Kong, in which he claimed to be speaking "on behalf of the university" following his election as student representative to the university senate.
Physically attacked
Pavlou has also reported being physically attacked by Chinese Communist Party supporters during a campus brawl at UQ sparked by Chinese students' opposition to a Hong Kong protest-related activity.
According to UQ, Pavlou also allegedly placed a sign on the UQ Confucius Institute — a cultural organization embedded in campuses around the world and directly staffed and controlled by the Chinese government — in March, declaring it was a "biohazard" amid the coronavirus epidemic, according to a post he made on Facebook.
Pavlou says he is being singled out because of his specific criticisms of UQ's relationship with China, as well as his support for the Hong Kong pro-democracy movement and for the Turkic Uyghur ethnic group, who have been subjected to mass incarceration in "re-education" camps by the CCP.
Pavlou also burned a copy of the collected works of Chinese President Xi Jinping outside the Chinese consulate in Brisbane.
Xu Jie, the Chinese Consul General in Brisbane, has previously accused Pavlou of engaging in "anti-China separatist activities." China's Global Times tabloid newspaper, published by Communist Party paper the People's Daily, has made similar claims.
Xu was awarded the post of visiting professor by UQ vice president Peter Hoj on July 12, 2019, a move which also drew criticism from Pavlou at the time.

'Using anything they can'
Feng Chongyi, a political researcher at the University of Technology in Sydney, said UQ authorities are likely trying to use anything they can find in the rulebook to expel Pavlou.
"This is exactly the same way that China suppresses freedom of speech and attacks rights activists," Feng said. "They won't make direct political accusations, but they will accuse them of something inexplicable, like picking quarrels and stirring up trouble."
He said the proceedings against Pavlou were likely a direct result of the CCP's United Front strategy to export its model of government and boost Beijing's influence overseas.
"The principal is very pro-CCP indeed, and the CCP regime has many agents in place overseas," Feng said. "A lot of Australian universities have undertaken joint research programs with [Chinese state-backed institutions] and opened Confucius Institutes when they lack funding."
"But the benefit of this increased income comes at the cost of silencing any voices that speak out against the CCP's dictatorial regime," he said.
Wu Lebao, an international student at the Australian National University, said there had been cases in recent years of Australian teachers and lecturers being forced to apologize to China after referring to Taiwan as a country — an idea that is anathema to Beijing — and sparking angry protests from Chinese students.
"There have been a lot of these cases in the past few years, where teachers touch on topics sensitive to mainland China in the classroom," Wu said.
"Fewer and fewer teachers in Australia are willing to touch on these sensitive topics at all now," he said.
Public opinion shifting
Public opinion may be shifting to a warier position, however, as Australian media have repeatedly reported that Chinese companies and individuals under the aegis of the CCP's United Front shipped crucial personal protective equipment (PPE) supplies to China from Australia at the start of the coronavirus pandemic in central China.
Australian author and professor of public ethics Clive Hamilton's book, Silent Invasion: China's Influence in Australia, was initially turned down by three publishers citing fears of reprisals from Beijing.
Finally published in February 2018, Silent Invasion argues that Australia's elites, and parts of the country's large Chinese-Australian diaspora, have been mobilized by Beijing to gain access to politicians, limit academic freedom, intimidate critics, gather information for Chinese intelligence agencies, and organize protests against Australian government policy.
According to Reuters, the Chinese Communist Party was behind a massive cyber attack on the Australian national parliament ahead of May's general election.
The agency cited the country's cyber intelligence agency, the Australian Signals Directorate (ASD), as saying that Beijing was responsible for the attack on the parliament and the three largest political parties, and that it had originated with the Ministry of State Security in Beijing. The findings were initially kept secret to avoid damaging trade ties.
Canberra last year said it would crack down on suspected Chinese Communist Party influencers in the country following the introduction of new laws targeting activities by lobbyists and agents of foreign governments in June 2018, and later denied a passport to a top Chinese businessman.
In February 2019, the authorities rejected the citizenship application of a prominent Chinese billionaire and revoked his permanent residency there over concerns about his ties to Beijing.
Huang Xiangmo had made donations of nearly U.S. $1.9 million to political parties in Australia over the five years prior to lodging his application.
Reported by Gao Feng for RFA's Mandarin Service, and by the Cantonese Service. Translated and edited by Luisetta Mudie.
Source: Copyright © 1998-2016, RFA. Used with the permission of Radio Free Asia, 2025 M St. NW, Suite 300, Washington DC 20036. https://www.rfa.org.