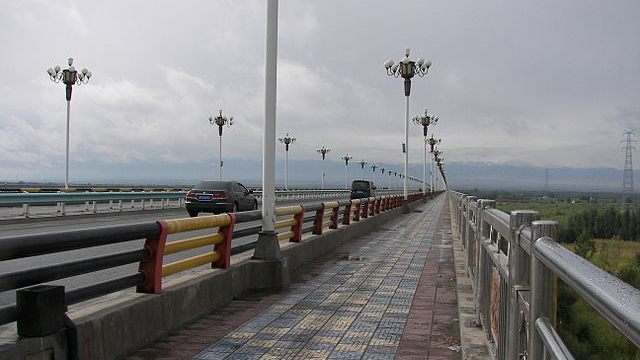 Authorities in Ghulja (in Chinese, Yining), in northwest China's Xinjiang Uyghur Autonomous Region (XUAR), have sentenced a Uyghur taxi driver to more than 16 years in prison for transporting an "illegal" religious figure and jailed his mother for a decade, according to sources in the region.
Shireli Memtili, a 28-year-old father of two, was detained in November 2018 and sentenced to 200 months in jail in May 2019 for driving the religious figure—likely a non-state-sanctioned imam—and receiving "illegal religious education" from him, members of his family recently told RFA's Uyghur Service.
Memtili's relatives said they only learned about his sentencing when they spoke with officials at their local community administrative center, suggesting that there was never a publicly held trial for the taxi driver.
While they never received official sentencing documents, the administrative official told them Memtili had also been convicted of "illegally gathering and disturbing the social order," as well as "endangering national security."
RFA spoke with a Uyghur police officer in the Ghulja neighborhood of Hanbing who confirmed that Memtili is under his jurisdiction and had been sentenced but did not respond when asked where the taxi driver is being jailed.
A Uyghur employee at the command center of the Ghulja city Public Security Bureau (PSB) refused to answer when asked why Memtili had been detained and referred further questions to his superiors.
But a Uyghur archivist at the Ghulja city Ministry of Justice confirmed that he had been sentenced to 200 months and said he is serving his sentence in a prison in Shikho (Wusu) city, in the XUAR's Tarbaghatay (Tacheng) prefecture.
"He received illegal [religious] education and incited ethnic separatism," said the employee, who declined to be named.
When asked who Memtili had given a ride to that led to his sentencing, the archivist handed the phone to a Han Chinese superior at the department who referred further questions to the local PSB.
Sentenced for moving
Meanwhile, RFA learned from a source who spoke on condition of anonymity that Memtili's 49-year-old mother Aygul Turahan was sentenced in early 2019 to a decade in prison after she was detained for moving her household registration, or hukou, from Ili Kazakh (Yili Hasake) Autonomous Prefecture's Tekes (Tekesi) county to Ghulja's Hanbing neighborhood nine years earlier.
Authorities in in the XUAR are believed to have detained up to 1.8 million Uyghurs and other Muslim minorities accused of accused of harboring "strong religious views" and "politically incorrect" ideas in a vast network of internment camps since April 2017.
When the camp system was first launched, Uyghurs who had changed their hukous were targeted on suspicion of "extremism," and Turahan—who had moved to Hanbing in 2010 with Memtili and her husband, a butcher named Memeteli Abdureshit—was detained.
RFA spoke with a Uyghur police officer in Hanbing who provided contact information for the Han Chinese officer who was responsible for Turahan's case but said he did not know why she was detained.
The Han Chinese officer refused to answer any questions about Turahan when contacted by RFA.
But a Uyghur cadre from a village near Hanbing told RFA by telephone that Turahan had been detained on June 15, 2017, and that while in detention she was accused of distributing materials containing religious content to others.
"They said she spread illegal religious educational materials, incited ethnic extremism, gathered [illegally], and endangered the country," the cadre said, adding that authorities "sentenced her to 10 years."
"Later, a little while later, [her family] came to the village asking for the sentencing papers."
According to the cadre, Turahan's husband was detained at the same time as she was, but later released.
"Memeteli Abdureshit got out [of an internment camp] after one year and four months … and is still working as a butcher," she said. "Aygul Turahun is in … a prison in [Ghulja's] Baykol [village]."
It was not immediately clear if Turahun had ever been given a trial, although Uyghurs in internment camps are regularly given sentences without going through any formal proceedings.
Reported by Shohret Hoshur. Translated by Elise Anderson and Shahrezad Ghayrat. Written in English by Joshua Lipes.

Source: Copyright © 1998-2016, RFA. Used with the permission of Radio Free Asia, 2025 M St. NW, Suite 300, Washington DC 20036. https://www.rfa.org.