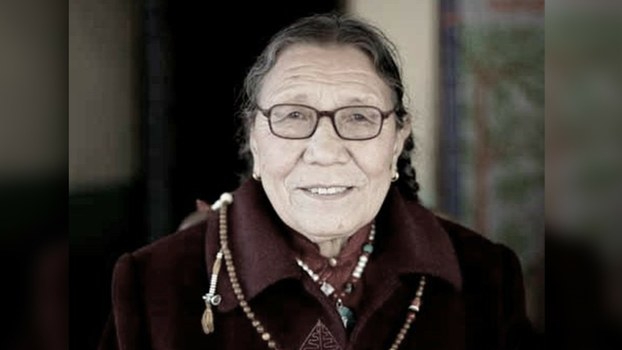 Former Tibetan resistance fighter Ama Adhe, who spent more than a quarter century as a political prisoner for her role in fighting off Chinese invaders in eastern Tibet has died in Dharamsala, India, at the age of 88, Tibetan sources say.
Born Adhe Tapontsang in 1932 in Nyagrong, a Tibetan-populated county in western China's Sichuan province, Ama Adhe—the name Adhe means "Mother"—played a central role in organizing resistance to Communist China's invasion of independent Tibet in the late 1950s.
Captured by the Chinese in 1958, she spent the next 27 years in prison, enduring torture, forced labor, and constant hunger, before finally being released in 1985 and later escaping into exile in India.
Speaking in an interview with RFA's Tibetan Service in 2017, Ama Adhe recalled the events that led to her involvement in the resistance against the Chinese invasion in the historical Kham region of eastern Tibet:
"On April 28, 1950, the Chinese invasion began, and from that day onwards my life turned upside down," she said.
"In 1956, when the Chinese began [to tighten their control] under the guise of introducing 'democratic reforms' in my hometown of Kardze, my husband died unexpectedly, so I joined the Tibetan resistance of the Khampas to help Tibetan men fight the Chinese military."
On Oct. 16, 1958, Ama Adhe was arrested by the Chinese for taking part in the resistance and for having encouraged other women to join and supply fighters with food and other provisions, she said.
"There were around 300 women prisoners with me at that time, and most of them died later of starvation. I was only 27 years old. It was torment—both physically and mentally," she added.
Escape to India
When the situation began to relax in Tibet in 1979, Ama Adhe applied for parole, she said.
"And in 1985 I was finally able to return to my hometown to meet my family, and I saw my daughter for the first time in 27 years. She was only a few months old when I was imprisoned, and I couldn't recognize her."
A son had meanwhile died.
"In 1987, I fled into exile in India, and my dream of meeting [exiled spiritual leader] the Dalai Lama came true," she said.
Two years later, Ama Adhe traveled to the U.S. and Germany, where she spoke publicly about Chinese atrocities in Tibet and told stories of her life under China's rule.
Her autobiography, Ama Adhe: The Voice That Remembers: The Heroic Story of a Woman's Fight to Free Tibet, was co-written with Joy Blakeslee and was published in 1997.

Reported by RFA's Tibetan Service. Translated by Tenzin Dickyi. Written in English by Richard Finney.
Source: Copyright © 1998-2016, RFA. Used with the permission of Radio Free Asia, 2025 M St. NW, Suite 300, Washington DC 20036. https://www.rfa.org.