At the end of last year, Hubei's capital was getting ready to welcome the central government's inspection team by implementing more religious suppression measures.
by Cai Congxin
The Municipal Ethnic and Religious Committee in Wuhan, the capital of Hubei Province, issued the Proposed Plan to Welcome the Central Government's Religious Work 'Return' Inspection in October 2019, requiring further rectification campaigns starting from November 1. The aim of the forthcoming central inspection team's "return" visit was to check how religious policies are implemented locally, before starting a new round of crackdowns.
The document lists 15 primary demands for state-run religious venues, including the raising of the national, a total ban on publications that are not officially-approved, or the prohibition of theological training in places of worship. To ensure the long-term control over the venues, the document also demands to operate various supervisory schemes through implementing regular inspections and warranting personal responsibility and accountability of local government officials responsible for religious work.
On November 1, Wuhan Municipal Ethnic and Religious Committee convened a meeting for those in charge of officially-approved religious venues to discuss the implementation of Plan. It was emphasized during the meeting that any religious venue which lets in minors, foreigners, or Party members should be closed down immediately.
The next day, officials ordered to demolish the statue of Watching Lake Guanyin in Wuzhu Temple. The temple was sealed off, and ten days later, the icon destroyed.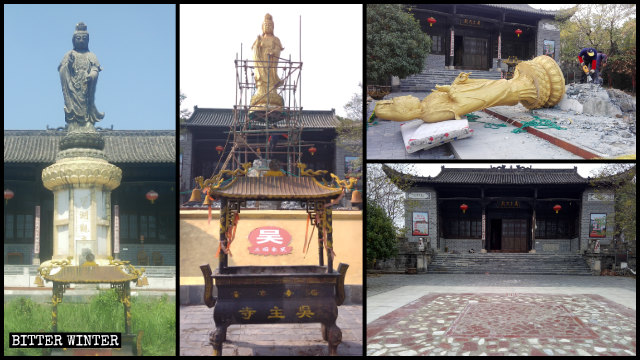 On November 8, the Wuhan Municipal Commission for Discipline Inspection issued a notice to close down all shops selling Buddhist products around the famous Guiyuan Temple, which is also the seat of the provincial and municipal chapters of the China Buddhist Association. During the Chinese New Year, worshiping at the temple is considered as one of the most important events in Wuhan.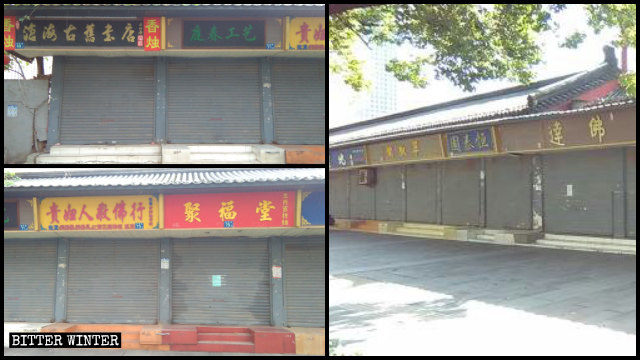 On November 11, local officials raided a Three-Self church in the city for hosting nearly 80 foreign Christians, threatening to shut it down if the venue continues accepting believers from abroad, which is against government regulations.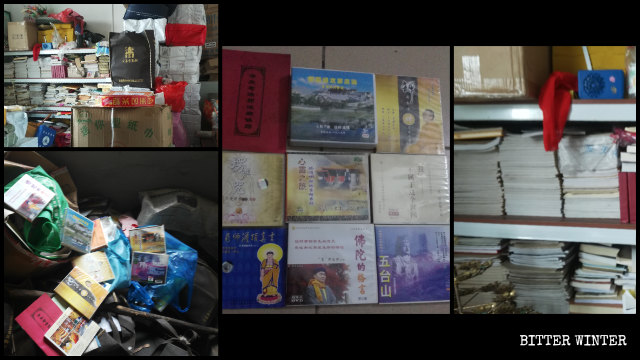 During the crackdowns last year implemented ahead of the Military World Games held in Wuhan at the end of October, many religious venues have been shut down for "stability maintenance." According to the data received by Bitter Winter, from March to October 2019, at least 40 Protestant churches, both Three-Self and house churches, and ten Buddhist and Taoist temples were demolished or sealed off. Other places of worship, including the state-approved ones, like the True Jesus Church, were subjected to systematic harassment.

Source: Bitter Winter