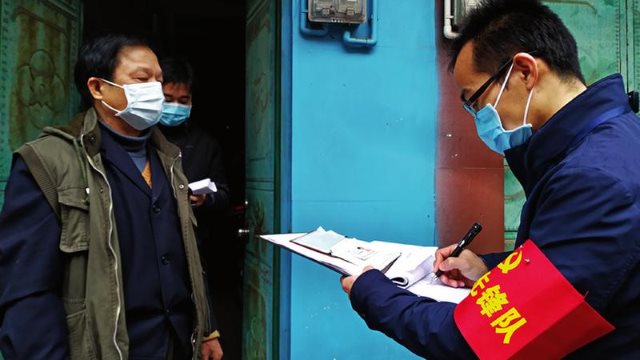 Battalions of overseers patrol residential communities in the name of "social stability," watch for "unstable elements" and report on religious activities.
As China was battling the coronavirus outbreak, 4.5 million special personnel on government payroll were mobilized to ensure that everyone is following lockdown rules. Neither police officers nor civil servants, these people can inspect homes of residents at any time of the day and restrict their daily activities. Called "grid administrators," they are a unique feature in China's ubiquitous system of surveilling its citizens.
In 2018, all residential communities in China were divided into grids, each made up of 15 to 500 households, after pilot projects were launched and tested in selected areas in 2013. All grids are assigned an administrator to warrant social control over their residents. As a government employee from Penglai city in the eastern province of Shandong explained to Bitter Witter, grid administrators are required "to ensure the support for the Communist Party and love for socialism, and look for any unregistered religious activities." He added that in employing grid administrators, priority is often given to military veterans and CCP members.
Who is being surveilled?
Grid administrators are required to collect information on the residents in their jurisdiction and upload it to the unified government-operated data management platform. They must frequently enter residents' homes to inspect various items, such as their vehicles, and investigate people's religious beliefs or political views, find out where each family member in each household works. They also have to report to the sub-district comprehensive management office and local police station on mass incidents and "unstable elements" that "may influence social stability." Propaganda about state policies to residents is also among gird administrators' primary tasks. Petitioners, Uyghurs, dissidents, religious believers, and former prisoners are identified as targets of particular interest for grid administrators.
"The so-called 'stability maintenance' means to know everything about residents and control them at the grassroots level," a grid administrator from Kaifeng city in the central province of Henan explained. "This type of control intensified after Xi Jinping took office."
Shenzhen, a sub-provincial city in the southern province of Guangdong, is divided into 19,000 grids that are supervised by 21,000 grid administrators. One of them told Bitter Winter that during a training organized by the sub-district management office, they were told that "Uyghurs are terrorists, and the government is afraid they may instigate riots." "Therefore, we are required to visit Uyghurs' residences every three days or so to register their personal information and take photos of them," the man explained. He added that they were required to do this every day during the celebrations of the 70th anniversary of the founding of the People's Republic of China last year. "We were encouraged to harass them, so they move out, unable to endure it," the man continued, adding that grid administrators "do not need help from the police in many cases."
A grid administrator from Shandong's Weihai city told Bitter Winter that to ensure that people who petition the government do not leave the local area, she is instructed to monitor if the light is on in their homes every evening.
Chen Jianhua, the mayor of Guangzhou, the capital of Guangdong Province, stated that a grid administrator should collect detailed information on 200 households within half a year, including data on each household member, how many people visit their homes on average, and if they rent out rooms and for how much.
Crackdowns on religion—a primary task
Another grid administrator from Weihai said that the local government demanded them to investigate and report on all house church venues in the area. Every week, they have to visit Three-Self churches in their jurisdictions to monitor the content of sermons, count the people who come for services, and take photos and videos of the congregation. If they discover "suspicious persons," like missionaries from out of town, they must immediately report about this to the police.
A grid administrator from Taizhou city in the eastern province of Zhejiang said that he was instructed to register the numbers of male and female believers in Three-Self churches. "We also have to investigate their education levels, whether their relatives hold religious beliefs too," the administrator added. "Churches' income sources, collected donations, and expenditures must also be scrutinized."
Grid administrators are instructed to identify the religious status of all residents in their jurisdictions through in-depth conversations, and the information must be noted in the residents' electronic files. Communities housing many religious believers are targeted for intensified control and surveillance.
"Sometimes grid administrators enter our homes on the pretext of a fire safety inspection," a house church believer from Henan Province told Bitter Winter. "They inspect every corner of the house to determine if out of town missionaries or groups of believers are inside or we have religious books, and so on."
In 2019, grid administrators in Guang'an, a prefecture-level city in the southwestern province of Sichuan, in cooperation with the police, monitored members of The Church of Almighty God (CAG) for half a year. Having collected information on their activities, the police arrested at least 12 CAG members in the course of one week in August. One of the detained believers recalled that prior to her arrest, a grid administrator visited her several times, noting down her phone number and photographing her.
Source: Bitter Winter