During the coronavirus outbreak, China intensified indoctrination efforts demanding residents to pledge their eternal love to the ruling Party and its leaders.
by Bai Lin
Political birthdays—an expression of loyalty to the Party
In 2019, the Central Committee of the Chinese Communist Party issued two documents—Opinion on Strengthening the Party's Political Construction and Opinions on Strengthening and Improving the Party Building of the Central and State Organs—demanding its members to celebrate the day they joined the Party as their "political birthday."
Government-run media outlets have been promoting the importance of "political birthdays" and various forms to celebrate them, such as renewing oaths of allegiance to the Party, "studying the Party's spirit," or distributing political birthday cards. According to some CCP mouthpieces, a person's "natural birthday" is to celebrate life, while a "political birthday" is to express love, loyalty, and gratitude "to the Communist Party that has given us a political life and feeds us like a mother."
On April 9, the CCP branch of the Biotechnology Department of South China University of Technology celebrated political birthdays of four Party members online due to the coronavirus-related restrictions. During the meeting, leaders emphasized "the superiority of the socialist system with Chinese characteristics" in times of the epidemic and discussed the need to strengthen people's confidence in the Party.
A CCP member told Bitter Winter that amid the turbulent domestic and international situation, the Party wants to reinforce lay citizen's loyalty to the Party by "introducing various ritualized political activities to express their gratitude to it." He added that many people are disgusted with these absurd ceremonies, which remind them of the Mao Zedong era, "when people worshipped him and the Communist Party at a 'divine altar' while dancing a loyalty dance." President Xi Jinping is repeating the Cultural Revolution, the man believes.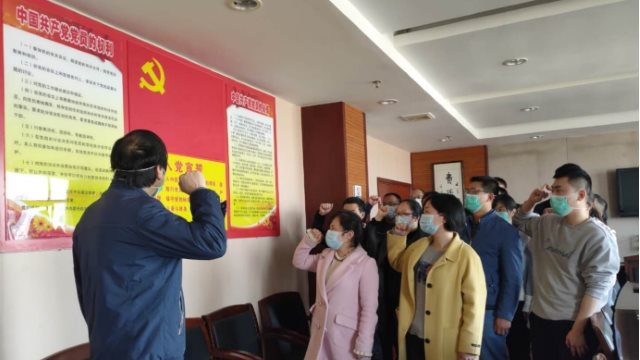 "During the Cultural Revolution, Mao Zedong made people memorize his quotations," an elderly villager from the northern province of Shanxi said. "Xi Jinping does the same: Everyone has to read his speeches and worship him. No one is allowed to disobey. This society is ruined."
Pressure to study Xi Jinping Thought intensifies
During the coronavirus outbreak, Party members, teachers, students, medical workers, and many other China's residents were continuously subjected to the government's propaganda and indoctrination. They were forced to express their gratitude to the Party as "the powerful force" and President Xi Jinping as "the wise and indispensable leader" fighting the virus.
A government employee from Shanxi's Lüliang city told Bitter Winter that amid the pandemic, village officials were assigned quotas to introduce from 60 to 300 people to the "Xi Study Strong Nation" app on WeChat, a popular Chinese messaging and social media platform.
In February, residents of a village in Lüliang-administered Lan county received messages from officials on their WeChat accounts, demanding everyone with a smartphone, young and old, to download the "Xi Study Strong Nation" app. A local man in his 80s from an impoverished household found himself in a limbo: He didn't know how to use the app but was still threatened that his welfare aid would be terminated if he did not download it.
In March, heads of educational departments, hospitals, and churches in Kaifeng, a prefecture-level city in the central province of Henan, were also instructed to intensify the use of the "Xi Study Strong Nation" app.
"Each level of government requires their subordinates to use the app," a teacher in Kaifeng said helplessly. "So, the school demands its students' parents to study Xi Thought."
A teacher from Henan's Anyang city explained that the app records how much time everyone spends on it and keeps a count of accumulated points. "To amass them, we have to post Xi Jinping's speeches and news about him on other WeChat groups, but we are sometimes removed from them because people are fed up with our reposting," she added. "But those with low points are singled out for criticism, so we continue reposting in different groups every day, feeling like thieves."
In February, some primary and secondary schools in Shanxi's Jinzhong city demanded teachers, students, and their parents to use the "Xi Study Strong Nation" app. The Propaganda Department of the municipal CCP Committee and Education and Work Committee monitored the number of study participants daily in each school. They also introduce assessment methods to remedy "low participation rates and insufficient study hours."
A student from a technical school in Shandong Province complained that they not only had to work on the "Xi Study Strong Nation" app but also had to take arduous ideological and political classes. If they fail these courses, students will not be able to graduate.
The propaganda efforts seem to be bearing fruit, as government-praising essays by schoolchildren are flooding China's internet. "China identified the pathogen in record time and shared the genome sequence of the virus with other countries immediately," a primary school student from Weihai city in the eastern province of Shandong extolled the government's "achievements" in fighting the coronavirus. "The rapid implementation of these measures was possible because of the Party's powerful leadership and comprehensive national strength." Another student wrote: "China not only controlled the domestic outbreak but also extended a helping hand to Italy and other countries."
In reality, the CCP concealed vital coronavirus-related information, silenced whistleblowers, and engaged in propaganda and disinformation campaigns across the world. Professor Zhang Yongzhen, who shared with the international scientific community the genome sequence, was reprimanded by the authorities, and the Shanghai Health Commission shut down his laboratory for "rectification" on January 11.
Source: Bitter Winter