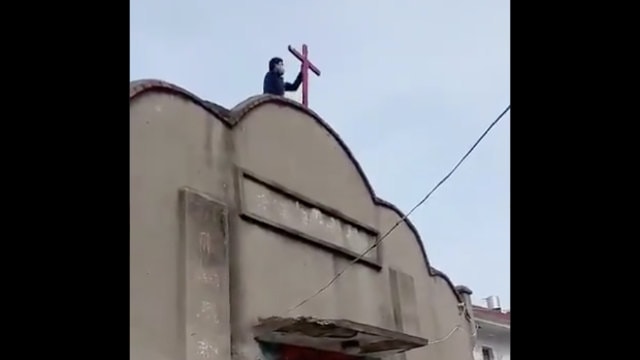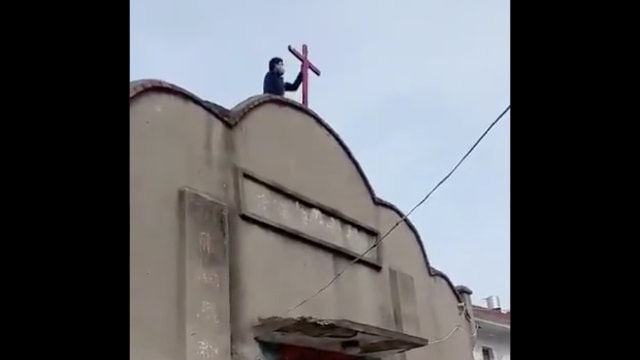 Nothing can prevent the CCP from persecuting people of faith. Not even the spread of a deadly virus.
On February 18, the Ethnic and Religious Affairs Bureau of Anhui Province issued a notice on religious control during the coronavirus epidemic, assigning specific activities to various government departments that were ordered to coordinate their actions and follow the United Front Work Department's (UFWD) leadership. Public security units are to continue cracking down on "illegal evangelism," institutions in charge of cyberspace take control over the public opinion, state security units strengthen the collection of information about religious groups, and publicity departments intensify propaganda campaigns.
Even the cross-removal drives didn't stop amid the spreading coronavirus. As per reports on Twitter, a cross was dismantled from a church in Woyang county of Anhui's Bozhou city on March 13, and another one in the Huaishang district of Bengbu city.
According to the work plan for 2020, issued by the Ethnic and Religious Affairs Commission of Tianjin, one of the four China's centrally governed municipalities, the control over religion will intensify throughout the year. The plan foresees further integration of socialist ideology with religion, suppression of "foreign religious infiltration," and increasing oversight of state-approved religious venues.
On January 24, all places of worship in Shangqiu, a prefecture-level city in the central province of Henan, were shut down to curb the epidemic. Still, local governments continued inspecting people's homes, removing religious couplets. Officials were warning residents through loudspeakers that their pensions would be suspended if such couplets were found in their homes.
On February 27, the Two National Christian Councils of Yuzhou, a county-level city in Henan, notified all churches that a provincial inspection team was visiting the area to check how the no-assembly measure was being implemented. Those who resumed services were threatened to lose their religious activity venue registration certificates, and clergy members would have their preaching permits revoked.
After the inspection team found some religious couplets and calendars in a local Three-Self church, its director was reprimanded and told to write a self-criticism statement. He was also ordered to collect all religious calendars from congregation members within three days.
"Religious persecution is not alleviated because of the epidemic," a house church preacher told Bitter Winter. "The CCP regards religious groups as a threat to its regime. The more unstable its power is, the more frequently these groups are suppressed."
On February 11, the twelfth national conference of China's officially approved religious groups was organized through video. Representatives of the five authorized religions were encouraged to collect donations for the epidemic relief but were warned that "religions could not be promoted or evangelical activities allowed" in the process. The prevention of evangelism is one of the primary tasks assigned to Religious Affairs Bureaus across the country amid the epidemic.
According to the information released by the UFWD in Hubei Province's Wuhan city on February 20, "people handing out face masks as part of missionary work" were discovered on February 5 in the city's Hanyang district. Subsequently, the authorities "immediately assigned all sub-districts and communities to cooperate with the Public Security Bureau and local police stations to make arrests and curb any likelihood of recurrence."
Such bans on religious groups during disaster relief efforts in China have a long-standing tradition. The CCP always tightens control over charitable activities carried out by believers, attempting to prohibit them from promoting their faith. No religious information or symbols are allowed to be included among disaster relief materials or charity items. Members of religious groups that are not approved by the state have been arrested for organizing charitable activities.

Source: Bitter Winter