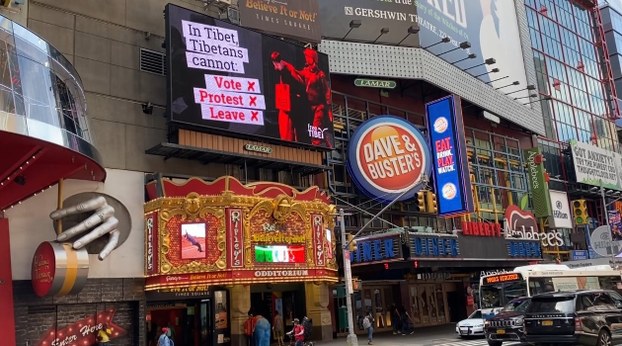 A Tibet advocacy group has launched a campaign this week to raise awareness of China's human rights abuses in Tibet, with billboards set up in New York and London in places where millions of people are expected to see them, the group said on Wednesday.
The billboards, which will remain place for the next two weeks, have been designed to provide "some very basic facts about Tibet," John Jones—campaign and advocacy director for the London-based Free Tibet—told RFA's Tibetan Service.
The billboard now displayed in New York's Times Square talks about the rights to vote, protest, and emigrate that China denies to Tibetans, Jones said, "While in the U.K. we decided to do a billboard themed around the idea of the lockdown," referring to the harsh security measures China employs to maintain control in the politically sensitive Himalayan region.
"Beijing's human rights record in Tibet is inexcusable, and the West has been silent for too long," Free Tibet said in an Aug. 26 press release announcing the billboard campaign. "This campaign breaks the silence and brings the Tibet issue back into the public domain where it belongs."
Free Tibet's campaign comes about six weeks before the 70th anniversary of China's invasion of Tibet on Oct. 6, 1950, the group noted, adding, "It also comes at a time when the Chinese government is coming under increased scrutiny for its abuses against the Uyghur people and crackdowns in Hong Kong."
A formerly independent nation, Tibet was taken over and incorporated into China by force, following which Tibet's spiritual leader the Dalai Lama and thousands of his followers fled into exile in India in 1959.
Chinese authorities maintain a tight grip on the region, restricting Tibetans' political activities and peaceful expression of ethnic and religious identities, and subjecting Tibetans to persecution, torture, imprisonment, and extrajudicial killings.
Reported by Sonam Singeri for RFA's Tibetan Service. Written in English by Richard Finney.
Source: Copyright © 1998-2016, RFA. Used with the permission of Radio Free Asia, 2025 M St. NW, Suite 300, Washington DC 20036. https://www.rfa.org.