Religion is identified as the major "dark and evil force" behind "weak and lax" CCP organizations that are being investigated across China.
by Jiang Tao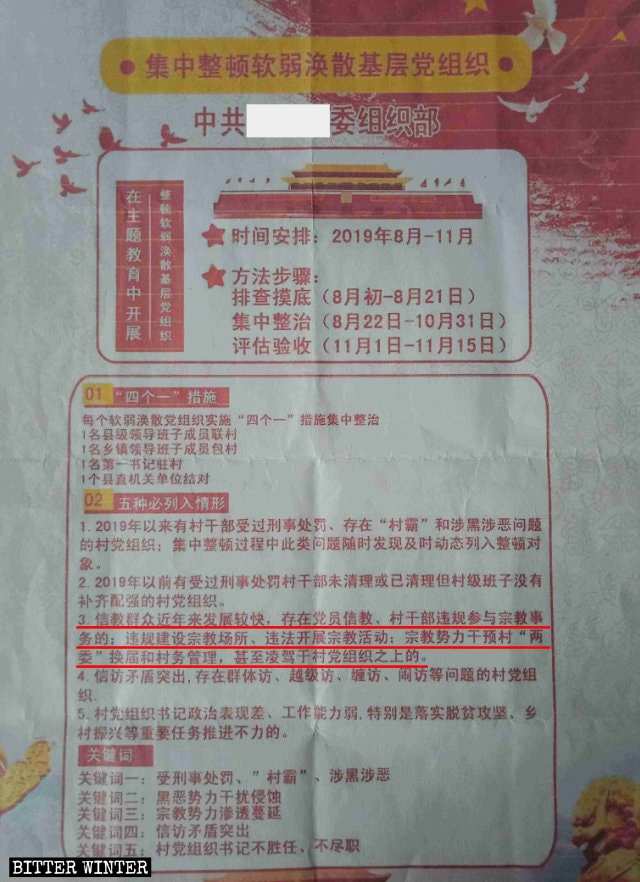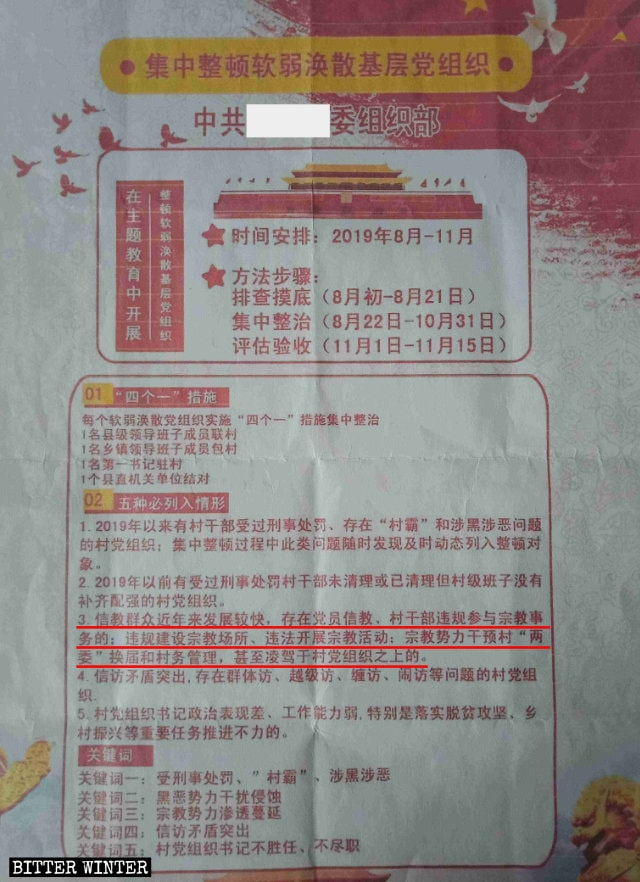 In August 2019, the Central Committee of the CCP initiated a plan for "centralized rectification of grassroots Party organizations that are weak and lax" in villages, communities, schools, enterprises, and other entities. Supervised by President Xi Jinping himself, who has launched the campaign to "purify" the Party, themed "stay true to original aspiration and keep the founding mission firmly in mind," investigations into CCP members are sweeping across China.
"Weak and lax" means that party units are mismanaged, lag behind in implementing central government policies, and are "infiltrated by dark and evil forces," such as pornography, gambling, drugs, corruption, and, of course, religion.
According to a report in Lincang Daily, a CCP mouthpiece in Yunnan Province, "Infiltration by religious forces is the result of ineffective management in Party organizations, which is weakening the Party's leadership." It manifests itself in the rapidly growing number of believers, insufficient rectification of religious venues and activities that are not approved by the state, and CCP members who still practice their faith, the article claims.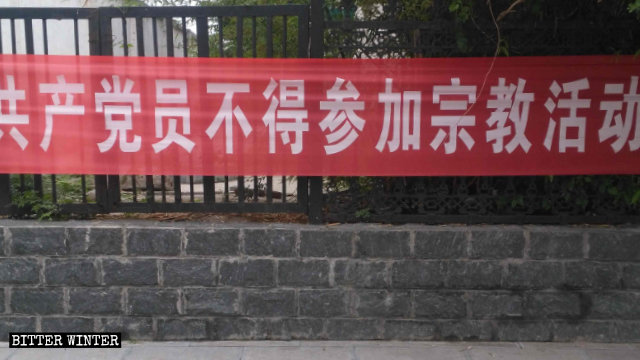 According to the information provided on the website of the CCP Committee of Linze county in Zhangye, a prefecture-level city in the northwestern Gansu Province, 5,078 Party members have been investigated before November 2019, following the adoption of the Work Plan of the Special Crackdown on the Rural Party Members' Religious Faith in Linze County. As part of the drive, 95 ideological education classes have been organized for local CCP members, and seven people with religious beliefs among them were "transformed," i.e., renounced their faith after "criticism and education."
In Zhangjiachuan county of Gansu's Tianshui city, 148 religious Party members have undergone ideological education.
The ongoing rectification campaign is causing fear among religious CCP members. "A village official rebuked me for wearing a cross necklace, calling me a traitor," complained the director of a woman's association in a Fujian Province village.
Over in Changyuan, a county-level city in the central province of Henan, names of CCP members have been smeared on 27 recognition plaques in temples, because donating money to places of worship is considered a "superstitious activity."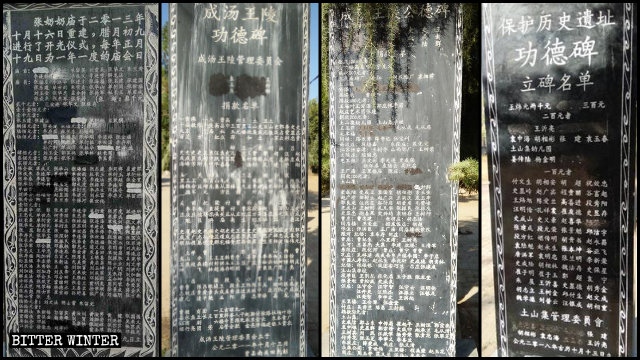 "Xi Jinping requires the Party to investigate and discipline all its members, and this process has never been this thorough," a rural government official from Henan told Bitter Winter.
When a state-run company's manager applied to join the CCP, hoping to advance his career, he was asked to provide a certificate from the police in his place of origin, proving that he had not committed any crimes or holds religious beliefs. "This is a regular procedure," the man said. "If they found out that any of my family members, or even those of my wife, hold religious beliefs, especially if they were members of The Church of Almighty God or Falun Gong, I would not be able to join the Party. CCP members or village officials are usually punished if their relatives are found to have gone to church."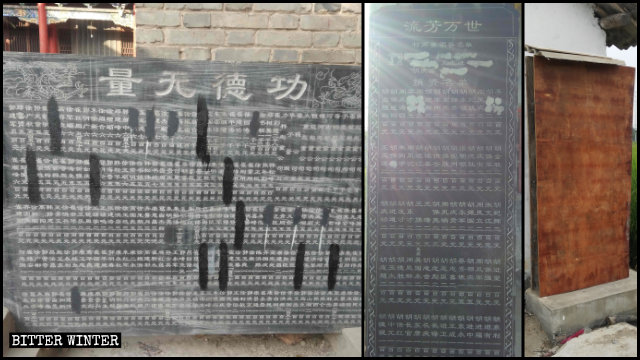 As per media reports in mainland China, the Party committees in two villages in Xinjiang county, administered by Yuncheng city in the northern Shanxi Province, were targeted for rectification because the localities have large populations of believers.
"After all Party members are investigated for religious beliefs, other villagers will undergo the same procedure," a village chief from Henan told Bitter Winter. "If two or three believers are found gathering, they will be investigated immediately. The same is happening across the nation. The state has set a certain quota of transforming believers to make them renounce their faith. If we can't meet it, 20% will be deducted from our year-end bonus, and we will be criticized during town government meetings."
A former government employee from Henan revealed to Bitter Winter that his higher-ups demanded him to demolish a temple as part of his "political review" – an investigation into his political stance, Party loyalty, and religious affiliations. "There was nothing wrong with this temple, so I didn't obey the command. I was later dismissed because of this," the man remembered.
A village official from Shandong's Binzhou city said that to accelerate the rectification drive, his superiors are encouraging CCP members to snitch on each other, paying particular attention to religious beliefs and activities.
A Party member from Jiamusi city in the northeastern province of Heilongjiang was reported for being a Christian in an anonymous message sent to her superiors. The woman was shocked – she had always made sure to practice her faith very discreetly. "My leader ordered me to renounce my faith because our village's performance score could be affected," she added.
People who decide to continue practicing their faith and want to leave the CCP risk further retaliations. "If anyone dares to leave the Party, the government will keep digging until they find the true reason. They'll be in endless troubles. If you want to stay safe and sound, you must listen to the Party, and do whatever it tells you," a village official from Henan explained.
Source: Bitter Winter