Spared demolition in 2018, the mosque was ordered to be "renovated" and had all its Islamic symbols removed. It now looks like a traditional Chinese building.
by Ma Xiagu
The Weizhou Grand Mosque in Ningxia Hui Autonomous Region's Tongxin county attracted the international media's attention for resisting the CCP's order to demolish it on August 3, 2018. Supposedly, for lacking proper building permits. Thousands of Hui Muslims staged protests against the government, and the county authorities backed down, proclaiming: "Taking into account the real situation, the mosque will not be torn down. But it must be transformed according to the reviewed rectification plan."
And the government has kept its word: Last year, the mosque was remodeled into a Chinese style building, its dome and minarets replaced with Chinese style pagodas.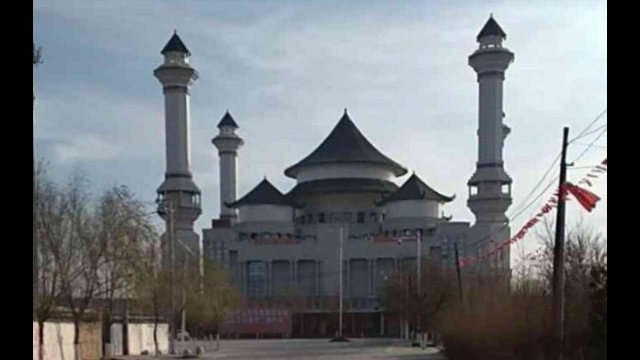 Before starting the rectification, local government officials began visiting Weizhou's Muslim households in November 2018, pressuring them to sign agreements to "renovate" the mosque by removing its dome and minarets.
A local woman told Bitter Winter that during the six months of the makeover, checkpoints were set up on the roads leading to the village, and residents were ordered to carry their ID cards at all times. Plainclothes police officers guarded the checkpoints around the mosque; one of them once stopped and questioned the woman when she was driving past the mosque.
"In May 2019, I saw heavy machinery destroying the dome of the mosque, which was surrounded by a temporary construction fence," the woman remembered, adding that the streets, which used to be bustling with people in the daytime, were deserted, looking depressing.
The same month, two journalists from The New York Times were prevented from entering Weizhou village because the authorities had forbidden foreigners from visiting the area, seeking to keep the truth from getting outside China.
Since the new Regulation on Religious Affairs came into force in February 2018, the government has been implementing the "de-Arabization and de-Saudization" campaign in Ningxia and other Muslim-populated regions of China. In late June, the Ningxia authorities proclaimed that "all religious activity venues highlighting Arabic style must be gradually rectified. New buildings or any other constructions that are expanded or rebuilt – anywhere across the region – must highlight the Chinese style."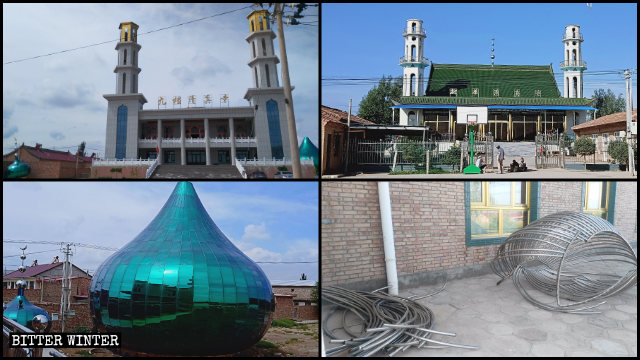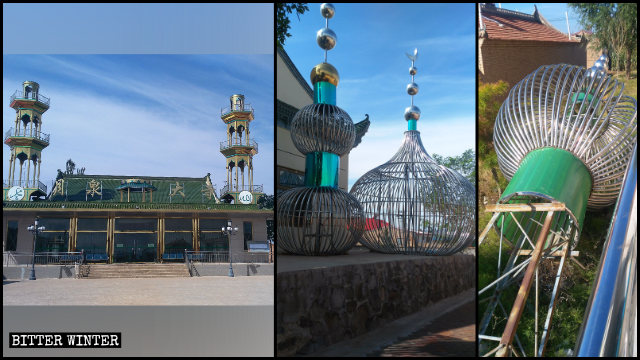 According to some confidential government documents, since the policy came into effect, over 4,000 mosques in Ningxia have been "sinicized," rectified or even destroyed.
Wuzhong and Guyuan cities, both densely populated by Hui people, have suffered the most intense crackdowns. Domes, minarets, crescent moon, and other symbols have been removed from their mosques.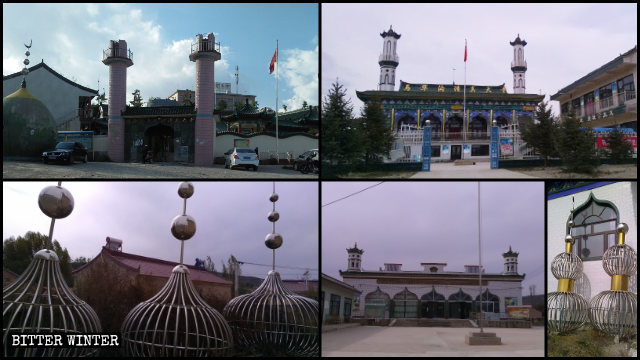 Hui Muslim poet Cui Haoxin, better known by his pen name An Ran, told Deutsche Welle in an interview that for Muslims, the dome of a mosque conforms with their aesthetic standard, and this architectural style represents Muslims' identity. "Destroying the domes is, in fact, destroying an identity," An Ran said.

Source: Bitter Winter