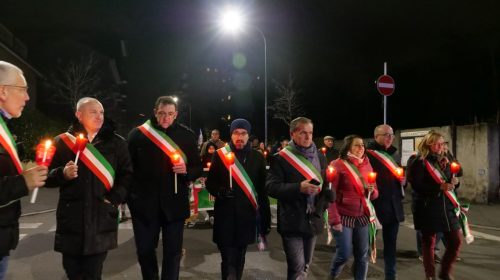 ADHRRF – On January 20, 2018, the event "Peace Day Torchlight Parade" was jointly organized by the municipality of Rho and eleven associations, including Association of Voluntary Italian Blood Donors in Rho (Associazione Volontari Italiani del Sangue, AVIS), the Christian Associations of Italian Workers (Associazioni Cristiane dei Lavoratori Italiani, ACLI), Society of St. Vincent de Paul (Società di San Vincenzo de' Paoli) and Multicultural Oasis Association (Associazione Multiculturale Oasi). The event aims to call on the public to pay attention to world peace, accept immigrants and refugees and help them integrate into Italian life.
On that day, more than 100 people, including refugees, local volunteers and the Christians from The Church of Almighty God, participated in the march. They called upon the government to heed, embrace and help with love immigrants and refugees who came to Italy due to war, poverty, religion and other reasons, to create a peaceful society together.
At 3:30 p.m., a meeting on the theme of "Best Social Practices to Build a Peaceful Society" was held at the Meda Auditorium by the organizer before the march. Mayor of Rho Pietro Romano, representatives from various associations and refugees made speeches. Mayor Pietro Romano said that the refugees who came to Italy for asylum due to war, economy, politics, and religion are faced with many difficulties. They need the acceptance and help of the government and people. If rejected, these refugees will be in grave danger. The municipality is working diligently to help them and will continue to do so without cowering.
Other representatives from associations also spoke about their efforts to help refugees and create a peaceful society.
The Christians from The Church of Almighty God said that they flee to Italy because they are persecuted by the CCP government. They participated in this march to appeal for peace not only for refugees and immigrants who were victims of war, but even more so for persecuted religious refugees.
After the meeting, the parade started from Piazza Visconti and headed for the Meda Auditorium, with each marcher holding a torch that symbolizes spreading peace.
At 8:30 p.m., the organizer held a peace concert at the Meda Auditorium. Refugees from Africa, Ukraine, Arabia, Latin America and other places, and Christians from The Church of Almighty God gave performances of songs and dances. The cultural performances with ethnic features let the participates appreciate a sense of freedom, joy and happiness in the music. At the same time, it made them more enthusiastic for peace and willing to work toward building a peaceful society.