ADHRRF — From 19:00 to 20:30 on January 21, the locals of Brussels spontaneously formed a human chain in solidarity between the North Railway Station and the Maximilian Park to protect the refugees in Brussels and make them feel loved and protected. They protested in this way against the migration and asylum policy of Secretary of State Theo Francken and the federal government.
This protest action, with the theme of Human Challenge, was launched by 14 groups including the Citizen's Platform for Refugee Support in Brussels (Plateforme citoyenne de soutien aux réfugiés Bruxelles), Doctors of the World Belgium (Médecins du Monde Belgique), No One Is Illegal (Personne n'est illégal), and so on.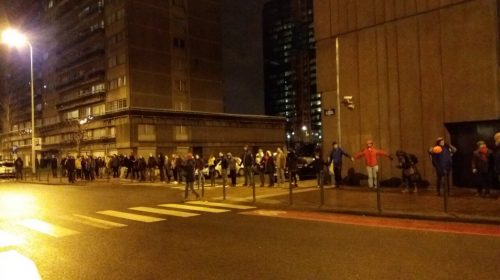 At the initiative of the organizer, about 2,000 people responded and took part in this action in less than 48 hours. Protesters at the event demanded the government implement humane policies. Despite the cold and rainy weather, people warmed each other's heart with great enthusiasm. Protesters joined together hand in hand and walked to the park chanting, "First, second, the third generation, we are all children of immigrants (Première, deuxième, troisième génération, Nous sommes des tous enfants d'immigrés)," "Support undocumented people (Solidarité avec les sans papier)." Alexis Deswaef, Chairman of the Human Rights League (Ligue des droits de l'Homme) said in his speech, "Solidarity is not a crime but people's rights and obligation."
It was noted that the federal police had planned to raid and arrest the transit migrants who stayed in the Maximilian Park and the North Railway Station at 8:00 PM on Sunday, but they didn't appear at that night. This demonstration was another large-scale action after the march on January 13, 2018, which called on the government to respect human rights.