Home
»
Europe
»
Europe News
»
Torchlight Procession in Vienna Calls for Stopping the Persecution of Christians Worldwide
Torchlight Procession in Vienna Calls for Stopping the Persecution of Christians Worldwide
On December 15, 2017
Austria
procession
ADHRRF – At 5 p.m. on December 12, a torch march was held to call for an end of the persecution of Christians in front of the Vienna State Opera. Hundreds of representatives of various Christian groups and human rights organisations came to protest the government's persecution of Christians in many countries and call for people to pay close attention to the situation of the persecuted Christians around the world. The procession started from the Vienna State Opera, proceeded through the Carinthia Avenue, and arrived at St. Stephen's Cathedral.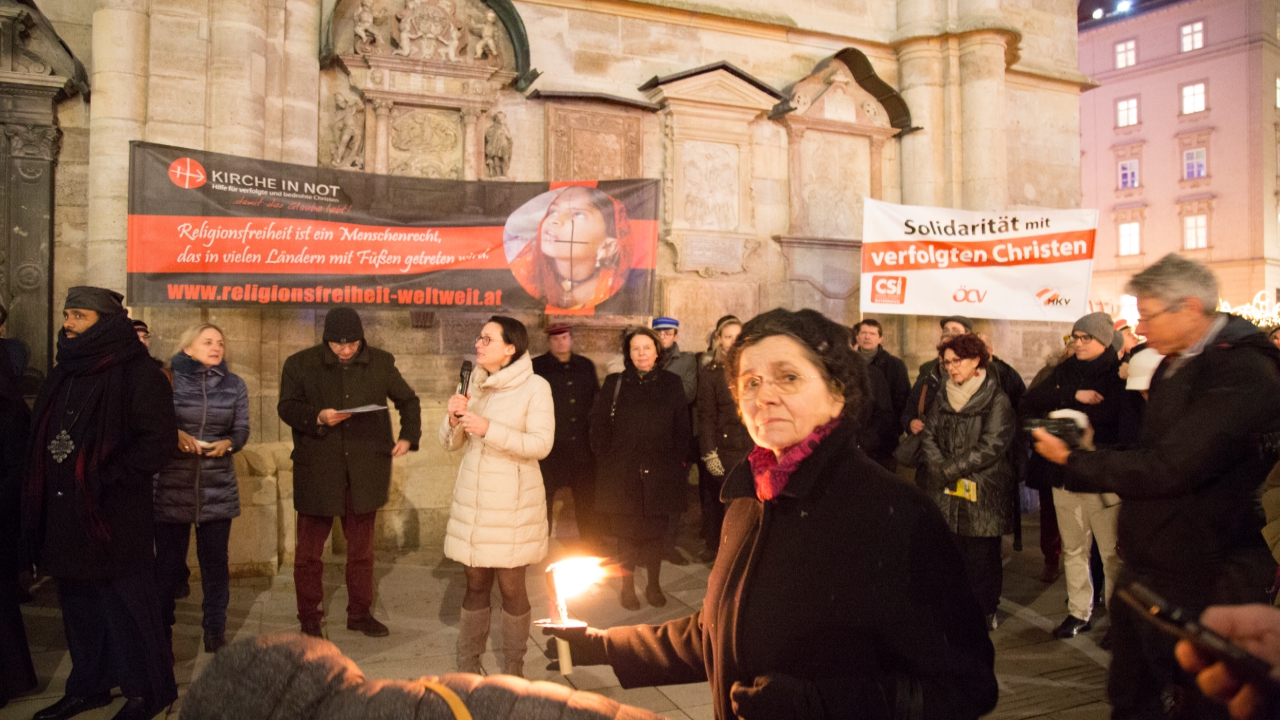 The procession was held by more than 20 Christian groups and human rights organisations, which include Aid to the Church in Need (Kirche in Not), Open Doors, Christian Solidarity International Austria (Christian Solidarity International-Österreich), Association of Catholic Associations of Austria (die Arbeitsgemeinschaft Katholischer Verbände, AKV), Observatory on Intolerance Against Christians and others. In addition, Ms. Ingeborg Gabriel, Personal Representative of the OSCE Chairperson-in-Office on Combating racism, xenophobia and discrimination, also participated in the procession. About 500 marchers with each holding a torch proceeded in an orderly way with the slogans like "Be Strong, Christians; Give Hope," "Stop Persecuting Christians" and "Give Christians the Equal Rights."
Foreign Minister Sebastian Kurz promised in his greeting that he would strive for the religious freedom in Austria and EU. He said that the protection of Christians should be strengthened by taking diplomatic actions at both bilateral and EU level. He also emphasized that the situation of Christians and other religious minorities is disturbing, especially in Asia and the Middle East.
Franz Scharl, Auxiliary Bishop of the Catholic Church in Vienna, said: "We want to prove that we do not forget our persecuted brothers and sisters."
It's known that the reason why people have taken to the streets to protest is that the genocide of Christians and other religious minorities is happening in Syria and Iraq; tens of thousands of people have been put in jail, expelled, or killed because they are Christians; the rights of freedom of religion are being trampled in many countries!
Facing the current situation that more and more Christians are suffering persecution globally, people call for the governments which are persecuting Christians to stop the persecution of them and give the equal rights to them. This procession lasted for nearly 2 hours and received enthusiastic support and response from local residents.