U.S. Senator Marco Rubio has called on a U.S. firm that sells DNA sequencing equipment to China to explain its relationship to police in the western region of Xinjiang, in light of controversial DNA collection program focused on the Uyghur ethnic minority.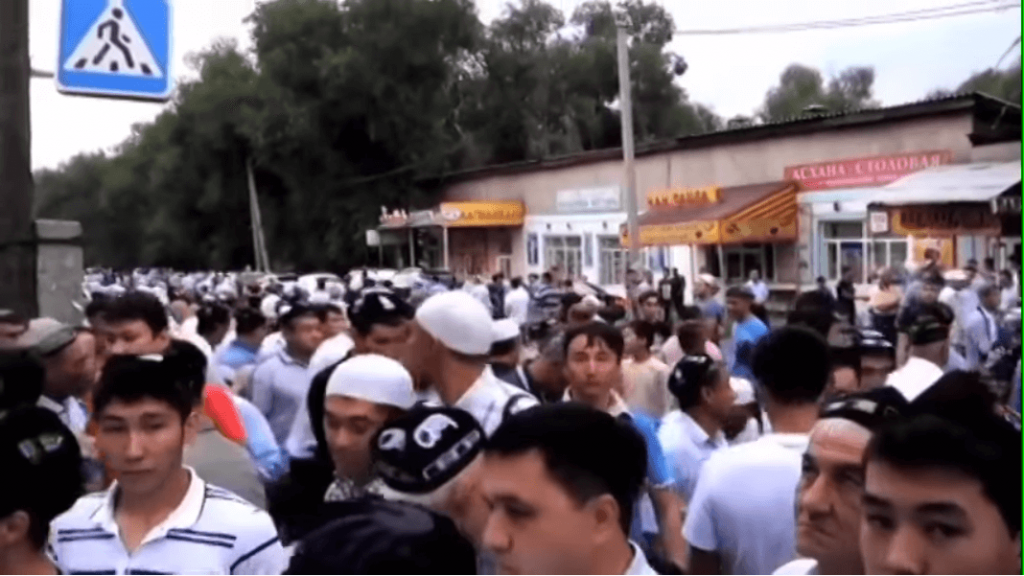 Rubio, a Republican from Florida and chairman of the Congressional-Executive Commission on China wrote a letter Thursday to CEO Marc Casper of Thermo Fisher Scientific, a Massachusetts-based firm raising concern about its role in China's program.
"The Chinese government's mandatory data-banking of the entire population's biodata, including DNA, has understandably raised alarm bells among rights advocates given that China lacks the kinds of legal safeguards that other countries implement to manage their DNA databases," wrote Rubio.
"These concerns are even more acute when placed in the context of the already repressive policies that exist in China, and specifically in ethnic minority regions like Xinjiang," said his letter.
Rubio's letter followed a report issued in December by Human Rights Watch (HRW), a New York-based watchdog group, that said authorities are collecting DNA samples and other biometric data from all residents aged 12-65 in Xinjiang, which is home to more than 11 million Muslim ethnic Uyghurs, under the pretext of a free health care program.
HRW said the campaign also includes the collection of fingerprints, iris scans, and blood types, and expands a program already in place that only required passport applicants in Xinjiang to provide their biodata.
For all "focus personnel"—those authorities consider threatening to regime stability—and their family members, their biometrics must be taken regardless of age, HRW said.
While authorities are collecting biometrics in different ways, DNA and blood types are typically being taken through a free annual physical exams program called Physicals for All, the rights group said, adding that it was unclear whether participants are informed of authorities' intention to gather, store, or use their data.
HRW identified Thermo Fisher Scientific as a supplier of some of the DNA sequencers to the Xinjiang police with and wrote to the company in June and August 2017 to raise concerns about privacy and other violations of Uyghurs' rights.
The rights group carried on its website Thermo Fisher Scientific's response to the June letter, in which the firm said that it "does not share information about our customers or their purchases."
"Given the global nature of our operations, it is not possible for us to monitor the use or application of all products we manufactured," wrote a company spokeswoman.
"However, we do expect all of our customers to act in accordance with appropriate regulations and industry-standard best practices," the spokeswoman said.
Thermo Fisher Scientific did not reply to HRW's second, follow-up letter, said the group and Rubio.
Thermo Fisher Scientific officials were not immediately available for comment on Friday.
Rubio questioned the firm on what it meant by "best practices" in its reply to HRW and asked it to "provide details of your relationship with the Xinjiang Public Security Bureau and the Chinese Ministry of Public Security, and relevant discussions you may have had regarding the intended use."
"Since the sale of your DNA sequencing equipment to these entities, have you pursued any actions to ensure that such equipment is not misused?" asked the senator.
Omer Kanat, executive director of the Washington-based Uyghur Human Rights Project called for "an effort to make sure that there is accountability for American companies who provide the means for the Chinese government to engage in rights violations."
"The collection of DNA is an egregious abuse of the right to privacy, and creates fear among Uyghurs because they do not know how it will be used by the authorities," he told RFA's Uyghur Service.
"The Chinese government, through coercion and threat, is claiming the right to the very bodies of Uyghurs in order to categorize and monitor them. The DNA collection scheme, like other policies, is highly racial, as this measure is not implemented elsewhere," added Kanat.
"To see an American company be complicit in these rights violations by selling equipment is very disturbing, which is why Senator Rubio's statement is so encouraging," he added.
Rubio has been a candidate for the Republican nomination for president and has focused on human rights issues in his role on Congressional-Executive Commission on China, a bi-partisan advisory body.
According to Chinese state media reports, Xinjiang's government authorized the Population Registration Program in February 2017, saying it would be carried out "in stages." The program is meant for "scientific decision-making" that promotes poverty alleviation, better management, and "social stability."
While official media reports say that participation in the Physicals for All should be voluntary, HRW cited one Uyghur who took part in the 2016 program in Kashgar (Kashi) prefecture as saying his neighborhood watch committee "demanded" residents complete the physical, adding that not doing so would be seen as a sign of "thought problem"—shorthand for "political disloyalty."
China regularly conducts "strike hard" campaigns in Xinjiang, including police raids on Uyghur households, restrictions on Islamic practices, and curbs on the culture and language of the Uyghur people, including videos and other material.
While China blames some Uyghurs for "terrorist" attacks, experts outside China say Beijing has exaggerated the threat from the Uyghurs and that repressive domestic policies are responsible for an upsurge in violence there that has left hundreds dead since 2009.
Source: Copyright © 1998-2016, RFA. Used with the permission of Radio Free Asia, 2025 M St. NW, Suite 300, Washington DC 20036. https://www.rfa.org.