UPDATED at 03:05 P.M. EDT on 2018-07-10
Liu Xia, the widow of late Chinese Nobel peace laureate Liu Xiaobo, arrived in Germany on Tuesday after growing international pressure for her release from eight years of house arrest, an extrajudicial confinement that took a huge toll on her physical and mental health.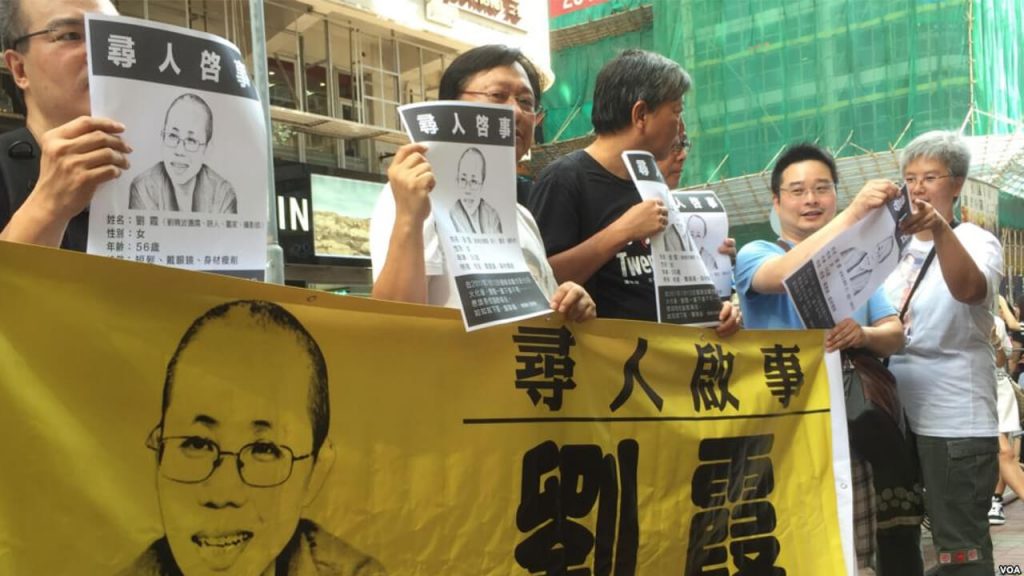 "Liu Xia … left Beijing at noon on a Finnair flight from Beijing to Berlin," veteran political journalist Gao Yu said via Twitter on Tuesday.
"Sources say that this is the result of Li Keqiang's acquiescing in person to a request by the German chancellor Angela Merkel during his visit to Germany," Gao wrote.
Liu Xia, who had been held under house arrest and residential surveillance ever since her husband's Nobel Peace Prize was announced in October 2010, was photographed grinning broadly with outstretched arms as she made a stopover in Helsinki, en route to Germany.
"The deaths of our mother, father and then her husband in the course of just two years had a massive impact on her health," Liu's brother Liu Hui told RFA after her departure. "She isn't in the best of health, whether physically or mentally."
"I hope that the first thing she'll be able to do is take care of her physical and mental health, then gradually start her new life," he said.
Her release by the ruling Chinese Communist Party came three days ahead of the anniversary of Liu Xiaobo's death in a prison hospital from late-stage liver cancer.
The authorities' refusal to allow Liu Xiaobo or Liu Xia to leave China at that point prompted an international outcry.
Germany-based activist Liao Tianqi, who has been closely involved in the campaign for her to resettle in Germany, told RFA that he was "too happy for words" at the news.
"Especially because it has happened around the anniversary of Liu Xiaobo's death," Liao said. "We couldn't save Liu Xiaobo, which is a regret that I will carry for the rest of my life, and we wouldn't have been able to bear it if anything had happened to his widow."
Great anger at unjust treatment

But he said great anger remained among Liu Xia's supporters and rights campaigners.
"The Chinese government didn't treat Liu Xia like a human being … at a time that she was already grieving the loss of her husband; they treated her like a chess piece; a gift to Angela Merkel," he said.
Liu Xia, a 57-year-old poet and artist, has never been accused of any crime, and was last seen in public at Liu Xiaobo's funeral in July 2017.
Her departure for Germany also came as Chinese premier Li Keqiang wrapped up an official visit to Germany, and after U.N. human rights experts had voiced concerns for her mental health.
Leaked audio clips earlier this year showed her to have been in a highly distressed and desperate state of mind prior to her release.
Fellow writers and rights activists welcomed the news of her release on social media on Tuesday.
"Liu Xia is finally fulfilling Liu Xiaobo's wishes and escaping from the prison that is China," author Ma Jian said via his Twitter account. "I am happy for her, but I will continue to pray for all of the tens of thousands of prisoners who remain in Chinese jails, hospitals and homes. All of those disappeared lawyers and authors are still without their freedom."
"We would like to thank all of those concerned people outside of China who worked tirelessly to put pressure on this dictatorial regime," Ma wrote.
U.S.-based dissident Yang Jianli tweeted that "Liu Xia has found her freedom among the clouds, tens of thousands of feet up in the sky."
In Washington, the State Department welcomed Liu Xi's release and urged China to release all of its political prisoners.
"We continue to call on the Chinese government to release all prisoners of conscience, and to respect the human rights and fundamental freedoms of all individuals," the department said in a statement. The U.S. tally of China's political prisoners stood at more than 1,400 in November.
And Zeid Ra'ad Al Hussein, the United Nations High Commissioner for Human Rights, welcomed the development, but called on Beijing to allow Liu Hui to follow her.
"I hope Liu Xia can find some personal peace and restore her health in Germany," Hussein said in a statement. "I hope too that Chinese human rights defenders, their families and lawyers, who have been deprived of their liberty for expressing critical views, will be released."
He added: "I share the concerns about the future of Liu Xia's younger brother, Liu Hui,  who remains in China and hope he will be allowed to join his sister in Germany if he so wishes."
Liu's brother remains as hostage
Since Liu Xiaobo's death, Liu Xia had repeatedly asked to be allowed overseas to seek medical and psychological treatment for her own illnesses, but the authorities had previously appeared to be dragging their feet on a reported arrangement allowing her to leave the country.
Beijing-based rights activist Hu Jia, a close friend and long-time supporter of Liu's, said her departure came a little earlier than expected.
"Most of us thought it would likely be in August, but the trade war between the U.S. and China has escalated so much that the Chinese Communist Party is keen to rope in the E.U. as a trading partner," Hu said. "It also takes the pressure off for the [July 13] anniversary of Liu Xiaobo's death."
"Now, she will be able to hang out with friends, eat together and talk together, just like a normal person," Hu said.
But he said the authorities still control the fate of Liu Hui, which will likely act as a restraint on what she can do or say in Germany.
"There is still the sword of Damocles hanging over Liu Hui's head, should his sister start shooting her mouth off over in Europe," Hu said.
Meanwhile, the writers' group Independent Chinese PEN says its members and officers have been targeted by the authorities over their continuing public support for Liu Xia.
Last month, poet Wang Zang resigned from the post of president of the group soon after being voted in, following a period of police questioning.
Liu's new-found freedom was broadly welcomed by international rights groups and the writers' organization PEN, which tweeted that it was "jubilant" at the news.
"[Liu Xia's] forced solitude was an emblem of Chinese cruelty toward a wife whose husband was ripped away from her for the crime of expressing his views, and then—nearly exactly a year ago—allowed to die in prison while denied access to potentially lifesaving medical treatment abroad," PEN America's Chief Executive Officer Suzanne Nossel said in a statement on the group's website.
And Sophie Richardson, China director of the New York-based Human Rights Watch (HRW), expressed "relief" at the news.
"It is a tremendous relief that Liu Xia has been able to leave China for freedom abroad," Richardson said in a statement on the HRW website.
"Ever since her late husband received the Nobel Peace Prize while in a Chinese prison, Liu Xia was also unjustly detained. The German government deserves credit for its sustained pressure and hard work to gain Liu Xia's release," she said.
Liu Xiaobo died on July 13, 2017 of late-stage liver cancer, while serving an 11-year jail term for subversion, and the authorities denied requests for him and Liu Xia to travel overseas to seek medical treatment.
Eyewitnesses say he played a crucial role in negotiating a truce between student protesters and People's Liberation Army troops sent in to end the protests at Beijing's Tiananmen Square on the night of June 3-4, 1989, enabling hundreds to leave safely.
Source: Copyright © 1998-2016, RFA. Used with the permission of Radio Free Asia, 2025 M St. NW, Suite 300, Washington DC 20036. https://www.rfa.org.